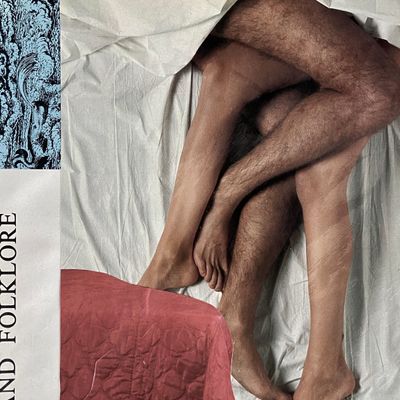 Photo-Illustration: James Gallagher
This week, a woman juggling two men with her busy schedule, and trying to keep things casual with the one she really has feelings for: 25, single, Brooklyn.
DAY ONE
10:30 a.m. After wrapping up my daily morning meeting for work, I check my phone and see a few texts from the Writer. I've known him for a few years, and we've always flirted, but it fizzled once he was in a relationship. Then he reached out to me in July after that relationship ended. Since then, we've been dating steadily, and it's going pretty well. He's a freelance writer and creative director. He makes me laugh, doesn't take himself too seriously, and is incredibly creative and ambitious. We're both seeing other people, and it's sort of a mutual understanding that we won't discuss it. I know eventually it's going to bother me, but for now I'm enjoying what we have.
2 p.m. It's been an insane day at work — I'm a political consultant, and the hours have been really long lately. It's hard to date or even see friends, because the days are so unpredictable that it really only leaves room for the weekend, and then on the weekend all I really want to do is sleep. I love working in politics, but I'm also acutely aware that by the time I'm 30, I'm going to burn out.
3 p.m. I respond to the Writer. We talk every day, nearly nonstop. Originally, our conversations were very surface-level because I don't really open up to people easily, but we're moving into slightly deeper territory. I struggle a lot with anxiety and depression, and he's been helpful about that.
8:30 p.m. I wrap up work, and even though it's 8:30, that constitutes an early day. I see another text, this one from Tech Guy. He's a program manager for a streaming service. He and I matched on an app a few months ago, and we've been on a few dates. He's nice — if not slightly boring — and a major departure from the Writer. Very bookish, academic, and serious. I like hanging out with him though, because he can talk politics and current events, and I'm willing to see where it's going … but I'd be lying if I said I didn't like the Writer more.
10:30 p.m. Make myself a nice dinner and get ready to relax on the couch with my favorite show. The Writer is texting me; he's had a couple of cocktails and is clearly feeling frisky. We sext and I work out some of the frustration that's built up from my long work day. I think it's his personality and confidence that first hooked me. Plus, he's a huge flirt and I'm a huge flirt. People used to joke that watching us flirt at parties was like watching two greats meet on the court at Wimbledon — and of course we both knew it.
DAY TWO
1 p.m. Another absolutely nuts day at work, on back to back calls since 8 a.m., without a second to breathe or even eat. I love my job, I remind myself. The Writer texts — he wants to see me this weekend. I have to laugh — this weekend is his birthday. The irony is that as easygoing as we both are, we spent New Year's Eve together, and I ended up going over to his apartment on Valentine's Day too.
2 p.m. I tell my best friend about my weekend plans, and she can't help but make fun of me. When the Writer and I first started talking in the summer, I was so insistent that it would be casual, maybe a one- or two-time thing, and now we're spending so much time together.
3 p.m. I forgot that I also agreed to have drinks with Tech Guy this week. We make plans to meet outdoors, even though the weather isn't supposed to be great, but we've found a spot with pretty good heating.
9:30 p.m. I still have work that I need to finish, but I decide to call it a night. I order in Thai and start to think about what I'm going to cook for the Writer this weekend. Our plan is to sleep in on Sunday morning — he knows I don't sleep well at night, and always insists that he's going to make me "really sleep." I'm game.
DAY THREE
5 p.m. I schedule a wax for the day before my date with the Writer. I realize I put in significantly more effort for him than I do for Tech Guy. I brush past the thought; the Writer and I are supposed to be easy, and I'm still trying not to overthink it.
11:30 p.m. It was a long day, and I'm unwinding with a drink. The Writer tells me the things he's excited to do this weekend: take a shower together, sleep in, watch a movie, and of course, have sex. Our sex is … intense, but so much fun. It's always sweaty and intimate, and his endurance is impressive.
7 p.m. Thinking about sex with him. The last time I saw him was kind of a booty call and I'm not a booty-call person, at all. But I ended up making an exception because I just wanted to see him, too. That night we had sex for two hours, and again for an hour in the morning. I was late getting home to log in for work … but it was worth it. It was extremely worth it.
DAY FOUR
11 a.m. I'm running low on coffee and make a mental note that I have to pick more up this weekend, along with half-and-half. I always like to make sure my apartment is well-stocked when the Writer comes over. I think it's a love-language thing — I never want people to come to my house and be left wanting.
4 p.m. The Tech Guy picked a cocktail spot that has killer whiskey drinks for our date tonight, because he knows I like whiskey. That's a nice gesture, I think. He's a very … safe choice. The type you can bring home to your parents.
7:30 p.m. I'm getting ready for my date, and of course I see the Writer blowing up my phone. I feel like men have a weird sixth sense for when you're going out with someone else. I have my read receipts on, so I don't open the texts. It's a bit of a game, sometimes. I'm sure he realizes when I respond to him the next morning that I was with someone else.
11:45 p.m. The date was pretty good. We have a lot to talk about, and he's incredibly intelligent. I like men who can keep me on my toes though, and really keep up with me. I'm not 100 percent convinced the Tech Guy can do that, but he's interesting enough and I'm trying to be open-minded.
DAY FIVE
10:30 a.m. Wrapping up my first meeting of the day and feeling tired from the whiskey cocktails the night before. I took a half day today. I haven't taken a single day off work, not even during the holidays, but I really needed a half day. Plus, it gives me extra time to prepare for the Writer.
5 p.m. I'm getting a Brazilian wax. I prefer waxing to shaving, but every time I do it, I hate it so much. I've decided we're just going to do takeout tomorrow. Normally for our dates, either I cook or he cooks depending on whose apartment we're at, but I make an exception this time.
10 p.m. I'm exhausted, but so ready to see the Writer tomorrow. I miss him, which is definitely a sign that I'm getting invested. Sometimes the problem with him is that I don't know what's a flirt and what's genuine emotion, but I think I'm starting to understand him more.
DAY SIX
9 a.m. I tell The Writer to come over at 7. I'm excited, almost nervous, giddy, about tonight. I have a lot to prep — cleaning my apartment, giving myself a good scrub down, getting everything ready for cocktails.
7 p.m. The Writer's here, and I can tell by the look on his face that we're going to have an intense, long, and very fun night. We make out on my couch, happy to see each other again. He's always been a very good kisser. We order banh-mi and start watching a movie.
After about 20 minutes of the movie, we can't wait any longer, and we start making out again. He carries me to my bed, and goes down on me. He's insanely good at it. We have sex in nearly every possible position, and when we finish, we're both insanely sweaty and exhausted, but thrilled. We take a shower together, which is always so much fun, and surprisingly intimate. He likes to scrub me down and wash my hair. Then I go down on him; the expression on his face when I'm doing that makes it all worth it. After the shower, we finish the movie cuddled up on my couch.
11:40 p.m. We start another movie, but end up watching about ten minutes of it before we're all over each other again. He carries me back to bed and lays me on my back. He always tells me all the things he likes about me during foreplay, and takes his time with me, to make sure I'm enjoying myself. He's one of those men who claim they derive pleasure from their partner having a good time, and while I usually am inclined to believe that's just a selfish way for men to feel like they're good at sex, I really believe it with him.
DAY SEVEN
8 a.m. I roll over and he starts kissing me. It's early and we're sleepy, but we clearly want each other. Our chemistry is always insane, we can't keep our hands off each other. He gets under the covers and goes down on me. He goes slowly, and lets it build up for a long time until I have an insane orgasm. I get on top and ride him, and he tells me how beautiful I look.
10 a.m. My bed and room are an absolute mess when we're done, with pillows and blankets and condom wrappers everywhere. We're exhausted and fall asleep all over each other again.
11 a.m. When I wake up I feel actually well-rested, which is saying a lot for someone who has struggled with insomnia for years. I'm making breakfast — pancakes, scrambled eggs, and coffee. We eat breakfast and watch SNL, and it's comfortable and relaxed.
He's on his phone though, and I know he's catching up on texts, probably some with other women he's seeing. I can feel it bothering me a little but I brush it off because we have such a good time together. In a weird way, I know that even if he's seeing other people and I'm seeing other people, our priorities are each other.
7 p.m. I end up having dinner with my sister, brother-in-law, and their 1-year-old son. I tell my sister pretty much everything, including that I'm starting to feel less certain about seeing other people. She says I need to have a conversation with him soon.
10:30 p.m. I'm absolutely wiped from the day and cleaning up. I just want to get in my bed and sleep forever. Tech Guy texts me, and I leave it on read. I'm too busy recapping the night with the Writer. He's telling me how much he already misses me. I can't wait to see him again.
Want to submit a sex diary? Email sexdiaries@nymag.com and tell us a little about yourself (and read our submission terms here.)