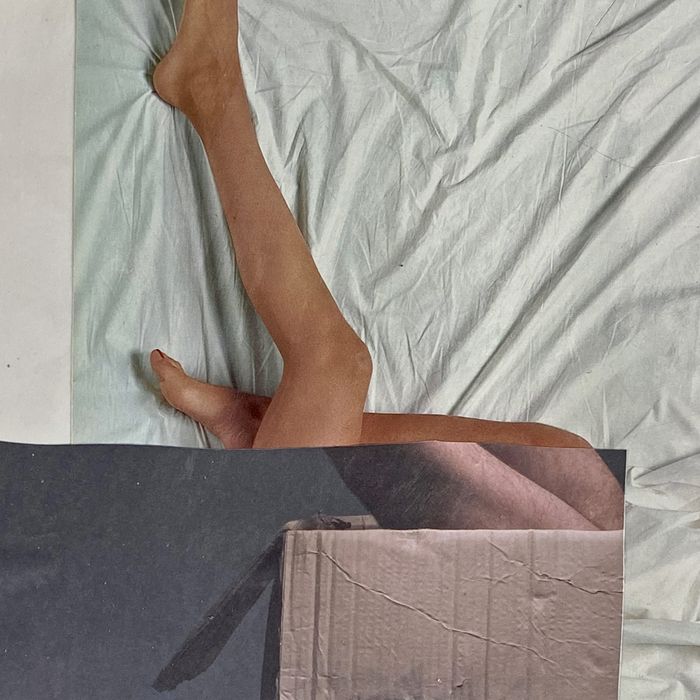 Photo-Illustration: James Gallagher
This week, a woman starting to fall for one of her hookups, fantasizing about another girl during sex, and spending the night in lavish hotel rooms: 24, single, New York. 
DAY ONE
9 a.m. I wake up in London Boy's bed. He's a grad student at Yale I hook up with every time I'm back on campus to visit friends. I fell for his British accent and fat ass; he fell for my eyelashes, which are fake. I bat all $200 worth of them at him now and he gets hard. We have tender, slow sex in missionary, which is fine for the first 30 minutes, but after that I start doing kegels to see if I can make him come. It fails. We cuddle instead.
12 p.m. I eat chicken McNuggets in his silk robe as he sketches out a presentation for class. I tell him I have to go soon to catch my train back to New York. I don my fit for the day: a scarf I've converted into a halter top, black leather pants, and black latex heels.
12:30 p.m. A man harasses me while I wait outside for my Uber to the train station. He asks how old I am, what country I'm from, how I smell so good, and if I like to party. As I run away from him, he shouts his number at me. I give him only a single digit: my middle finger.
5 p.m. Back in the city, I hike through Prospect Park with three large tote bags and my four-inch heels. I finally find my friends, and as I hug each of them, I notice College Boy can't keep his eyes off me.
College Boy and I hooked up last week, but afterward, he said he was unsure if he wanted to continue our hookup. He just moved to New York after finishing grad school in Europe and got out of an intense situationship with a man. We've known each other for a while, since college.
I put on a long-sleeved shirt because it's colder now, and I ask College Boy if he can untie the knot of my makeshift halter top underneath. His hand, as he reaches under my shirt and up my back, is warm, and I think about the way he gripped my waist last week while I rode him until he came inside me.
9 p.m. To my dismay, I realize I'm developing a crush. College Boy offers to walk me to the bar where I'm meeting my friend Rita. "You're my hero for being able to walk all day in those heels," he tells me as he holds all my bags. When we pass a bodega, he buys me Pocky and water because I want them. I've known him since college and I've never received this kind of treatment from him.
10 p.m. I haven't seen Rita since before quarantine, so I tell her I have a new job. She asks me where I work, and I say, "The question is not where I'm working but who I'm working."
After joining Seeking Arrangement last year, I now have sugar daddies who fund my entire life. I'm seeing Professor Daddy tomorrow and CEO Daddy later in the week.
She tells me about her boyfriend and her doubts about her stable, monogamous life. I pay for our drinks with Professor Daddy's credit card.
DAY TWO
11 a.m. Getting ready for high tea with Professor Daddy.
1 p.m. We take turns vaping in the restaurant when we think our server isn't looking. It's an extra $60 to get a blooming flower in our tea, and he orders it when I pout and point to it on the menu.
4 p.m. We read together in Central Park. Although he's a 70-year-old professor, we have a lot in common. He's kind and attentive, with an emotional intelligence to mirror my own. I often tell him he is my first adult relationship.
7 p.m. We go out for ramen and plan our upcoming trip to California with two of his other sugar babies, whom I am also friends with. He names our group chat "The Great California Sugar Rush of 2021." We always hold hands; sometimes the naked judgement from strangers is uncomfortable, and I wonder if the act of being perceived as a sex worker counts as sex work too.
9 p.m. Back at our hotel, I take double my prescribed dosage of Klonopin so I can knock out as fast as possible.
DAY THREE
9 a.m. Professor Sugar Daddy is gone by the time I order room-service breakfast in the hotel. After I eat I lay a towel on the floor and do aggressive butt exercises to no music.
Afterward, I collapse in a sweat and vape as I exchange Robert Pattinson memes with College Boy over text. A couple DJ friends and I are going to an event tonight, so I invite him. His gratitude pours out in a tide of hearts and happy-face emojis.
10 a.m. I shower and put on today's fit. The vibe is Matrix Keanu Reeves if he were also the director of the Met, because I am meeting my mother near there for her birthday and I need to show her I am doing well.
11 a.m. I meet my mother at the cafe. She calls out to me by my Chinese name and asks me if I've eaten. She thinks I have a lucrative job as an education consultant. Guilt grips me and I change the subject to her favorite topic: my dating life. I tell her that I have a lot of options at the moment and rattle off the résumés of the men I'm having sex with (sugar daddies not included). I show her their Instagrams and she squeals over how handsome they are.
8 p.m. At the event, College Boy gets along with everyone. He laughs just the right amount, asks the right questions at the right times, has the right politics, knows just enough about music to participate but never dominates an entire conversation. My friends whisper their approval to me.
College Boy and I peel off from the others. He tells me he was really horny in Prospect Park the other day and fantasized about us having outdoor sex. We cringe remembering the first time we met, at a house party in 2016 where he asked me "Can I kiss you?" and I responded by throwing up on him. He tells me he's changed since college and that he's looking for a serious and stable relationship. He asks if I want to hang out this weekend and says we can do anything I want.
10 p.m. We don't hook up because he has work early tomorrow.
DAY FOUR
12 p.m. Therapy is notable today. I tell my therapist about seeing my mother earlier this week and her expectations for me. She asks me what I think of my mother's sacrifices, the hardships she suffered in America, and the immense pressure that legacy creates for me as an only child expected to redeem her trauma through my success. I tell her I avoid sacrifice in my own life like the plague. I tell her I want to have my cake and eat it too.
2 p.m. I am depressed and tweaking on Adderall when Artemis picks me up. She takes us to Flushing to purchase several cartons of illegal Korean cigarettes. Later, we smoke a pack of French lime-flavored cigs as we sip bubble tea.
Artemis asks me why I have a crush on College Boy. I think about the nature of crushes, how they're inherently juvenile.
"He's nice and he's hot," I say, although I have slept with many very hot, very nice men and never formed any attachments to them. She has a theory that it's because of the white women he dated before me, who always seemed to me like the epitome of Western beauty. She thinks maybe his attention makes me feel worthy. I wonder if she's right.
12 a.m. To fall asleep, I masturbate. I count my orgasms the way some people count sheep.
DAY FIVE 
10 a.m. I wake up to Patricia's FaceTime and discover my vibrator still between my legs. We have a joint Seeking account together. She tells me that CEO Daddy has booked us a penthouse suite that night with a price that makes Patricia gasp when she finds it online. We exchange a flurry of text messages with him from our burner phones.
7 p.m. We meet CEO Daddy at a seafood restaurant where no one but us is younger than 50. He tells us about his company and the cryptocurrencies we should invest in. Patricia and I simper and nod and tell him how wonderful and interesting he is as the server hands him a bill that exceeds four figures.
11 p.m. Back at the hotel, I'm crossed beyond measure on Champagne, cigars, and weed. CEO Daddy tells us he just wants to pleasure us tonight. He eats me out and fingers me with one hand while using his other to hold a Hitachi wand against Patricia's clit. She announces orgasm after orgasm. We look at each other and she smiles: "You're like my own personal porn."
DAY SIX
11 a.m. After the most expensive and tasty avocado toast I've ever eaten, Patricia and I take turns giving CEO Daddy a handjob.
2 p.m. Back at my apartment, I text College Boy an elaborate plan for our Greenpoint date tomorrow. He says it sounds good, tells me he's excited.
6 p.m. I eat Chinese takeout with my two friends who have been dating each other for a year, and whose relationship I schemed into existence. Sometimes I think I live my life the way I do just so I can tell them stories. They listen to my latest escapades with wide-eyed rapture, and in the middle of it, Model Boy texts me with an invite to a party in Bushwick.
11 p.m. I am at the party with him when I see a girl who looks like me. She's wearing a white satin dress that hugs every curve, reveals every inch of her back. I want her. When I ask her name, I am surprised by how close it sounds to my own. I tell her she's beautiful and she giggles when I twirl her. Her lips are soft as we devour each other.
We exchange numbers and she begs me to let her make me dinner sometime. I leave with Model Boy.
11:30 p.m. "I saw you with that girl," Model Boy says when we're at my apartment, and I think, Oh God, here we go.
"I'm really happy for you. I've seen her before at other parties but never had the balls to ask for her number. So props."
1 a.m. Our sex is rough; he fucks me from behind as he pulls my hair. I watch us in my mirror. In the darkness, I look like the girl from the party. I can almost imagine that Model Boy is fucking her instead, and I come instantly.
DAY SEVEN
10 a.m. College Boy texts me saying he has a migraine and cancels our date. Disappointment floods me. I tell him he should take it easy today and that I can make him dinner later if he's feeling better. He tells me he appreciates me and everything I've done for him.
3 p.m. In a FaceTime with Professor Daddy, I tell him I've met someone whom I may or may not like a lot. I expect him to be happy for me, but instead he is just sad: "Eventually my sugar partners fall in love with other people who can't accept polyamory. So they have to make a choice." I try to reassure him as best I can.
4 p.m. There's an abandoned meatpacking warehouse across the street from where I live. I stare at it as I smoke on my balcony, leaving my phone behind in my room as it lights up with notifications.
Want to submit a sex diary? Email sexdiaries@nymag.com and tell us a little about yourself (and read our submission terms here.)