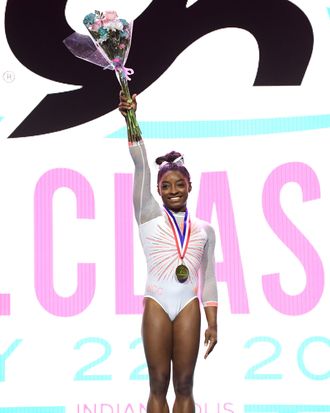 Please clap!
Photo: Emilee Chinn/Getty Images
There has been much debate in Japan over the looming question of the Olympics — whether or not they should proceed as scheduled in July, given Japan's dire surge in coronavirus infections. The International Olympic Committee seems hell-bent on going ahead with the games, despite pleas from doctors and 60 to 70 percent of the general public to please cancel them, in deference to the national health emergency. These concerns feel very valid, and then, it seems to me that Simone Biles has already won the gymnastics portion of the event? At the U.S. Classic in Indianapolis on Saturday, she once again made history as the first-ever woman to land a Yurchenko double pike. Please watch, please clap:
How many flips even is that?! Impossible to tell, it all happened so fast. CNN reports that a Yurchenko double pike, a feat of gymnastics previously performed only by men, involves a roundoff onto a springboard, then a back handspring onto a vault, then two backflips through the air to stick a standing landing. According to the Associated Press, Biles "started experimenting" with this maneuver after last year's Olympics were pushed due to the pandemic, "tinker[ing] with" it just "for fun," and "almost as a way to stave off the monotony of training." Okay!! Apparently, her Yurchenko double pike "wasn't quite perfect" — the AP's opinion, not mine — but Biles seemed unbothered nonetheless.
"I know it's not the correct one, but I can still do it," Biles said. "So why not just show off my ability and athleticism?"
Why not indeed. At 24, Biles has already earned the titles of most-decorated-woman-gymnast-ever-in-the-world, and then most-decorated-gymnast-ever-in-the-world-period. Pulling off record-breaking, history-making moves is a regular thing for her. Still I am very impressed by the sheer volume of flips happening here, and in such close succession. I realize that the U.S. Classic is not the Olympics, and I don't want to jinx anything, but I am prepared to award her all the golds right now. The unitard does not lie: