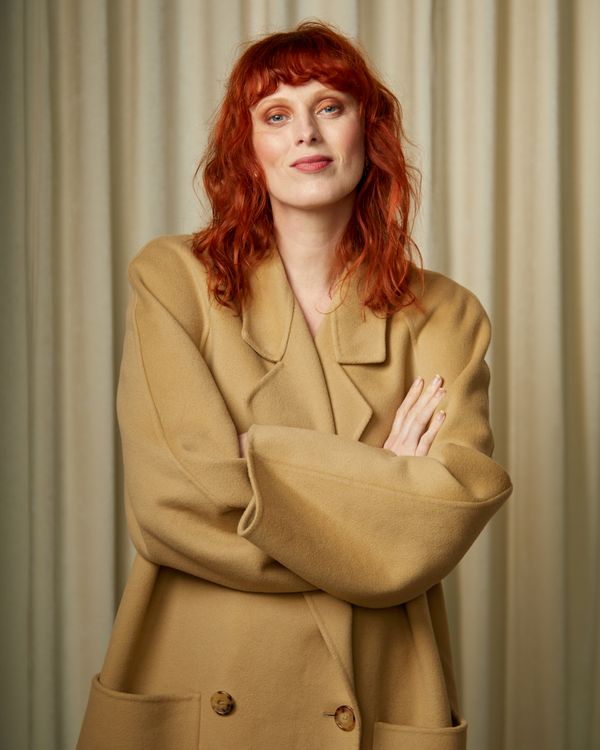 On a photo shoot a few years ago, Karen Elson, the flame-haired, ghost-pale English model, was put into a tank of water meant to suggest the sea. But the water, a dull greenish-gray, wasn't as photogenic as she was. Faced with the dreary intrusion of reality getting in the way of the shot, someone on the set got the idea that maybe dumping in a few bottles of bleach might help.
"My eyes are burning, my skin is on fire," Elson recalls from her home in Nashville. "I get out and I can't see. I hit my wall. I got in the car and went straight to the emergency room. And simultaneously I had my agent at the time calling me saying, 'Oh my God, we need to send flowers'" — to the client.
"That shoot wasn't an anomaly," she adds. "There's plenty of other situations I've been put in where I feel like a product on the conveyor belt. It's not really about me."
She never sent the flowers. But the wall was a long time coming. Elson has had a remarkably successful, 25-plus-year career in the industry, from signing at 15 with a local modeling agency near her home in the north of England to quickly conquering the world. (Having lived in most every international fashion capital for a time, she wound up in Nashville via her former husband Jack White, of the White Stripes, with whom she shares two children.) In the '90s, she was ubiquitous: VH1 named her the model of the year at its erstwhile Fashion Awards in 1997, and the next year, the New York Times credited her blunt-banged early hairstyle with kicking off a new trend. But her star never dimmed. She's appeared for most major brands and in every major fashion magazine, charming the best of the industry along the way: Steven Meisel, who gave her her big break on the cover of Italian Vogue; Karl Lagerfeld, who loved her and photographed her for Chanel; Grace Coddington, model turned stylist and fellow redhead, who has become her fashion godmother and cast her as her younger self in a famously self-referential Vogue photo shoot. In the years since, she has diversified, performing with the Citizens Band in New York and eventually putting out two albums of her own, but she remains in-demand as a model, in the last year alone appearing in the pandemic-era digital shows of Moschino and Michael Kors.
But the system as she knew it wasn't working for her. Elson has been represented by many of the big agencies in fashion over her career — Models 1 in London, Ford Models in New York (where she briefly lived with Eileen and Jerry Ford at their townhouse), Elite, DNA, and finally IMG, since the fall of 2017 — but faced with a sclerotic system of opaque finances, unpredictable workdays, and nonexistent protections, she has had enough. Until the system changes, she is changing her place in it: by leading a call to reform the agency system by publicly quitting it to represent herself.
"The great illusion of fashion is that it builds women to look like they are the most powerful badass goddesses," she says. "Yet behind the scenes, we don't have many rights."
In the absence of any formal union, it is up to models to advocate for themselves and each other. The closest thing to a SAG or anything like it is the Model Alliance, a labor-advocacy group formed in 2012 (Elson previously served on its board). "We run a model-support line where we hear from models every single day, about a host of issues, and a lot of issues around modeling agencies in particular," says Sara Ziff, its founding director. "One of the challenges, after doing this work myself now for almost a decade, is that there is an empathy gap with models. We seem glamorous and privileged. The general public has trouble wrapping their heads around the idea that models are an exploited workforce."
And yet models are often treated as expendable, replaceable freelancers. Recruited as teens and sent largely unsupervised around the world, their agents feed them as raw material to embody or inspire the vision of designers, photographers, creative directors, magazine editors. They also negotiate rates, manage bookings, and train and support their charges, all for a percentage of their earnings — usually 20 percent, though often the agents also get paid a second, separate fee from the client or brand.
Agencies often advance models money for travel, lodging, upkeep, or just about any other necessity, charges not necessarily offset by their earned rate, such that even booking prestigious jobs can land a model in debt. Unscrupulous agents and agencies can take advantage of inexperienced, too-trusting models and those who do not read the fine print — the model Coco Rocha told Women's Wear Daily about a former agent who quietly billed her $1,200 a month for paper clips and envelopes. Meanwhile, clients are notorious for paying late, with little consequence. ("Just this week," she told the paper in that same article, in 2019, "I got an update on a client that is two and a half years late on payment.")
Which leaves career survival up to the model's gameness to roll with it, whatever it might be. "Part of me being a great model was that I would do anything," Elson says. "All right, I'll jump out of that building if the photographer wants me to jump out of the building. Or, at times, take my clothes off, because I feel too scared to say no, because maybe I'll get retaliated against or viewed as difficult." She recalled one shoot, for which she worked for 27 hours; at one point, she described sensory deprivation from being put in fetishistic outfits. "I had my eyes covered, my ears covered, my mouth covered, a little nose hole to breathe — 'Don't worry, it's high fashion.' I didn't have time to eat, let alone use the bathroom very often. Nobody was coming on set saying, 'You've not had lunch? It's five in the afternoon. Oh, you're not going to sleep tonight? Maybe we should end the shoot or book another day.'"
And after all of that, they rarely have control over the images themselves.
Emily Ratajkowski discovered as much when she wrote of old, nude images of her being circulated and sold without her consent by a man she alleges assaulted her; her essay "Buying Myself Back" became a rallying cry within modeling circles. Elson found herself in a similar position, having to beg to buy the rights to her own image for her 2020 memoir, The Red Flame. "We were paying for shoots that I'd done for free, that I had flown myself in to do," she says. "Here I was having to haggle with photographers who said, 'I can get a lot of money for prints of you.'" Nude shots, she has learned, can circulate even more widely beyond her control. "A lot of the nudes I've done over the years, they're not in the high-fashion magazines anymore," she says. "They're on sordid websites. That's not how, that was not how it was sold to me when I was 21 years old."
In the wake of the Me Too movement, a number of models came forward to allege sexual misconduct and other forms of abuse against some of fashion's biggest names — including the photographers Mario Testino, Bruce Weber, and Patrick Demarchelier — and the industry made gestures at establishing codes of conduct. "There have been various initiatives introduced over the years by the industry, to try to create a safe and fair work environment," Ziff says. "Those efforts are largely just PR moves, because there's really nothing holding companies, including agencies, to those standards. There's no enforcement mechanism." The Model Alliance in 2018 announced its own Respect Program, calling on companies to sign legally binding agreements to uphold a code of conduct. "We have been in negotiations, off and on now, with several large companies for some time," Ziff says. But despite these discussions, "We don't have any agencies signed on, and we don't expect agencies to sign on, until they feel enough pressure to do so."
"The fashion industry loves to say when a scandal happens, we'll do better, we're listening, we're learning," Elson says. "And it may be for a little while, but it always returns back to where it was."
Elson has lately been giving advice to young models on Instagram and setting up group-mentorship sessions on Zoom, and the responses she has gotten privately — from her own generation as well as younger ones — suggest that the hazards of the job are as present as they've ever been. "I used to think maybe it was my era when all these really terrible things happen," she says. "But I was really shocked how many top models reached out to me with pertinent stories." They tell her about scraping by despite appearances, or the ever-present issue of weight. Even in a moment of inclusivity and body positivity, models are still held to the same impossible standard.
In The Red Flame, Elson described preparing for a Fashion Week early in her career by going to a spa in California, where she fasted for seven days. "Of course, I convinced myself that it was all under the banner of detoxing and health, when in fact it was quite obvious that I was deeply unwell with an eating disorder. I left the spa looking skeletal and flew straight to Milan," she wrote. "The response was overwhelmingly positive." Those standards largely endure. After first discussing surviving an eating disorder in a magazine interview in the early aughts, Elson's agent at the time told her, "I really wish you wouldn't have done that — it's affecting your work." Another agent offered her money for every pound lost, or to get off birth control, because it "made her puffy." "Whenever I have been at my sickest, honestly, is when I have been praised and in such high demand," she says today. She described a recent experience walking onto a set and being asked, "How fat are you this season?"
Elson emphasizes that her going independent is not a blanket condemnation of her most recent agency, IMG, or any of the agencies she has worked with. "This was a decision that I felt like I had to make, because I'm really struggling within the infrastructure of model agencies right now," she says. "I don't have bad blood towards them. It's just very difficult for me to get the things I need from a model agency."
She's not the first supermodel to try a version of this idea. Kate Moss started her own agency in 2016 to represent herself and a few others, though she remains with a traditional agency for every territory except her native U.K. (It's not unusual for models to be represented by multiple agencies across different markets.) Gisele Bündchen, who has largely stepped back from modeling, is now mostly represented by her sister. For now, Elson will work with her existing music manager, eventually hiring more staff to oversee her modeling work and hoping, by eliminating some of the middlemen, to have a clearer sense at the outset of the finances, expectations, and nonnegotiables of her deals. "I'm going to be honest, it's a great unknown right now," she says. "To be honest, there's a slight fear as well — I hope I don't get retaliated against for standing up for myself. I hope I don't get blacklisted for wanting to go at it alone. But I feel like I've reached the point of no return where I have to at least give it a shot."
"Why aren't our agents banding together to create a new set of rules? Why aren't they saying, 'Okay, the buck stops here?'" she asked. "The mentality of fashion is, 'Oh, sorry that happened, but the pictures are great.'"