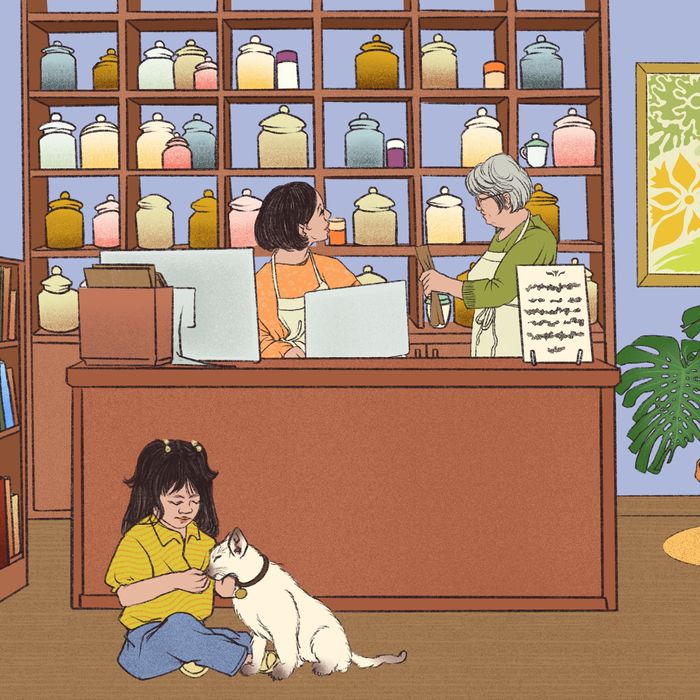 Illustration: Rachelle Baker
There's no special sauce for starting — and sustaining — a small business. Instead, many entrepreneurs figure out what works along the way, often under intense pressure. Here, six women share the tips no one gave them about keeping their head above water, especially when business got tough.
"Let your friends help you." — Felicia Eve, owner of String Thing Studio, a yarn shop in Brooklyn, N.Y.
I've had my store for six years now, and I didn't realize how strong our community was until the pandemic. I had a dispute with my landlord last summer, and at one point he posted a letter on the outside of my door saying that I owed him several months' rent. I happened to be out of town with my family at the time, and a customer texted me a picture of it. I said, "Could you please take it down?" And she was like, "I'm glad you said that, because I already did."
Friends of mine wanted to help me fundraise to pay the rent. And I was like, "No, no, no, I'll figure it out." That's my nature — I handle my business, you know? And they were like, "Let us help you for once. All you need to do is say yes, and we'll take care of it." So I finally did, and they immediately set up a GoFundMe page. Between 11:30 a.m. and 6 p.m. that same day, they raised almost $30,000. It was overwhelming. And it not only allowed me to sort things out with my landlord, but it took a huge load off my shoulders during a really stressful time.
"Don't worry about separating your personal life from your business." — Jeannine A. Cook, owner of Harriet's Bookshop in Philadelphia, P.A.
A lot of people talk about separating the personal from the professional, or creating work-life balance. But for me, my personal life is a part of my business. Maybe that's not the cool thing, but it feels right. For example, my mom is coming with me to the bookstore this morning to help me stamp and wrap books. When my son has virtual school, he comes to the store and does his classes there. The store is a part of our family and part of our lives. There isn't a separation, and I don't know that there needs to be one. Like, what if it's actually cool to be completely integrated, and be completely okay with that? Otherwise, I would be constantly fighting myself and beating myself up to fit into some model that doesn't work for me. And I've accepted that I don't want to do that.
"Befriend your competitors." — Corinne Morahan, founder of Grid & Glam, an organizing business outside Boston, M.A.
I used to work on Wall Street, which was very cutthroat — no one would tell you to befriend the competition. But when I started my organizing business, I started connecting with other people who were doing the exact same thing as me. I saw it as a variation of "fake it 'til you make it" — I was reaching out to people who were more established than me to try to get to their level.
I didn't ask for anything in return; I just reached out to tell them I admired their business and wanted to support the work they were doing. Of course, I was nervous that they wouldn't reciprocate. But most of them did. And eventually, they started referring clients to me and suggesting my name for interviews with publications or podcasts. They became not only a source of friendship and support, but were also really strategic in helping me grow.
Another thing I did was keep my day job well past the point where I needed to. I worked for an investment firm, and for years I kept doing that during the day and would work on my business on the weekends or after I put the kids to bed at night. It was a slog sometimes, for sure. But I think part of what holds entrepreneurs back is the fear that we're not going to be successful, or we're going to lose everything. And staying in my old job took that fear away, because I knew that if it all crashed and burned, I'll still have this other livelihood and my reputation. It gave me more confidence to take risks, and ultimately, it also helped me get corporate clients and raise my rates.
A lot of start-up advice books and venture capital firms will say that if you keep your day job, it shows that you're not fully invested in your business; you're not "all in." I'd be lying if I said that those voices didn't make me question myself, but I trusted my gut more than that. I know that I'm a hard worker. I know that I'm all in. I was just being realistic. And it ended up being very helpful from a business perspective, even though it wasn't necessarily part of a master plan at first.
"Hire a business coach." — Jessie Cohen, the founder of Jessie Cohen PR & Consulting in Los Angeles, C.A.
At the beginning of the pandemic, I was terrified that my entire business was going to be destroyed. I was telling my sister about all the things I was worried about, and she was like, "Why don't you talk to an executive coach? All of these other business owners and thought leaders have people who help them. They are not trying to figure this out on their own." My sister works in the corporate world, and she referred me to an executive coach she had worked with in the past. Her name is Lara Otte, and hiring her has been the best thing I've ever done for my business. We meet twice a month for an hour. It's part therapy session, part accountability session.
What I like about Lara is that she's trained as a therapist, but she's a business coach. And for me, that was perfect. I needed a therapist, but my life is so tied up in my business that I needed someone who could speak directly to that, too. She did a 360-degree review of my company and interviewed all six of my employees about their experience working with me and our clients, which was enormously helpful. Whenever I spiral or feel like I can't deal with a tricky client or situation, I call or text her. If I'm about to have a difficult conversation, we'll literally write a script for it. She has helped me draft emails and talked me down from countless ledges.
Hiring her wasn't cheap, and at first I didn't think I could afford her, especially given the circumstances. But I told her what I could offer, and she was able to come up with a program to work with it. And over the past year, which was a really tough time, I grew my business a ton. The return on investment has been very obvious and tangible.
"Schedule time just for yourself." — Shannon Maldonado, owner of Yowie, an interior-design studio and store in Philadelphia, P.A.
When you have your own small business, it becomes all-consuming. It's all you can think about, and you give everything to it. I always tell people that Yowie is my baby, and I'm very much a helicopter parent. And after a while — I've had my store for five years — that can wear on you a bit. In the past year, I've tried to be better about making time for myself, and to find something that is 100 percent mine that no one else can be a part of. That, for me, is getting facials. I'm not someone who normally does that kind of thing. I'm low-maintenance. I don't buy myself a lot of stuff. But facials are great because I physically cannot look at my phone or talk to anybody. Part of what I do means that someone is always trying to reach me. And it's important to create space and time where I'm not reachable. It's blacked-out time.
I got myself a subscription package, so I have to go every month because I've paid for it. It's on my calendar, and it's an hour of time that's just for me, getting taken care of. I look forward to it all month. I feel like it's important for my ability to run my business, because it restores me.
"Don't be afraid of conflict." — Agatha Kulaga, CEO and co-founder of Ovenly, a bakery based in New York
Prior to starting Ovenly, I worked at the NYU School of Medicine in psychiatry, and I am trained as a therapist as well. And everyone is always like, "How the hell did you go from psychology to cookies?" But the skills I learned in my previous career have helped me so much as a business owner. I know how to navigate challenging conversations and how to anticipate people's needs.
I'm also unafraid of conflict. And that can help when you're having uncomfortable interactions with customers, staff, or investors. In one instance, an investor asked me during a business meeting about my plans for marriage and having children. It was pretty shocking, and without my career background, I might have just brushed it off. But I am trained to deal with these types of scenarios. So I turned the question back on him, and said, "Are you married? Are you planning on having children?" It's a technique called mirroring.
I know that not every business owner can be a trained therapist, but there are books you can read about psychology that would probably serve you well and give you techniques that you'll find useful.