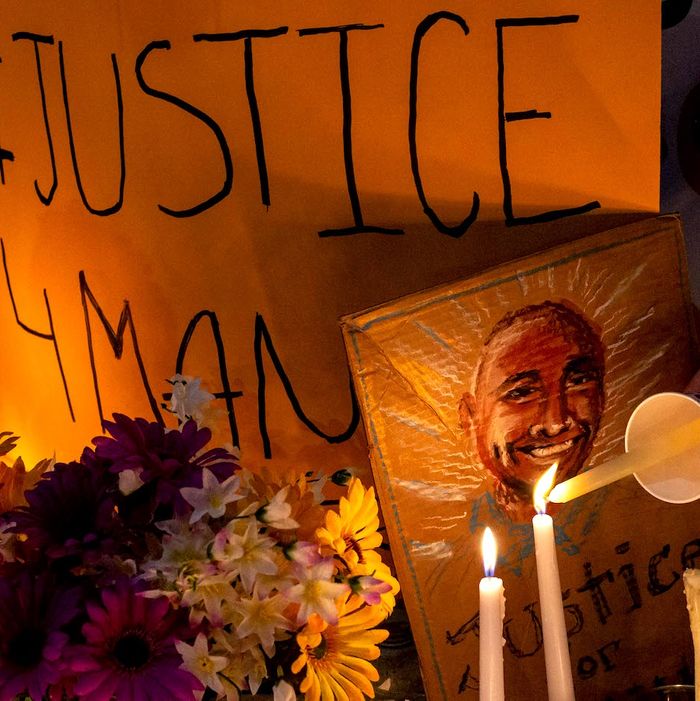 A Tacoma vigil for Manuel Ellis.
Photo: David Ryder/Getty Images
Two cops in Tacoma, Washington, face murder charges for the death of Manuel Ellis, a 33-year-old Black man prosecutors say was walking home when officers brutally beat him in a seemingly unprovoked attack. On Thursday, Washington State attorney general Bob Ferguson charged officers Christopher Burbank and Matthew Collins with second-degree murder, and officer Timothy Rankine with first-degree manslaughter — the first time the attorney general's office has brought criminal charges against police officers for the unlawful use of deadly force.
Ellis, a father of two, spent the evening of March 3, 2020, playing drums with his church's band, prosecutors say. Afterward, he had a video call with his mother, and made a 7-Eleven snack run just after 11 p.m. Walking home, he reportedly stopped to speak with Burbank and Collins, who were sitting in their squad car. Police would explain what happened next as an attempt to arrest Ellis for allegedly "trying to open car doors of occupied vehicles," and (again, allegedly) becoming aggressive as the officers exited their vehicle. But three witnesses — two of whom recorded parts of the confrontation on their phones — painted a very different picture.
According to a probable-cause statement, two bystanders described Ellis's conversation with the officers as casual and cordial — like "the officers knew him from somewhere maybe," one said. But as Ellis walked away, Burbank "abruptly" swung the passenger side door into him, the statement says, knocking him to the ground. Burbank allegedly jumped on Ellis, shoving him into the pavement and punching him repeatedly. According to the statement, Collins then got involved, sitting on top of Ellis and hitting him in the head. That's when the witnesses started recording, prosecutors say. A nearby doorbell camera also provided video, while the dispatch radio supplied additional audio.
In those recordings, the bystanders could be heard shouting at the officers to stop. But instead, Collins reportedly performed a restraint that involved him clamping his arm around the front of Ellis's neck, while Burbank proceeded to Tase him. Ellis "wasn't even defending himself," one witness told prosecutors, but on doorbell footage, he could reportedly be heard screaming and pleading, "Can't breathe, sir. Can't breathe!" Yet they allegedly continued to tase him and apply pressure to his neck, one of the officers telling Ellis to "shut the fuck up," according to video from the doorbell camera. When Rankine showed up, prosecutors said he piled on Ellis, too, allegedly responding to Ellis's pleas by telling him, evenly, that "if you're talking to me, you can breathe just fine."
The officers then hog-tied Ellis and pulled a spit hood over his head, leaving him to lie face-down on the ground for six to nine minutes, according to the probable-cause statement. Paramedics declared him dead at the scene. The Pierce County Medical Examiner would later declare the cause of death homicide: oxygen deprivation due to physical restraint.
Burbank and Collins first claimed that Ellis attacked them, according to prosecutors, punching their car while they were stopped at a red light. Initially, the Pierce County Sheriff's Office handled the investigation, but when it emerged — three months later — that one of its deputies had responded to the incident, Governor Jay Inslee transferred the case to the Washington State Patrol, to "ensure an independent investigation and independent prosecutorial review … free of conflicts of interest."
Warrants have been issued for the officers' arrest, and the attorney general's investigation — which is also probing actions by other officers on the scene — remains ongoing. The murder and manslaughter charges both carry maximum sentences of life in prison.