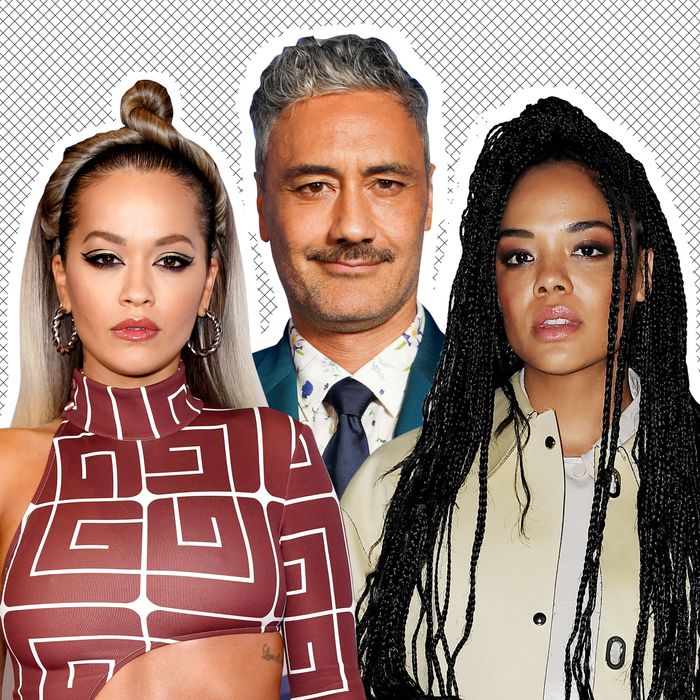 Why hello there.
Photo-Illustration: The Cut. Photos: Getty Images
Well! Well well well, what a pleasingly horny development in the ongoing drama that is 2021's collection of very unexpected celebrity couples: It appears rumored romantic unit Rita Ora and Taika Waititi may have acquired a third, if only for a night. Who might that be, you ask? Based on paparazzi photos apparently taken after an "all-night party" at the director's Sydney home on Sunday, quite possibly Tessa Thompson?? Incredible if true, I know!
The Daily Mail published its usual boatload of images from the encounter. Most of them feature Waititi, Ora, and Thompson in various combinations of kissing: Waititi kissing Ora, Ora kissing Thompson, Thompson kissing Waititi, or all three kissing at once. Please note, a number of other people appear to have been present for the PDA who did not really look involved but were nonetheless sitting right there. We cannot say what their roles in all this may have been.
So, difficult to know what exactly was going on, short of mutual kissing. All I can tell you is that Waititi and Thompson are both in Sydney to film Thor: Love and Thunder — Thompson plays Marvel's first queer superhero, Valkyrie — while Ora just wrapped work on The Voice: Australia, and that the whole thing certainly scanned as a "cozy display," to borrow the Daily Mail's descriptor. Move over, unexpected celebrity couples; it's time for unexpected celebrity throuples, I guess?! Huh! Cautiously eager to see who these two horndogs might invite into the mix.