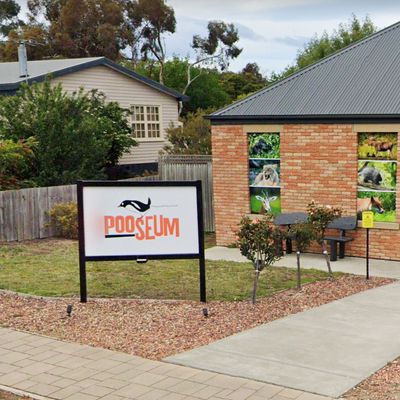 The "offensive" sign.
Photo: Google Maps
Playing out in Tasmania is a bitter struggle between freedom of expression and censorship, the little guy and the Man, right and wrong itself. It is a struggle between the owner of the Australian island's small yet prized Pooseum, a museum "dedicated entirely to the intriguing world of animal droppings," and members of the local city council, who want to see the cultural institution's iconic sign done away with.
This sign, which features an illustration of a penguin bending over and projectile pooping, has long been a source of tension. Since the sign's erection in 2019, the Clarence City Council has argued that its position in front of the Pooseum, "where talking about poo is not taboo," doesn't meet the town's heritage requirements. A feud has ensued between the two parties, The Guardian reports — and it has become so heated that Pooseum owner Karin Koch has brought in Tasmania's Integrity Commission.
In a formal complaint to the state's public-sector misconduct watchdog, Koch charges that members of the city council have "engaged in ongoing bullying and discriminating behaviour to enforce the removal of the sign, because, as a council member told me in a face-to-face meeting, they 'don't like it.'" The council apparently believes the Pooseum's sign is "too large and too modern," Koch continued — a justification she finds discriminatory, citing other local businesses with equally big signs.
But Mayor Doug Chipman disputes that narrative, claiming the council's disapproval of the sign has "absolutely nothing to do" with the rendition of a penguin letting out a long string of poo. "The only reason we don't like the sign is because it doesn't comply with the [heritage] scheme — it's got nothing to do with what's written on it," Chipman told The Guardian. "We, as a council, would love to help the poo museum be a successful business. We've said that, and I just cannot understand why the simple size and orientation of the sign has to be an issue."
It doesn't appear that this feud will be resolved anytime soon. Although Koch has since modified the sign — it currently features a commanding message directed at the mayor, which reads, "More than 1600 people have signed the petition to keep the Pooseum sign. When are you going to listen?" — she refuses to stop fighting for what she believes is right. Meanwhile, the council is "obligated by law to enforce the planning scheme," says general manager Ian Nelson, adding that it exists "to protect this important historical precinct for future generations."
But how much harm, exactly, can the museum where you can "learn more about poo than you ever thought possible" really inflict on these future generations? What side of history does the city council want to be on?