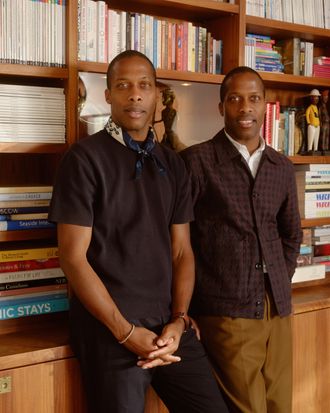 Photo: RICHMOND LAM/Courtesy of Byron and Dexter Peart
Byron and Dexter Peart believe that how you shop has the power to transform the world. In 2019, the twin brothers founded the lifestyle marketplace Goodee. The aesthetic is current but not overly trendy – everything looks like it would belong in the home of your most tasteful friend. And every single item they stock comes from an artisan or brand committed to making a positive social or environmental impact.
The brothers told the Cut that supporting diverse artists was also crucial to their plan for running a Black-owned business. "We began to imagine a world of slower living, where communities could consume responsibly created products, connect with loved ones, and find respite from the distractions of our modern world," they explained in an email. "As our vision came into focus, we began to see that the power of good design, paired with technology, could change the way we consume and connect with our surroundings and people."
Below, the two walk us through their favorite things.
What's one thing on Goodee that's especially meaningful to you?
Byron Peart: The Bassi Market Tote is an extremely special piece to me. It stemmed from a trip to Africa that me and Dexter took prior to the launch of Goodee. We met with a longtime friend, Simone Cipriani, founder of the Ethical Fashion Initiative — the fashion-production arm of the United Nations. In collaboration with EFI, we created this bag.
The quality and craftsmanship are the product of incredible women in Burkina Faso. They work in safe conditions, earn fare wages, and dye the ethically sourced cotton threads by hand. The tote's namesake, Bassirou, is the incredible lead artisan for Cartiera, a production house in Italy that employs refugees. I take it with me everywhere, and it's a solid companion that can withstand my busy life.
Dexter Peart: The Ecobirdy Art Corner Set has special meaning for me because of how much my daughters love it. We can teach our children from a young age that good design doesn't have to cost our planet, and that is a beautiful thing. Ecobirdy is a Belgian design company that's really pioneering what upcycled children's furniture can be.
How do you thank someone for a gift?
Byron: We both like handwritten notes.
What would you never wear?
Byron: Ugg boots.
Dexter: Fur.
What's your dream vacation?
Dexter: Round Hill, Jamaica. We go there every year at Christmas with our family. Having not been able to get back since COVID, it's the first place we dream about going when it is safe.
What's a good book on your coffee table right now?
Byron: For both of us, Soul of a Nation: Art in the Age of Black Power.
Last show you binge-watched?
Byron: The Queen's Gambit.
Dexter: Game of Thrones.
What's your guilty pleasure?
Byron: Reid's Chocolates almond bark.
Dexter: Miss Vicky's salt-and-vinegar potato chips.
Secret to hosting a good party?
Dexter: We'd both say it's great people and great conversations.
What is a trend that you like right now?
Byron: That people are becoming more aware of what they choose to consume and how it impacts our people and our planet.
One you don't understand?
Dexter: Fast fashion, for both of us.
Favorite restaurant in New York?
Byron: Cookshop and Frenchette
What's the one thing you could eat every day for the rest of your life?Byron: Miss Lily's jerk chicken with rice and peas.
Dexter: Shrimp pad thai.
Shoes you wear most often?
Dexter: Veja V-10 sneakers.
What are five inanimate objects that bring you joy?
Byron: This year, my husband and I added a Beaglier (Beagle and Cavalier King Charles) puppy, Hugo, to our household. He is an active little guy and loves to play with the collection of hand-crocheted toys and baskets made from recycled tees that were gifted to him by our nieces. These fair-trade products perform double-duty, befriending little pups while providing gainful employment to craftswomen in Nepal.
Dexter: As a family, we spend a lot of time on the go — whether lounging on the outdoor terrace at home or off in the country. Our kids love to sing and dance, so no family moment is complete without music. The Move is the perfect companion for us because it lets us always our favorite tunes cued up.
Byron: I have been an avid Patagonia fan since my youth and continue to swear by their stylish and sensible performance staples. I was thrilled to add this upcycled vest for cozying up at home and layering outdoors.
Dexter: Outdoor living in our home also includes a lot of cooking. We recently purchased this kit, and it has been so much fun for the family to experiment with making our own pizza, burgers, fish, vegetable dishes, and Jamaican jerk chicken.
Byron: I have long wanted to take up riding again, and being locked down for over a year — with limited transportation options and access to exercise — inspired me to make an investment in a new bike. The Sutra, a commuter-meets-touring workhorse, was a perfect fit for me and my lifestyle. With a stylish dark-green aluminum frame and a Brooks saddle, it has an elegant and sporty look.