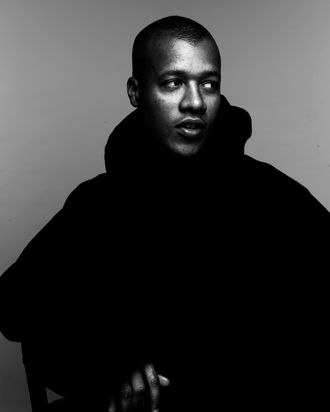 Photo: Jason Leiva/Courtesy of Heron Preston
Heron Preston says that his style is "cool blue-collar chic." Since graduating from Parsons in 2004 and launching his eponymous label in 2016, Preston has used his streetwear sensibility to remix classic American workwear in a long list of collaborations with the likes of Virgil Abloh, Kanye West, the NYC Department of Sanitation, and NASA. Last week, Preston released his latest collaboration with Calvin Klein, a genderless collection inspired by "traditions of utility and performance."
The collection consists of basics, but that doesn't mean the clothes are generic. Preston started by looking at the brand's most iconic pieces like underwear and white tees and expanded from there. "When you come from streetwear and skateboarding, with my background, the T-shirt is something you start designing first and is what you've got to do best. It's like social currency for us," said Preston.
What emerged were boxy heavyweight tees, laid-back straight-leg jeans and matching denim jackets, and Preston's take on the classic Calvin Klein undies. Everything is mostly in black and white, but splashes of olive and cobalt give the staples a new life. See it all here.
We spoke with Preston about designing playfully, being unbothered, and TikTok pasta.
What's one piece from a new collection that's especially meaningful to you?
The Level Boots because they're creatively playful. They represent workwear, the ambition of the brand to put twists on staples in fashion. It helps us see the design in a whole new way.
How do you thank someone for a gift?
Say thank you! I just say, "Thank you so much!" Depending on the gift, I will share it on my social media if I think it's really cool.
 
What would you never wear?
I will never wear a fedora.
 
What's your dream vacation?
My dream vacation is in Turks and Caicos, unbothered with my girlfriend and our dogs. It is all about being unbothered. It can be anywhere, but we have to be unbothered.
 
Last show you binge-watched?
Your Honor. You should watch it!
 
What's your guilty pleasure?
Fried food.
 
Secret to hosting a good party?
Well, you must have alcohol. You need to have a really good sound system, really good music, and a guest list of really cool and interesting people.
 
What is a trend that you like right now?
All of the viral recipes that pop up on TikTok. The latest one is the feta-cheese pasta dish. Everyone is making it.
Favorite restaurant in New York?
Tempura Matsui.
What's the one thing you could eat every day for the rest of your life?
Tacos!
Shoes you wear most often?
These days, it would be my Caterpillar storm boots from our collaboration.
What are five inanimate objects that bring you joy?
"Hood by Air straight-up sold a bowl, which is so unexpected of a fashion brand."
"It is amazing and cleans my teeth better than a manual toothbrush."
"Devon Ojas curated all of the best parts to make up a sound system. The sound is really great if you want to listen to vinyl."
"The CDJ with Virgil is really fun because he removed all of the text from it, so you really have to know the equipment in order to use it."
"My G-Wagon is a mini tank, and her name is Lisal."