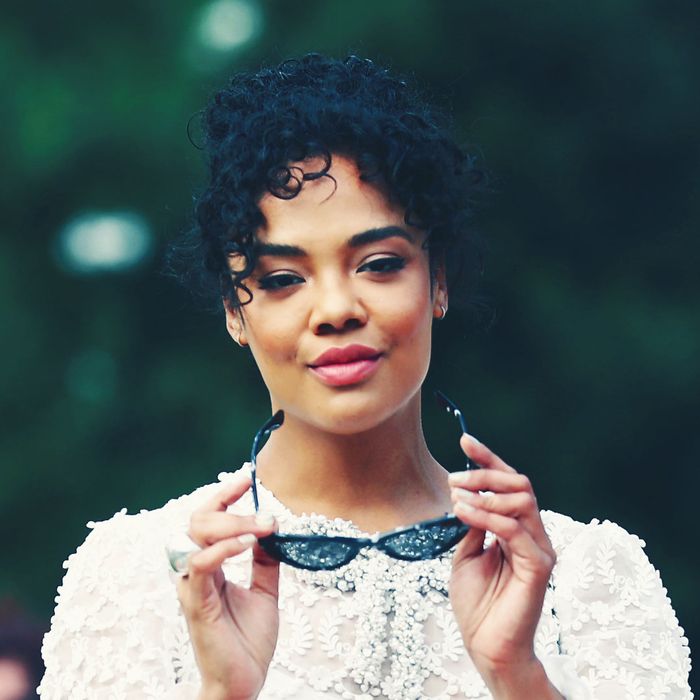 Tessa Thompson
Photo: Tristan Fewings/GC Images
Technically, we still have about a month before summer begins, but Tessa Thompson is already setting the seasonal tone. On Sunday, the actor was seen touching faces with rumored romantic unit Rita Ora and Taika Waititi after an "all-night party" at Waititi's Sydney home. A big round of applause for Thompson, please! This is precisely the energy we are going for this hot vax summer, and it gets better: Waititi and Ora are apparently not the only ones who got a little kiss from Thompson this weekend. According to "Page Six," she also did some making out with model (and twin) Zac Stenmark on Sunday. That is absolutely the ticket.
The tabloid reports that Thompson and Stenmark enjoyed a "flirty stroll" in Sydney, during which they "could hardly keep their hands off each other" and "were seen smooching passionately as if no one was around." In pics from their walk — published by "Page Six" — the pair appear to be cracking one another up between kisses. In one, Stenmark is "seen lovingly lifting Thompson's sunglasses off her face" in order to "gaze into her eyes." In another, he lifts his arms in a Jack-at-the-front-of-the-Titanic gesture while she laughs up at his face. Ooh la la!
Is it a sign that the long-forecasted season of unprecedented lustiness has finally arrived? I'm not a meteorologist, but it seems to me that the horn-clouds have been gathering on the horizon for a while now: Celebs putting on spectacular displays of public friskiness? Skyrocketing demand for crop tops? Juicy hams running wild in Brooklyn? Hell yeah, it's all happening.