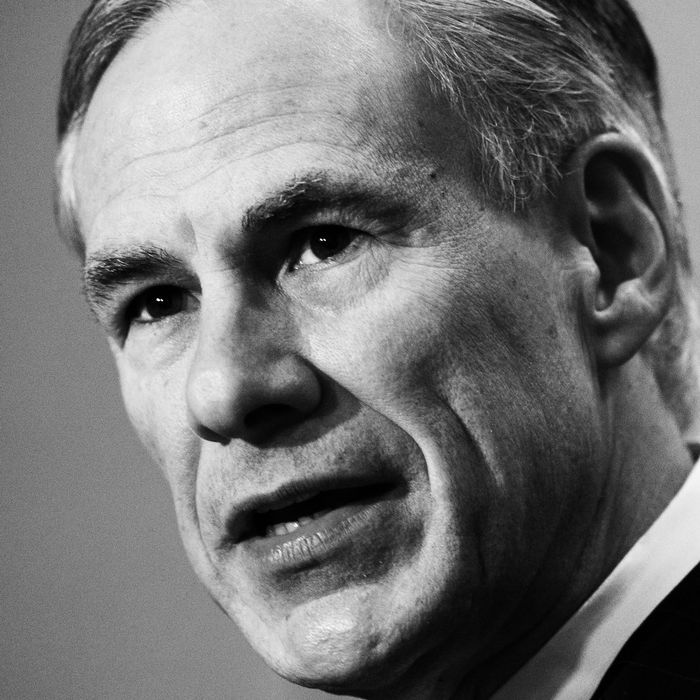 Texas governor Greg Abbott.
Photo: Bill Clark/CQ-Roll Call, Inc via Getty Images
On Wednesday, Texas governor Greg Abbott signed into law a bill banning abortions in which fetal cardiac activity has been detected. This could include pregnancies as early as six weeks, which is before many even know they're pregnant. While the bill exempts medical emergencies, it does not make exceptions for cases of incest or rape, arguing that "public and private agencies provide … emergency contraception for victims of rape or incest." As the Texas Tribune notes, this expands Texas's already restrictive anti-abortion laws, which prohibited most abortions after about 20 weeks, as well as banned pill-induced abortions after ten weeks.
The bill is unique in that it gives individual citizens the ability to sue abortion providers rather than having government agencies enforce the law. This includes anyone from an abortion clinic's front-desk staff to a person who drives someone to the clinic. Additionally, a person does not have to be connected to the individual who had an abortion or the provider in order to sue. Put simply, any individual could sue an abortion provider if they perform an abortion after six weeks.
"This has a chilling effect on our judicial system," Carmen Roe, legal analyst for CBS affiliate KHOU, said, noting the bill has the potential to "[flood] courts with frivolous lawsuits." In a Facebook livestream, Governor Abbott said the Texas legislature "worked together on a bipartisan basis to pass a bill that I'm about to sign that ensures that the life of every unborn child who has a heartbeat will be saved from the ravages of abortion." Earlier in the month, 400 lawyers and 200 doctors sent a letter to lawmakers in opposition to the bill.
This is only the latest in a slew of restrictive abortion laws passed this year. In February, Republican lawmakers in Tennessee passed a bill that would allow a man to prevent someone he impregnated from having an abortion by filing a legal petition. In March, Arkansas governor Asa Hutchinson signed a law that makes performing an abortion an unclassified felony, prohibiting the procedure in all circumstances except for cases in which the life of the mother or fetus is endangered. This year, South Carolina, Oklahoma, and Idaho also passed anti-abortion bills contingent on fetal cardiac activity. None of these restrictive bans are currently in effect as they violate Roe v. Wade. Similarly, experts expect the new Texas law to be struck down as well, keeping abortion a legal practice in the state.
Many of these extreme anti-abortion bills are conservative-led initiatives, passed with the intent that they'll escalate to the Supreme Court and challenge (and potentially overturn) Roe v. Wade. And their efforts appear to be working: Earlier this week, the U.S. Supreme Court, which now has a 6–3 conservative majority, said it would hear a case concerning a Mississippi law that would ban most abortions after 15 weeks. The Court is expected to make a decision by June 2022.