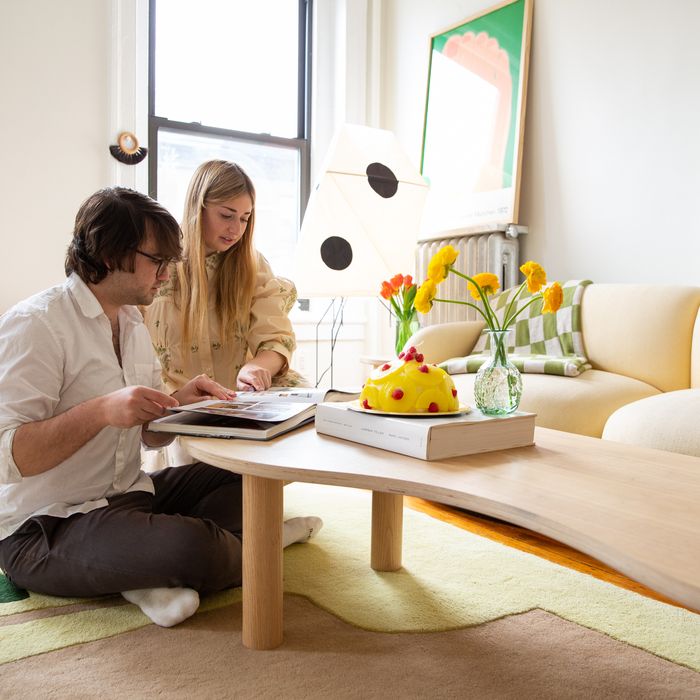 Turns out, love isn't completely off the table. Wiggle Room is a furniture company that's been winning over New Yorkers with its whimsical tables, which come in Instagram-friendly colors like lavender and pistachio. The company's co-founders are Levi Shaw-Faber, a master's candidate at Yale School of Architecture, and Zoe Cohen, the head of brand marketing at Parade — the underwear company that's become ubiquitous on social media. So it's not a surprise that the aesthetic feels tailored for this particularly groovy, interiors-obsessed moment. And now, they've launched a slightly more accessible collection.
The Wiggle Room wood collection features a side table, coffee table, and dining table in Baltic birch. The idea, says Cohen, is to broaden the company's reach with a more simple design. "While we originally thought that our tables would primarily sell to younger people living in urban areas, they've ended up in over 30 states. With the introduction of our all-wood line, we can reach an even wider customer base."
Wiggle Room launched back in 2019, born out of its creators' home-improvement project in their Brooklyn apartment. They built themselves a table inspired by the curvy forms of Brazilian landscape architect Roberto Burle Marx (as one does) and realized they wanted to make more. "We found that wiggly and often colorful pieces of furniture bring us a lot of joy because they break up the city's rigidity and feel unexpected in our urban homes," says Shaw-Faber.
Scroll down to experience that joy for yourself.