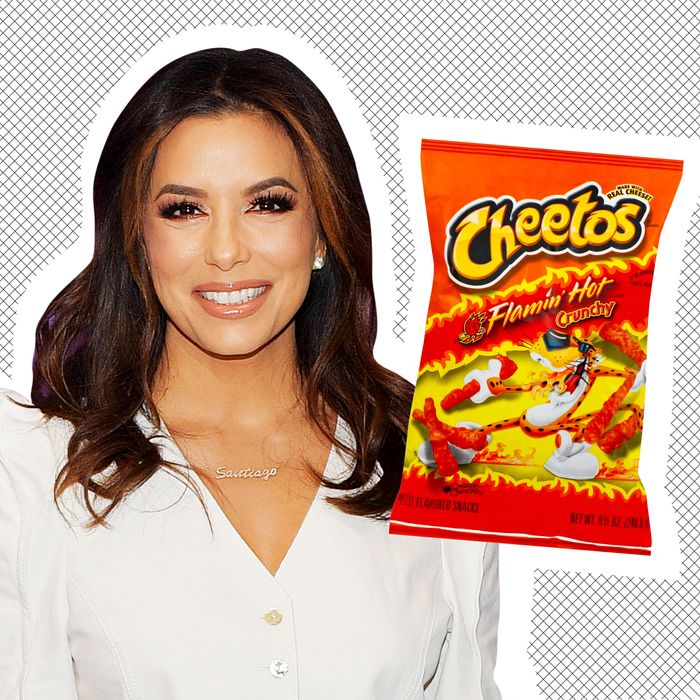 Photo-Illustration: The Cut. Photos: Getty Images; PepsiCo
Today's Hollywood drama is brought to you by Eva Longoria and *checks notes* Flamin' Hot Cheetos? The actress is directing a biopic on Richard Montañez, the former Frito-Lay janitor turned executive who created Flamin' Hot Cheetos and helped change the financial trajectory of the company. Inspiring! Delicious! Good Will Hunting but make it Cheetos! Unfortunately, the story has become increasingly convoluted.
On May 16, the L.A. Times released an in-depth investigation on the origins of Flamin' Hot Cheetos, in which a statement from Frito-Lay implied Montañez didn't actually invent the spicy snack. "None of our records show that Richard was involved in any capacity in the Flamin' Hot test market," Frito-Lay told the L.A. Times. "We have interviewed multiple personnel who were involved in the test market, and all of them indicate that Richard was not involved in any capacity in the test market."
But wait! It gets spicier. Earlier this month, NPR reporter and host of "Planet Money" Sarah Gonzalez also took an in-depth look at the origins of Flamin' Hot Cheetos. And Gonzalez has shared details of her conversations with Frito-Lay that conflict with the statement the company gave the Times. While the company told Gonzalez it "[does] not credit the product creation to him and him alone," it said that Montañez was involved: "He was a part of it. Yes. Sure."
A spokesperson for Montañez initially responded in a comment to Entertainment Weekly, saying none of Montañez's contributions were documented as a result of his position as a general utility machine operator and janitor at the time. "Richard is going to continue to stand on his story," his spokesperson said. "After 42 years, he doesn't understand why Frito-Lay's taking the position they're taking." In the Times report, Frito-Lay said the conflicting information "doesn't mean [they] don't celebrate Richard" and his success. "But the facts do not support the urban legend."
Now, PepsiCo, Frito-Lay's parent company, is saying all the hubbub was over nothing. On May 21, PepsiCo released a statement to Latin Heat affirming Montañez's involvement in the creation of the product: "The sincere truth is, at PepsiCo, we believe in the strength and power of teams, and we attribute the launch and success of Flamin' Hot Cheetos and other products to several people who worked at PepsiCo, including Richard Montañez." The company added that previous information had been "misconstrued by some." 
So, who is to thank for our Lord and savior Flamin' Hot Cheetos? It appears a bunch of people, including Richard Montañez. In the Times report, Frito-Lay credited the product's creation to a group of "snack food professionals" — a title I envy. As PepsiCo's recent statement clarifies, Montañez is among that group. Per the Times report, Frito-Lay credits Lynne Greenfled, who was a junior employee at the time, as the person who came up with the name for the beloved spicy snack.
"There's an immense pressure I feel about [Flamin' Hot] because I've got to get it right," Longoria told Entertainment Weekly in a previous interview about the biopic. Neither the actress nor producers of the upcoming movie have responded to the recent claims as of yet.
Spicy drama ensues! Grab your Cheetos popcorn, folks.