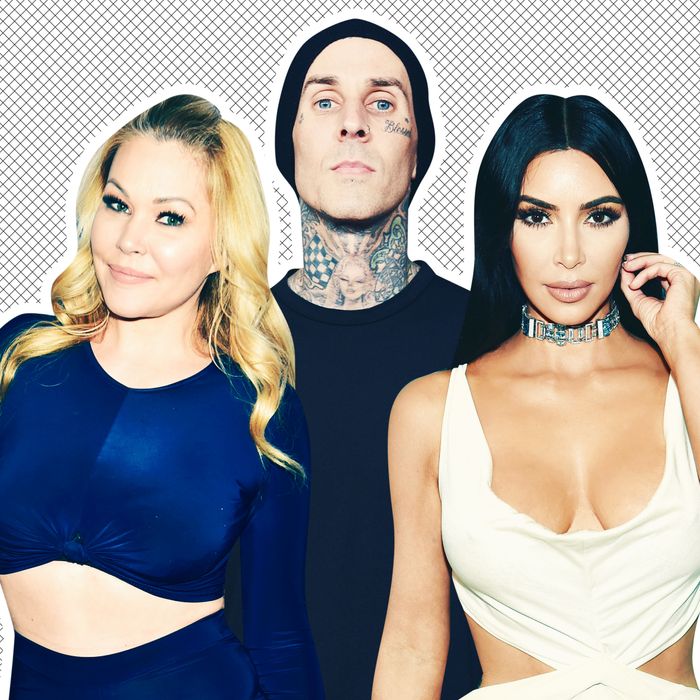 Shanna Moakler, Travis Barker, and Kim Kardashian.
Photo-Illustration: by The Cut; Photos: Getty Images
Another day, another alleged cheating scandal roiling the Kardashian-Jenner clan. The latest saga involves two members of the family: Kim and Kourtney. The allegations? That Blink-182 drummer Travis Barker, Kourtney's boyfriend of five months, had an affair with Kim at some point in the 2000s — at least, so claims Barker's ex-wife, former Miss USA Shanna Moakler, who says the alleged cheating was the catalyst for her and Barker's divorce in 2008. However, Kim says it never happened.
While messiness is a defining feature of Kardashian-Jenner cheating scandals — remember when Tristan Thompson, notorious cheater and partner of Khloé, allegedly hooked up with Jordyn Woods, Kylie Jenner's then-BFF? — this one has a lot of moving parts. Let's unravel all the conflicting claims.
It all began when Barker and Moakler's daughter shared an explosive DM.
The drama began unfolding earlier this month, when one of Barker and Moakler's teenage kids — Alabama, who's 15 — began ranting about her mom on social media. In a post to her Instagram Story, Alabama accused Moakler of never being "completely" in her life, and of never being an "amazing Mom."
Alongside her own gripes, Alabama shared a screenshot of an Instagram DM that her mother allegedly sent. The message read, in part: "I divorced Travis because I caught him having an affair with Kim! Now he's in love with her sister … It's all gross … I'm not the bad guy!"
A source close to Kim says no such thing ever happened.
As the rumors began to circulate, sources were quick to mobilize. On Monday, an unnamed source close to Kim insisted to "Page Six" that "Travis and Kim have never had a romantic relationship," and that "they were friends who met through Paris Hilton" (which is apparently how Kourtney and Barker met as well). Another source "close to the situation" told In Touch Weekly that the allegations are "absolutely not true." Others accused Moakler of being motivated by jealousy.
"Anyone who is close to them has always known that Travis has been in love with Kourtney for forever [not Kim]," said another source. "They are madly in love and best of friends. Everyone in their circle couldn't be happier for them."
But Moakler has since come forward to stand behind the allegations.
Things got even messier when Moakler decided to personally weigh in on the escalating drama. She says the rumors are true. "I divorced my ex because I saw them," she told Us Weekly, referring to Barker and Kim. "I caught them having an affair."
Moakler later appeared to double-down on the accusations, telling TMZ, "My family is broken because of this family and now my kids and I are alienated from each other because of another sister in the family, so yay for me." When asked what she'd say to Kourtney and Kim directly, Moakler responded, "Thanks for destroying my family twice."
Meanwhile, old incriminating evidence began to surface.
As the scandal has unfolded, rapt followers have been poring over old interviews and messages, seeking any information that could lend more insight into the allegations. So far, two documents have surfaced.
The first is an interview that Barker gave to Us Weekly in 2015, in which he admitted that when he met Kim in 2006 — at which point, he was hooking up with Hilton — he was immediately attracted to her. "Kim was eye candy," Barker said. "I was no way disrespectful to Paris, but I couldn't keep my eyes off Kim!" (A source later told "Page Six" that Barker was clearly joking when he made these comments.)
Additionally, many have pointed to a meandering Instagram Story that Danity Kane singer Aubrey O'Day posted back in July 2020, in which she recalled spending one Fourth of July — the year is unclear — with Kim. At the time, O'Day writes that Kim "was hooking up with Travis Barker and we were at his house … Shanna his ex (who I love) supposedly was threatening to slash [Kim's] tires (sorry girl but that was funny shit, I would have too) so they asked her to park her car somewhere else."
Now, Kim has publicly addressed the rumors.
On Wednesday, Kim answered a few questions submitted by followers on her Instagram Story. One person cut straight to the chase, asking, "Did you hook up with Travis Barker?" Kim responded, "NO! False narrative! We've been friends for years and I'm so happy for him and Kourt."
Kourtney Kardashian and Barker have yet to publicly respond to Moakler's allegations. However, Barker recently debuted a new tattoo that some have interpreted as a response. Emblazoned on his neck is the phrase, "Don't trust anyone," and he also recently tweeted "silence is also an answer." Interesting.
Anyhow, we'll continue to follow along as this, inevitably, develops.
This post has been updated.