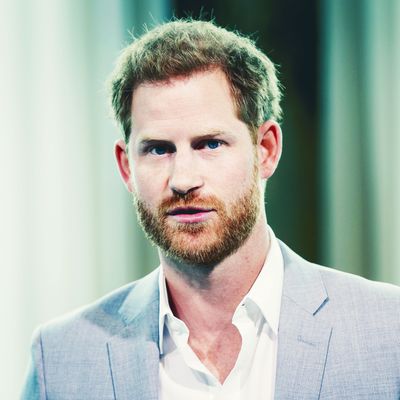 Prince Harry.
Photo: KOEN VAN WEEL/AFP via Getty Images
Last week, to promote his forthcoming TV series with Oprah, Prince Harry went on Dax Shepard's podcast, Armchair Expert, where he proceeded to talk for over an hour and a half about all sorts of things. He recounted a needlessly complex date that he and Meghan once had at the supermarket, called the First Amendment "bonkers," and also made some unflattering comments about his time as an acting royal. He described his life as "a mix between The Truman Show and living in a zoo," which he inherited "without a choice." And, well, the family apparently isn't thrilled.
"The queen is unimpressed with Harry's latest interview and found it hurtful. It hasn't done their relationship any favors," a source told Us Weekly, adding that Harry's dad and brother, Prince Charles and Prince William, are apparently "livid."
While comparing his experience to that of a confined animal is among the harsher characterizations Harry has made about life in the royal family, his criticism doesn't exactly come as a surprise. Since he and Meghan stepped back as senior royals in January 2020, the couple hasn't painted the most flattering portrait of the royal family; during their incendiary tell-all interview with Oprah in March, for example, the couple said that an unnamed person in the family's inner circle expressed concerns over the color of Archie's skin, and Meghan said royal life made her suicidal.
Even so, the recent comments still rankled. "They feel it was thoughtless and irresponsible of Harry to once again shade the Firm so soon after Prince Philip's death, while the queen is still mourning the death of her husband," the source continued. While a second source added that the queen "still has a soft spot for Harry," the first source says Charles and William wish Harry would "discuss" his "opinions" more privately — presumably, because they don't align with the rosy vision of the royal family that they're trying so hard to push.
Looking forward to hearing what they think about Harry's new show with Oprah, which focuses on mental health, and premieres tomorrow.