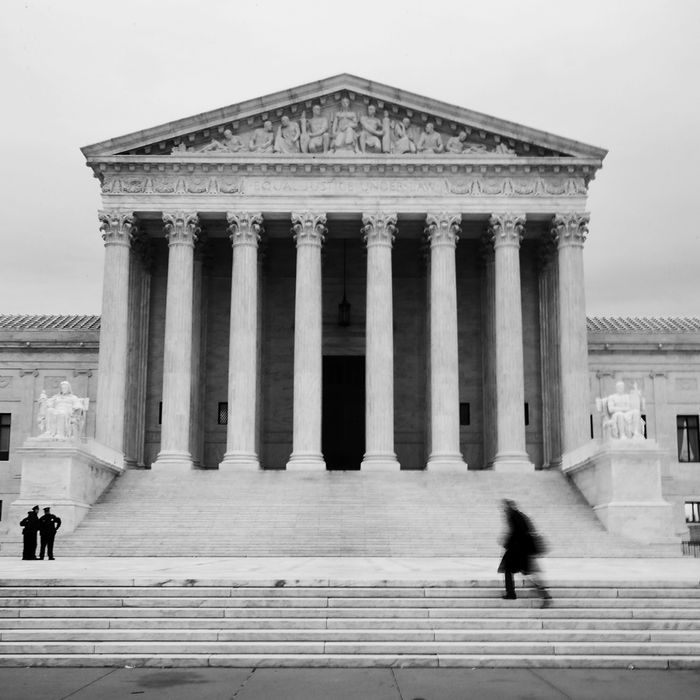 The Supreme Court will take up a major abortion case seen as a direct challenge to
Roe
v.
Wade
.
Photo: Mark Wilson/Getty Images
This morning, the Supreme Court announced that it will take up a major abortion case that reproductive-rights advocates say poses a serious, direct threat to Roe v. Wade. That the highest federal court — which now has a 6-3 conservative majority following Justice Amy Coney Barrett's rushed confirmation — has decided to hear the case during its next term is "incredibly concerning," Elizabeth Nash, a Guttmacher Institute principal policy associate, said in a statement, adding: "This is not a drill."
At the center of the case is an incredibly restrictive law out of Mississippi, which bans nearly all abortions after 15 weeks; while the legislation makes exceptions for instances in which the mother's life is threatened or there's a "severe fetal abnormality," there are no exceptions for rape or incest. When Mississippi governor Phil Bryant — a lawmaker who once declared it his goal to "end abortion" in the state — signed the bill into law in March 2018, it was one of the nation's most restrictive pieces of abortion legislation. Jackson Women's Health Organization, the state's only abortion clinic, sued immediately. Then, in November of that year, a federal judge in Mississippi struck down the law, condemning lawmakers for passing an egregiously unconstitutional law with the hope that the Supreme Court would take up the case and overturn Roe v. Wade. In December 2019, the Fifth U.S. Circuit Court of Appeals upheld that ruling.
Now, the case will go before the Supreme Court, which will reconsider a standard established by Roe v. Wade. In the 1973 case, the Supreme Court ruled that it was illegal for states to ban abortion before fetal viability, which typically occurs around 24 weeks; in the 1992 landmark case Planned Parenthood v. Casey, the Supreme Court reaffirmed this. But now, by hearing the new dispute, Dobbs v. Jackson Women's Health Organization, the Supreme Court will reexamine whether "all pre-viability prohibitions on elective abortions are unconstitutional."
The significance of the case is difficult to overstate. "This will be, by far, the most important abortion case the Court will have heard since the Casey decision in 1992," said Steve Vladeck, CNN's Supreme Court analyst and professor at the University of Texas School of Law. "If states are allowed to effectively ban abortions after the 15th week of pregnancy, as the Mississippi law in this case does, then pregnant women would have a far shorter window in which they could lawfully obtain an abortion than what Roe and Casey currently require."
As Nash continued in her own statement: "This onslaught of new restrictions has been motivated by a much more conservative judiciary and Supreme Court that conservatives hope are willing to gut Roe v. Wade or overturn it outright. Make no mistake: The purpose of any abortion ban — including this 15-week ban in Mississippi — is to snowball into a outright ban on all abortion at any point in pregnancy and for any reason."
The court's next term begins in October, and a decision is expected by June of 2022.