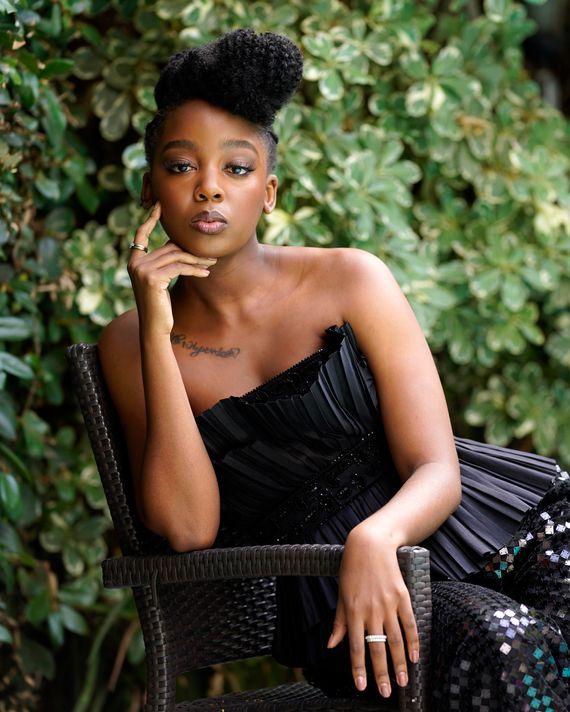 Photo: Chris Pizzello/Invision/AP
Starring in Barry Jenkins's The Underground Railroad, Thuso Mbedu has made history as the first South African to lead an American television series, but she's not too concerned about it. Joining me over Zoom from Los Angeles, the 29-year-old thespian is all smiles and all about her art. While demure and gracious, Mbedu radiates a youthful curiosity fervently speaking with her hands about her life's calling: storytelling. When I ask about her journey from being a performer on South African soaps to a fortified Hollywood front-runner, her eyes light up with glee. "A part of me really doesn't fully grasp what this moment is. I hear my team talk about it. I hear other people talk about how this is a life-changing moment. And I'm like, 'Okay, we'll deal with that when it happens.'"
The life-changing moment she references are the rave reviews for her portrayal of Cora, an enslaved woman on the run in The Underground Railroad, a television adaptation of Colson Whitehead's 2017 Pulitzer Prize-winning novel of the same name. In this reimagination of American history, the underground railroad is a literal subterranean transit system, on which Cora takes a tumultuous expedition from Georgia to farther north than she ever could have imagined. Mbedu's performance has garnered much acclaim, from features in Vogue, Essence, and Dazed to the cover of Emmy magazine, but despite all the buzz, she remains fixated on her craft, not her blossoming fame.
"I've never allowed myself to be in that moment of 'Oh, I'm in the limelight now. How do I alter this or that?' No, it's always been focusing on what matters, and that's preparing yourself to be the best version of yourself for when the opportunities come to you."
The Underground Railroad explores the notion of exceptionalism. Cora's dear friend and fellow slave Caesar (Aaron Pierre) tells her she is "good luck" in the opening scene, and the sentiment is later reiterated by the many friends she makes during her odyssey toward a new life. While the central themes of good fortune and uniqueness are integral to Cora's hero's journey, it begins to haunt her. She rejects it at every turn, oftentimes pushing her closest loved ones away. Any and all references to exceptionalism open up a series of wounds Cora would rather leave unattended.
Barry Jenkins, who directed the series, identified something special in Mbedu. "He saw something in me that I didn't see in myself," Mbedu tells me. Through her portrayal of Cora, Mbedu found some solace and a "sense of healing that I didn't know I needed." It is her prayer that all viewers of The Underground Railroad find something similar through watching it.
Mbedu discovered acting at an early age, but she had other plans for her life and career. Growing up in Pietermaritzburg, South Africa, Mbedu dreamed of becoming a dermatologist. Throughout her childhood, she had various skin allergies and sought out remedies for her ailments. During her sophomore year of high school, she needed a seventh course to complete her schedule. She chose drama as a means of relaxation but soon had found a new passion.
At the end of the school year, Mbedu performed an original poem for the drama department's final exam. "When I'd written it, it wasn't meant to be seen or read by anyone else. It was an introspective poem about myself to myself," she says. Right after the performance, people began to weep and cry and thank Mbedu for her vulnerability. At that moment, something shifted. "I was like, 'This is what I want to do with the rest of my life.'" Drama suddenly became a tool for healing, social change, personal agency and enriching people's lives. Just a little over a decade later, she landed the lead role of Cora.
To prepare for The Underground Railroad, Mbedu immersed herself in both written and recorded testimonials of formerly enslaved people. While Cora's journey toward the Mason-Dixon line affected her physically, it also influenced her speech. A great deal of Cora's trauma is housed in her voice. As she travels from state to state, each place she finds herself in affords her varying levels of personal autonomy.
Mbedu illustrates the highs and lows of Cora's vocal development with deep sensitivity. The recordings she found helped her expand her understanding of enslaved people and their own specific dialects. "I came to realize that the English that they spoke was English for instruction, not English for conversation," she says. "The English they spoke is an English spoken in rural South Africa and other parts of Africa. At that moment, it stopped being a story about African Americans and became a story about Africans in America."
From there, Mbedu was ready to tell a story. She hopes audiences can draw parallels between the events depicted in the series and the current state of American affairs. In episode one, there are slave catchers and slave patrollers; now we have a police state. In episode two, various forces attempt to sterilize Black bodies; now we see Black mothers scared of whether they will live through childbirth. In episode three, Black people are lynched along the Trail of Tears; just last year, 15-year-old Quawan "Bobby" Charles was lynched not far from New Orleans. While slavery was technically abolished nearly two centuries ago, the U.S. has a long way to go. Mbedu hopes that this series can spark some worthwhile discussion.
"With this story, I want people to know, we hear you," she says. "You're not crazy for thinking and feeling the way that you do. We hear you; we see you. And so now that we see you, where to from here? Let that conversation start."
Coming up, Mbedu will star alongside Viola Davis in The Woman King, a historical epic directed by Gina Prince-Bythewood. Inspired by true events, the film showcases one of the most powerful states of 18th- and 19th-century Africa. It will film in Mbedu's home country of South Africa and contrast previous Hollywood characterizations of Amazon warriors. "The real Amazons are of the Black Sparta, which were the African female warriors," she says. "And I, as an African, did not know that until I heard about this project. Getting to work with Viola Davis and Gina Prince-Bythewood is something that I'm greatly looking forward to."
Mbedu's star will continue to shine. From aspiring dermatologist to Emmy Award hopeful, she's a committed storyteller in her own right. "I'm not in this for the accolades, the recognition or to break boundaries. I just want to be the best that I can be in the moment."