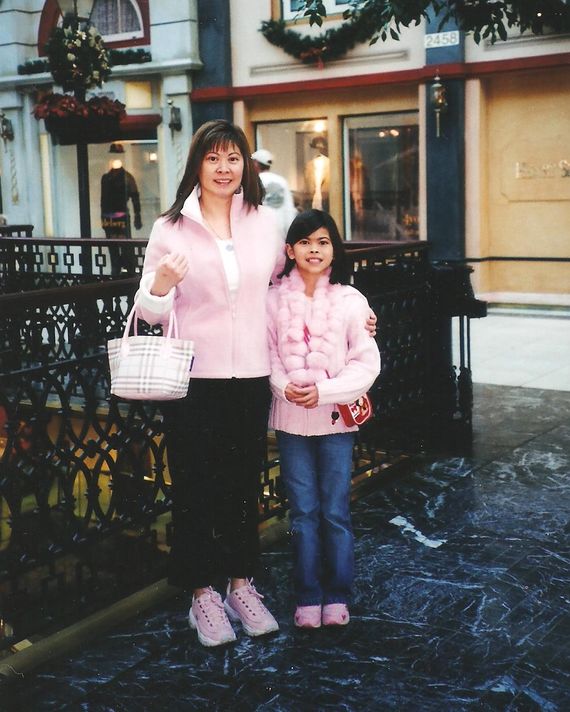 The author and her mother at West Edmonton Mall.
Photo: Pia Araneta
Last month, after six years of swapping degrees and schools, I graduated from university. The feat was difficult to acknowledge — my classes were virtual, and I felt detached from my peers and in-person lectures — but I resolved to be happy. I had worked hard, and already landed a job in my field, all during a pandemic. Still, I've grown accustomed to the bittersweet emotions that follow achievement when one has lost a parent. I had reached another milestone without my mother.
When my mother died in 2013 from ovarian cancer, I never anticipated my grief to surface mostly during moments of joy. I've felt it while traveling, experiencing a particular view I wish I could share; receiving an acceptance email; getting a job I want. My mind turns to her almost immediately after I hear good news. I imagine that my successes would seem more real if I could tell her about them.
When we immigrated to Canada from the Philippines in 1998, my mother had already notched her own fair share of achievements. The first was being born. My lola, or grandma, had two miscarriages before she had her first child. When she finally came into the world, my mom was the most fragile and precious thing to my grandparents. She was always treated like the baby of the family, despite being the oldest of five children.
My mother was raised to excel in everything she did. Graduating with a double major from an all-girls' school in Metro Manila, she made the dean's list and got a job at a bank. After marrying my dad and having three healthy kids, they decided to move to Edmonton, Alberta, so we could have a chance at a better life, with greater opportunities. With the help of her large and loving family, she had reached many milestones early on in her life. Even so, she spent those first few months in Canada crying, calling her sisters back home after her shift was done at the department store. The physical absence of her family made her milestone hard to digest.
During one of our last conversations in the hospital, my mother was propped up in the bed as my brother and I sat beside her. In an effort to prepare us for what was to come, she started apologizing. She told us she was sorry she'd never watch us graduate, see us get married, or meet her grandchildren. I was 18 at the time. For her sake, I told her that it was okay, and not to worry — we would be just fine. That's how it felt then.
As I tick off more boxes the older I get, the longer my life unfolds without her. "Your mother would be proud," many people have told me. What I want to know is how that would manifest. Would her intonation rise on the receiving end of the phone? Would her email contain more errors because her fingers couldn't keep up with the excitement? Or would her celebration be quieter, more reserved? I try to remember how she would react to good news, and find myself forgetting.
I've fallen in love without her; I've moved away from our home in Alberta; and the more I grow, the more it feels like I'm deliberately pulling away from her. I am no longer the version of myself that she knew.
Two years before she died, my family had bought a house — one of the last milestones my mother would reach. We rented a bungalow when we first came to Canada, then moved into a fourplex, a building with four separate units. My mother's dream was to own a home — a large, four-bedroom, balcony-overlooking-the-backyard-with-the-barbecue kind of home. And so, despite our precarious financial situation, we bought one. In that space, she filled the air with her cooking — the smell of sinigang, lumpia, and candles from Bath & Body Works greeted everyone at the door, while the sound of Entertainment Tonight played from the TV in her bedroom.
When she was gone, we were left living in the remnants of her dreams. It didn't feel like a shelter so much as a pit. The house felt small, yet spacious, stuffy but chilly, and hollow. We felt as if we were guarding it for safekeeping, but the owner wasn't coming back. To get past the stalemate and to continue on with my life, I had to leave. I moved to Toronto.
Despite the sadness that accompanies these moments of accomplishment, I am grateful to be reminded of her still. In celebration, I'll buy myself pink carnations — her favorite flower and the ones she picked out for her funeral — and I acknowledge the different realities I hold: a new chapter, another birthday gone by, another year without her.
After being cremated in Alberta, my mom was buried in the Philippines. We transported her ashes in an urn she picked out, tucked under the passenger seat in front of us on our flight. In the closing moments of her three-day wake in Manila, our family stood under a white tent in the heat of the sun, and sang happy birthday as we lowered her into the earth (we sang it in the same monotone way people would say a prayer, and yes, it was sad and awkward). She lived to be just shy of 51 years old — half a century. She accomplished a lot in those years, not just acts of selflessness and compassion, but achievement, too. I imagine emulating even a fraction of that, and move forward on my own.