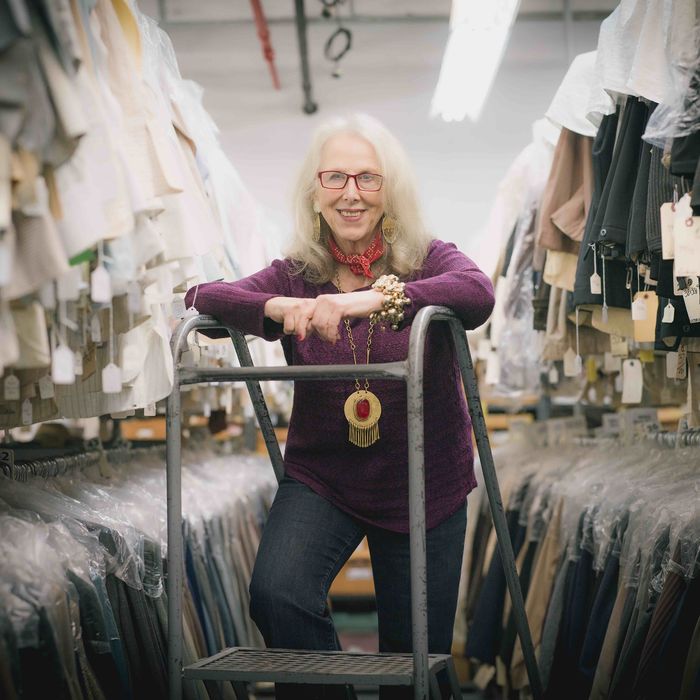 Photo: Brandon Ruckdashel
Helen Uffner is a vintage-clothing expert and curator who sources fashion for films and TV shows, with a client list that includes Netflix, Amazon, Universal Studios, and Sony Entertainment. Fashion from the 19th and 20th centuries is her specialty, and some of her most recent work includes The United States vs. Billie Holiday and Ma Rainey's Black Bottom.
Uffner says her career evolved organically. She's had a love of antique clothing since she was 12. As a fine arts major in college, she began collecting garments simply to admire, rather than wear. In the '80s, she left her full-time management consulting job, believing that she could create a viable business by renting her collection out.
"I love having a hand in making history come alive by helping clients choose authentic clothes and accessories for their projects," she told the Cut. "Now that the business has grown to an 8,000-square-foot, double-racked loft and has done over 1,000 projects to date, we supply productions worldwide. Projects look so much more authentic when re-creating a period scene using actual garments from the era."
We spoke with Uffner about traveling the world solo, empathy, and UGGs.
How do you thank someone for a gift?
Happily and graciously! I love to give gifts but am a bit shyer about receiving them. I usually am drawn to thank people immediately in person or on the phone, but sometimes I create my own thank-you notes with collages made from antique postcards and my photography.
What would you never wear?
Pierced earrings. I know most of the world disagrees with me; I find the concept of piercing one's ears strange. That and pointy stiletto heels. I don't think women were meant to suffer to feel beautiful!
What's your dream vacation?
I've always loved adventurous vacations, immersing myself in the culture and food! I once traveled around the world by myself for a year. I would love to visit the Galápagos. But after the pandemic subsides, it would be nice to safely reconnect with old friends from afar, so I might finally visit my fellow world travelers: Judy in Australia and Lynn in Kauai, who is even more
adventurous than me.
What's a good book on your coffee table right now?
As a bookaholic, I have shelves of books! So far I have read more than 75 books during the pandemic. I just finished A Gentleman [in] Moscow, which was a delight. My coffee table, on the other hand, holds an antique phrenology head and a tall, elegant orchid plant.
Last show you binge-watched?
I don't have any subscription TV channels except for Amazon Prime, so I don't even get to see the shows I worked on. I am so behind the times that the last show I binge-watched was the last two seasons of The Marvelous Mrs. Maisel.
What's your guilty pleasure?
I've never met an estate sale or antique flea market I didn't stop for!
Secret to hosting a good party?
I enjoy introducing a disparate group of friends who initially don't know each other but end up exchanging numbers. I like small gatherings so everyone can really take pleasure in both the food and each other.
What is a trend that you like right now?
Empathy. I think these hard times have brought us closer together. I hope the small gestures that we offer to those in need will continue.
One you don't understand?
UGGs as streetwear. They belong indoors in front of a roaring fire on a chilly
day. In Australia, they are chiefly worn as slippers.
Favorite restaurant in New York?
So many of my favorite places have sadly shuttered. I love the camaraderie and the amazing food at the Chef's Counter at Grace's Marketplace. The fries! I also miss the dishes that I love in Queens: the tripe appetizer at Tibetan Japanese, the thenthuk and momos at Lhasa Fresh Food, and anything from Cannelle Patisserie. Their Black Forest cake is my go-to yearly birthday cake, and when it opened in 2007, I was so enraptured with the pastries that I wrote a fan letter to the owner.
Shoes you wear most often?
Comfortable ones. Not stilettos!
What are five inanimate objects that bring you joy?
"Don't laugh! Every visit to the Dollar Tree is a romp and at a dollar an item, who cares if the face massager brush you buy is too harsh? Use it to clean grout!"
"My mouth feels like I just took a deep breath in a forest after the rain, only better."
"I use this for everything. I use a vinegar-and-water mix after I wash my hair to make my hair feel squeaky clean and shiny. I dip my fingernails daily in the same mixture to help with any nail breakage issues. I also put a teaspoon of it in herbal tea with lemon and honey when I have a sore throat to give the tea a kick."
"It does the job and leaves my skin smooth and moist. I haven't actually used soap on my face since my 20s."
"I love this as a natural all-body moisturizer. I even use it on my face at night, and it sinks right into the skin."