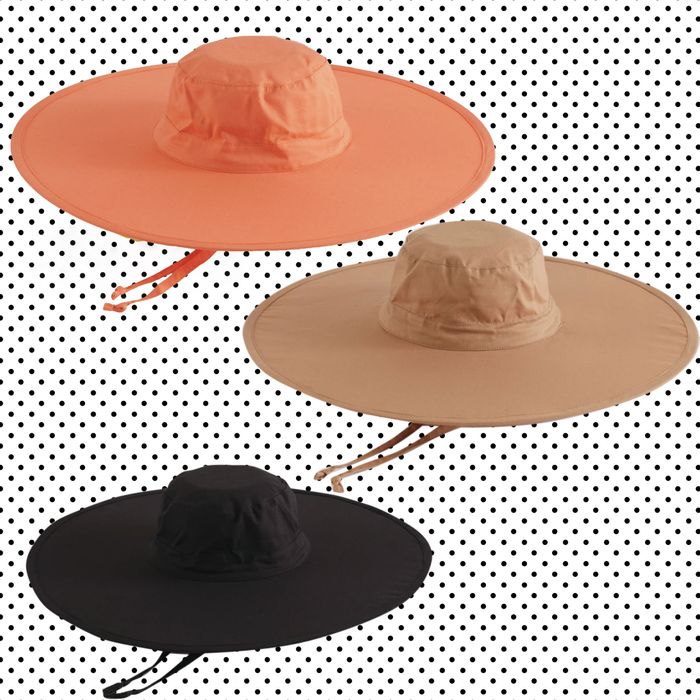 Baggu Packable Sun Hats
Photo-Illustration: by The Cut; Photos: Baggu
Do you dread the impending post-pandemic summer? Does the idea of being perceived in public hurt your feelings? Do you wish to wear a face mask forever, pairing it with sunglasses and a derby to exist as some sort of chic summertime invisible man? I have the solution for you, and it is this giant Baggu sun hat.
A week ago, Aidy Bryant commented on a photo of the Baggu hat, "Woah, this is the thing I have most needed." And now? She recently shared a picture of herself in the hat on her Instagram story. She becometh the Baggu hat.
If you, too, desire to have a Baggu Hat Summer, here is a primer on how to fully embrace this very large hat.
The hat, what is it?
The Baggu sun hat looks like a bonnet for a giant toddler or a car-size sun visor you can wear. The headband and chin straps are both adjustable — yes, chin straps. So you can secure the huge hat beneath your chin as you might do for an infant. Practical and nostalgic!
The hat packs down into its own circular pouch for easy carrying, storage, and an instant clutch that you can point to and say, "Oh, this? It's just my big, big hat." It fits heads up to 23.5 inches in circumference, which is 1 to 1.5 inches bigger than the estimated average-size head. The brim diameter measures 19.75 inches, which is like wearing an extra-large pizza on your head. It's also machine washable should you soil your hat or a bird do a terrible crime upon you.
Where should you wear the hat?
Truly anywhere. To the beach. To brunch. To holiday cookouts. Wear it as a means to keep your distance from family members who still refuse to get vaccinated. Wear it as a statement piece — the statement being, "Do you see my big hat?" Maybe the only place you cannot wear this hat is to bed unless you're … into that sort of thing.
How do you Baggu hat?
There is no wrong way to wear this large, floppy hat. Pair with a caftan, the clothing equivalent of the Baggu hat. Throw the hat like a Frisbee as if you're a carefree rom-com protagonist. Buy several Baggu hats and tie them all over your body. Two Baggu hats are just a Baggu bra waiting to happen.
When should you Baggu hat?
The big hat is already selling out in certain places, Baggu's website included. So you should act now, while you're young and your bank account isn't looking. Bucket hats? Out. Baggu hats? In!
Why should you Baggu hat?
I mean, why not, babe?
A wide-brimmed sun hat that has adjustable chin straps and packs into its own circular carrying pouch. What more could you ask of a summer hat?
If you buy something through our links, New York may earn an affiliate commission.