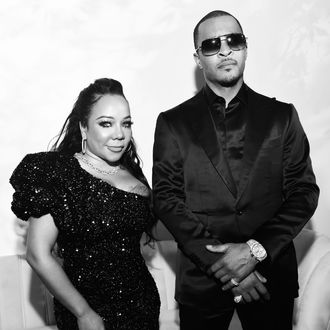 Tameka "Tiny" Harris and T.I.
Photo: Prince Williams/WireImage
The Hollywood Reporter has confirmed that rapper T.I. (Clifford Harris) is currently under investigation by the Los Angeles Police Department following multiple allegations of sexual assault against him and his wife, Tameka "Tiny" Harris.
The investigation comes after months of accusations from at least 30 people, 17 of whom came forward in March to press charges. Per their lawyer, the victims have accused the couple of varying degrees of sexual abuse, drugging, and harassment. Here, what we know so far.
In January, a woman shared dozens of allegations against T.I. and Tiny on Instagram
In a January Instagram post, Atlanta-based entrepreneur Sabrina Peterson claimed T.I. once "put a gun to [her] head." (The exact date on which this allegedly occurred is unclear.) Per Billboard, Peterson, who was once close friends with Tameka Harris, also posted further allegations on her Instagram Story, sharing more than 30 detailed accounts via direct messages from people who claim T.I. and Tiny drugged them and forced or coerced them into sex.
The couple denied the allegations, with T.I. posting an eight-minute Instagram video calling the accusations "egregious." Peterson has since filed a defamation claim against the couple, claiming that their public denial of the allegations she put forth has led to harassment and "threatening" messages from people who support the couple.
A few months later, 11 more alleged victims came forward
On March 1, attorney Tyrone A. Blackburn held a videoconference detailing allegations against the couple on behalf of 11 people he represents. The alleged incidents, which span from 2005 to 2018, include rape, sexual abuse, drugging, kidnapping, false imprisonment, intimidation, assault, and harassment.
A report from the Daily Beast details the accounts of two victims, both of whom are represented by Blackburn. In 2005, one unnamed woman claims T.I. and Tiny invited her to their hotel room after meeting the couple at a Los Angeles club. She says the rapper suggested the three of them "freshen up," moving to the bathroom, where Tiny removed the woman's clothing. According to the victim, what proceeded was a series of coerced massages and unwanted touching, including T.I. sexually assaulting the woman with his foot. The second woman, Rachelle Jenks, filed a police report in Nevada after a similar incident allegedly occurred in 2010. The report, obtained by the Daily Beast, claims Jenks was drugged and forced to have sex with T.I. and multiple women over the course of multiple days in cities including Las Vegas, Los Angeles, and Miami.
In letters, obtained by Vulture, to state officials in Georgia and California, Blackburn wrote that "over thirty women" have contacted his office with "eerily similar events of sexual abuse, forced ingestion of illegal narcotics, kidnapping, terroristic threats and false imprisonment." Blackburn called on authorities in California and Georgia to open investigations regarding the growing list of accusations. Blackburn's office has not yet responded to the Cut's request for comment.
A few days later, six more alleged victims came forward
Following the March 1 announcement, the Daily Beast reported that six additional victims had come forward to press charges. One woman claims she was 17 when she first met the couple. Per her account, Tiny gave her drinks and pills that made her feel "hot and sweaty." She says she then passed out and woke up the next morning "naked on a bed … bleeding from her vagina" and "felt discomfort in her anus." A trip to the hospital revealed "trauma to her anal cavity due to intense anal penetration," she says.
Now, the LAPD has confirmed it is investigating the allegations
On May 17, the LAPD confirmed that it has opened an investigation regarding the dozens of sexual-assault allegations against the rapper. The LAPD did not immediately respond to requests for confirmation from the Cut nor has it given any information as to whether Tameka Harris is also being investigated.
Meanwhile, T.I. and Harris's attorney, Steve Sadow, said they have not been contacted by any law-enforcement agencies, giving the Cut the following statement on behalf of the couple:
"The Harrises have not spoken to or been contacted by the Los Angeles Police Department (LAPD), the Las Vegas Police Department (LVPD) or, indeed, any member of law enforcement from any other jurisdiction in the country. Even assuming the story in the Daily Beast is close to accurate, it appears the LAPD 'accuser' has chosen once again to remain anonymous, thereby preventing us from being in a position to disprove or refute her allegations — or even examine them. Meanwhile, although we now appear for the first time to have the name of an 'accuser' who supposedly filed a police report with LVPD, we have absolutely zero details about her or her claim."
It hasn't been confirmed whether there is an investigation in Las Vegas.
T.I. also appears to address the allegations in a newly released track called "What It's Come To." The lyrics, which he posted on Instagram, talk about being "up against some lyin' ass bitches." He also says, "Go put yo face and reputation on it / These kind of claims deserve more than anonymous provocative conversation, don't it?" which seems to refer to the unnamed people who have accused him of assault.
In light of allegations, VH1 has halted production on the couple's reality show, T.I. & Tiny: Friends & Family Hustle, according to THR. Marvel also dropped T.I. from his role in the upcoming Ant-Man and the Wasp movie.