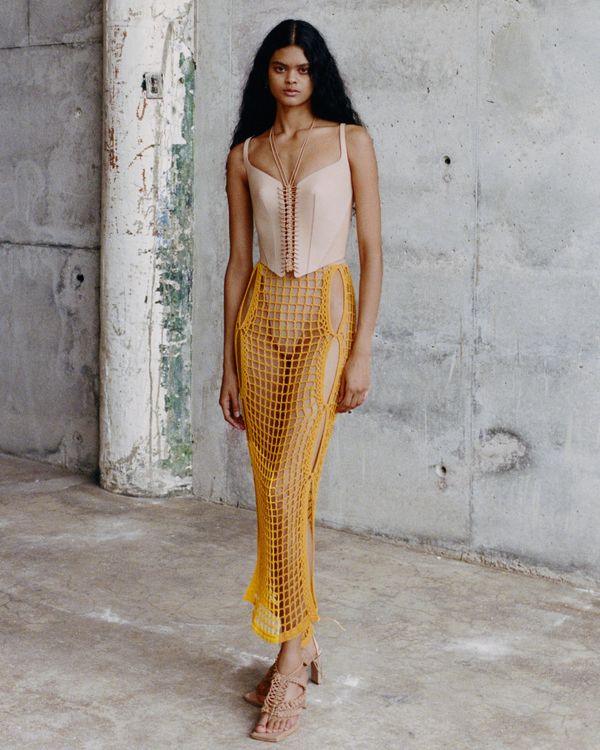 Photo: Courtesy of Dion Lee
There's a certain meme that has recently permeated my being. It's an unfussy illustration of a person with a single thought etched inside their skull: I have got to get sexier. I am that meme. That person is me. This is all I think about.
Of course, "sexy" is subjective. For one person it could mean dressing in skin-tight bodycon, while for another it could mean wearing loose, flowing layers. Personally, I feel sexy when I'm jamming my appendages into the most uncomfortable articles of clothing, especially after a year of nothing but sweats. Pre-pandemic, I was accustomed to a double life as a drag queen, which includes wearing layers of makeup, skull-crushing wigs, and corsets that give my boyish figure the illusion of a feminine body — all just to really feel myself, which often means feeling sexy.
Day to day, doing up to two hours worth of makeup or walking up and down my fourth floor walkup in stripper heels is simply not realistic. However, working some corsets into my everyday wardrobe is very doable, specifically a beige leather one from the Dion Lee spring 2021 collection.
Dion Lee has been offering his take on sexy for several seasons now, melding structural clothing with bodycon silhouettes. Lee's square-neck corset tops, which feel more athletic than historic, are regularly sold out. For spring 2021, he took a slightly different approach: the collection was inspired by New York City's climate being classified as subtropical. There's one architectural corset I love that has a macramé leather cord detail up the center. Worn with a vibrant yellow macramé skirt, it would definitely make me sexier. Uncomfortable? Maybe. Worth it? Absolutely.