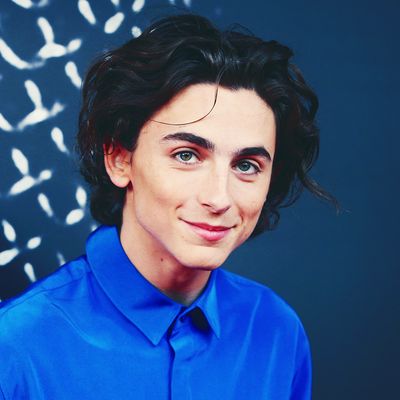 Li'l Timmy Tim.
Photo: Lisa Maree Williams/Getty Images
Well, apparently, the 2021 Met Gala is happening. Not today, the first Monday in May, per Vogue's historical practice, but … eventually — and one of cinema's premier Beautiful Boys is co-hosting. No, it's not Harry Styles, although I can see why you would think that. (He's co-hosted before; recall the pearl earring.) It's Timothée Chalamet; Timothée Chalamet is reportedly co-hosting the Met Gala alongside youth poet laureate Amanda Gorman, Billie Eilish, and Naomi Osaka, with Council of Fashion Designers of America chairman Tom Ford as an additional honorary chair.
As you will no doubt recall, because you definitely didn't forget all about the Met Gala as a concept, this year's event will be a party in multiple parts. Let me walk you through the itinerary. First things first, we have the Costume Institute Benefit — traditionally the time when celebs show up to New York's Metropolitan Museum of Art looking like beautiful fashion omelets or the pope — on September 13. Eagle-eyed Met Gala enthusiasts will be looking at their calendars and complaining that the 13th is the second Monday that month, which is a lapse in protocol, if also correct: The first is Labor Day, and, as one unnamed source put it to "Page Six," "even Anna Wintour can't change a federal holiday." Sorry!
Anyway, the overriding theme will be "Americana" — yee! haw! — as explored in not one but two exhibits. The first, "In America: A Lexicon of Fashion," opens on September 18, and the second, "In America: An Anthology of Fashion," opens on May 5, 2022, in a separate section of the museum. Why two? I am not exactly sure, although I suspect it has something to do with the fact that last year's Met Gala was canceled due to the coronavirus pandemic, and its corresponding exhibit was moved online.
So, yes, Li'l Timmy Tim will preside over the party on September 13, we hope while wearing sensual cowboy silks. This year's edition will allegedly be "more intimate" than usual; however, what could be more intimate than dozens of celebs piling into the bathroom to smoke illegal cigarettes? Wait and see, wait and see!
Still have questions? Here is everything you need to know about the Met Gala.