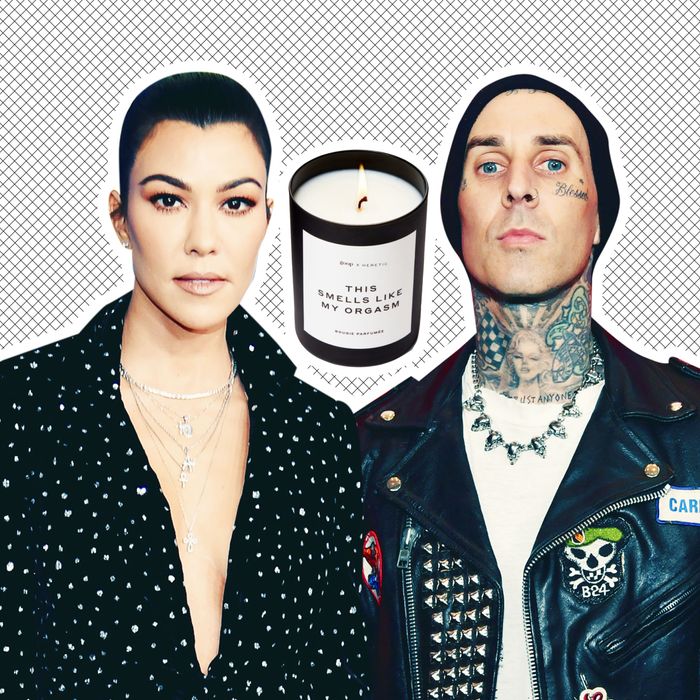 Why though?
Photo-Illustration: by The Cut; Photos: Getty Images, Goop
I am very uncomfortable with the energy we have created in the studio today. Further securing his place as a member of the Horniest Couple on the Internet, Travis Barker shared an Instagram story featuring a candle with the label, "This smells like Kourtney's orgasm." In case it wasn't clear, the Kourtney in question is Kourtney Kardashian, who confirmed she that she is dating the Blink-182 drummer in February. Kardashian shared Barker's photo to her Instagram story as well, and, wowie baby, those two sure want us all to know they fuck. People has screenshots if you want to see the photos for yourself.
Because the two just can't be stopped, Kardashian has also tattooed I love you on Barker's arm, documenting the process in an Instagram post shared yesterday. "Woman of many talents," Barker, who already has a Kourtney tattoo above his nipple, commented on the post. Who's to say what is next for the chaotic duo. Perhaps matching necklaces with vials of each other's blood?
The aforementioned risqué candle appears to be a customized version of the infamous Goop orgasm-scented candle, which was a follow-up to the equally distressing vagina-scented candle. Not sure whether the scent is, uh, personalized as well, or if it's the standard "tart grapefruit, neroli and ripe cassis berries blended with gunpowder tea and Turkish rose." I fear putting the question into the universe will bring me more questions than answers.
Before you try to go order your very own orgasm candle, the $75 votive is currently sold out. (Also, when it was available, custom labels didn't appear to be an option? Maybe a personalized orgasm candle is just one of the many perks of being Famously Horny online.) However, the roll-on vagina perfume is still available if you want your whole body to smell like your vagina. Or, rather, what Goops thinks a vagina smells like.
I'm a little surprised Kardashian wouldn't create and then shamelessly plug her own sexy candles through her wellness brand Poosh. Maybe this is a whiff of what's to come.