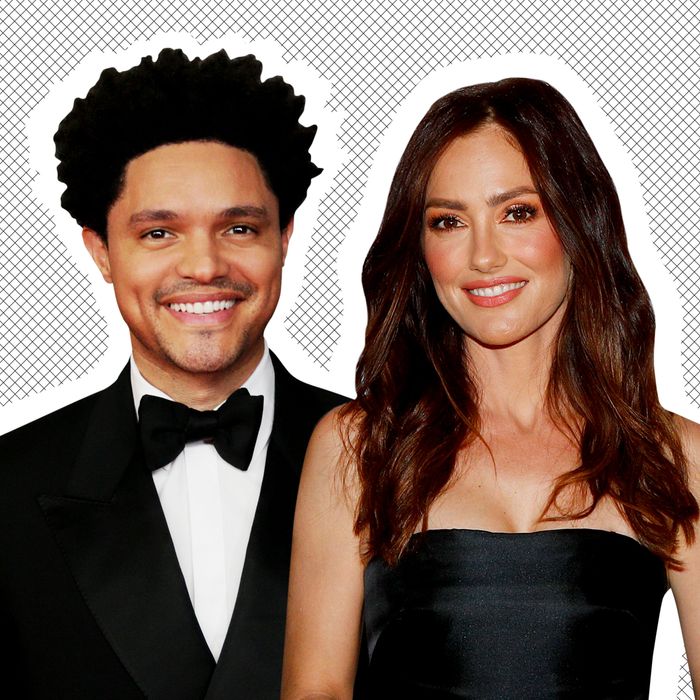 Trevor Noah and Minka Kelly.
Photo-Illustration: The Cut. Photos: Getty Images
It looks like Trevor Noah and Minka Kelly have broken up … or have they? In mid-May, People reported that The Daily Show host and the Friday Night Lights actor had called it quits after a year or so of dating, which additional outlets then confirmed. For example: Entertainment Tonight's informants said at the time that "their work commitments and careers are very different," and that "they both felt like they should take time apart." Sounds like pretty standard celeb breakup spin to me, but then! Last week, these two were spotted eating lunch together in St. Barts, which feels … confusing, all things considered. What is a post-breakup vacation, what does it mean?
Well, according to an E! News source, it means that "they are seeing where things go." And what of the reports that Kelly accompanied Noah back to New York after the trip? The source explains: They are "spending time together." Clearly!
Granted, neither Noah nor Kelly ever confirmed the split directly, but considering how private they were (are?) about dating, the lack of an announcement didn't feel shocking. And then, tabloid sources have been characteristically terse when discussing the relationship: Last August, when People announced that they were together, a source said the pair was "very happy" and "very serious," implying that Noah and Kelly had already been seeing each other for some time. Even after their relationship status was out in the open, the pair kept things largely under wraps — though, based on the sparse information we had, things seemed to be going well. At the end of last year, Noah dropped $27.5 million on a Los Angeles mansion for them to share, with a source telling People at the time that the pair was "making plans for a future together."
Kelly has reportedly moved out of the mansion since the split, but according to E!, she and Noah "are hopeful things will work out." They have also, allegedly, broken up and gotten back together before? So we will simply have to wait and see how all this pans out. Clear eyes, full hearts, can't lose, as they say.
This article has been updated.