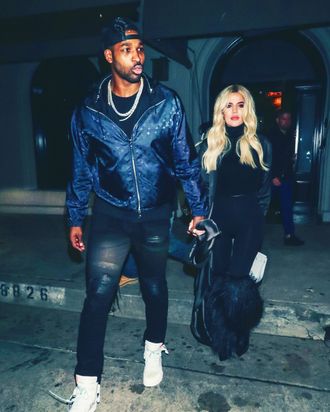 Tristan Thompson and Khloé Kardashian
Photo: Shutterstock
Well, here we are once more. After reportedly "giving their relationship another try," Tristan Thompson, it appears, may have cheated on Khloé Kardashian yet again. In an April interview with the podcast No Jumper, model and professional hot person Sydney Chase said she hooked up with Thompson earlier this year — while he was reportedly dating Kardashian. Neither Thompson nor Kardashian has publicly addressed the claim, although Thompson reportedly sent cease-and-desist letters to both the podcaster and Chase.
On the podcast episode — which was removed from YouTube and reuploaded on May 3 with claims of the affair removed — Chase, who is 23, claimed she and Thompson had hung out on several occasions beginning in November 2020. "He told me he was not in a relationship anymore, so I said okay," she said. "We talked, we hung out multiple times, we went out together, everything." Chase added that she had asked him outright, "Are you single?," to which Thompson allegedly responded, "Yes." According to Chase, "It happened and then I found out he was not single, and I cut him off."
A few days after the podcast aired, Chase posted a TikTok following up on her claims. First, she apologized for disclosing "personal information about Tristan," referring to a very explicit comment she had made about his dick. Then she reaffirmed her allegations about hooking up with Thompson while he was dating Kardashian. "We did have past relations," she said, noting that they first met on November 11, 2020. "I then found out he was in a relationship, and I ended things." She also said Thompson had contacted her after the podcast aired, though she did not provide details.
On May 4, Thompson's attorney, Marty Singer, confirmed to "Page Six" that he'd hit both No Jumper host Adam John Grandmaison and Chase with cease-and-desist orders. Grandmaison told the tabloid he then deleted the original video of the interview from the podcast's YouTube channel, explaining, "Honestly, I wouldn't have posted it in the first place if I knew it was going to mess up a relationship." Though initially denying she'd gotten a cease-and-desist, Chase eventually confirmed that she had.
Now Thompson's lawyer has reportedly sent Chase another letter, obtained by "Page Six," demanding she "stop defaming Mr. Thompson with defamatory falsehoods." The letter also noted that Chase hadn't produced any evidence (e.g., texts) of the alleged affair. Chase has said she won't "be called a liar," telling "Page Six" she has the evidence and that "this is now a legal matter that lawyers will handle."
It has been a confusing whirlwind for me, a person physically unable to keep up with Kardashian-adjacent drama. In just the past month, we've had Khloé's bikini-photo debacle and Kourtney sucking Travis Barker's thumb (help!!). If, like me, you haven't been taking notes, here's the rundown of Khloé and Tristan's relationship to date:
August 2016: Kardashian and Thomspon are first spotted together. They go to Cabo. They do a couples' costume for Halloween. Fun!
December 2016: Kardashian confirms their relationship in a now-deleted blog post.
September 2017: They announce Khloé's pregnancy.
October 2017, literally the next month: Thompson allegedly cheats on Khloé, but that doesn't come to light until …
April 2018: Those allegations and even more cheating allegations surface courtesy of video footage from TMZ.
April 12, 2018: Baby True is born! The timing is … not great!
June 2018: Throughout the rest of the year and into January 2019, it appears Kardashian and Thompson are rekindling their relationship.
February 2019: Enter the Jordyn Woods of it all. Though maybe Kardashian and Thompson aren't even together at the time? Regardless, they split …
… Until Quarantine 2020: They are reportedly back at it again.
October 2020: In a recent episode of Keeping Up With the Kardashians, the couple revealed they were in the process of hiring a surrogate to have a second child together. Thompson spoke about his excitement for this "new chapter" in their relationship, saying "we've got this together, we're a team."
March 2021: Kardashian appears to confirm their reunion on Instagram.
April 2021: Kardashian posts a picture of this big ol' ring. Thompson comments with heart, diamond, and eye emojis. There's speculation of engagement, but nothing is confirmed.
Which brings us to May 2021: Amid the most recent cheating allegations, Thompson wishes Kardashian a happy Mother's Day on Instagram, writing, "I love you." Kardashian doesn't appear to directly respond. Are we confused? Definitely. Surprised? Um …