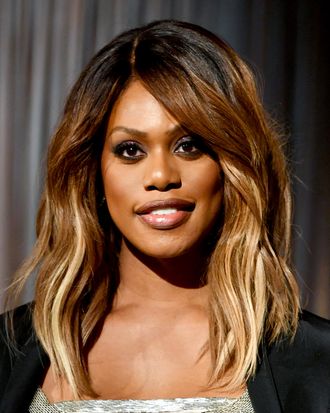 Laverne Cox
Photo: Emma McIntyre/Getty Images for Turner
New in What the hell is this: Universal Pictures has apparently been using cis-male voice actors to dub Laverne Cox, a trans woman, in its international markets for … years? Possibly years! The revelation came after the company posted a teaser for Una Donna Promettente (the Italian release of Promising Young Woman) in which Cox's character, Gail, can be heard speaking in what the Guardian described as "a distinctively masculine tone." The actor chosen for Cox's part, Robert Pedicini, previously voiced Ralph Fiennes in A Bigger Splash; as evidenced by this trailer, his tones are indeed distinctive and masculine. Not a particularly logical choice for a woman who is playing a woman! Universal has pushed the release date and apologized, only it appears this is far from the first time it's misgendered Cox in its foreign releases.
"We are deeply grateful to Laverne and the transgender community for opening our eyes to a bias that neither we nor many in our industry had recognized," read a Universal Pictures International statement to Variety. "We are sorry for the pain caused but are thankful that we can address the situation on this film and prevent similar mistakes from happening again on future projects."
Noting that "there was no malicious intent behind this mistake," the statement added that Universal is "working diligently" to re-dub Cox with female actors in its international territories, yes territories. According to Variety, Universal already released a male-dubbed version of Prominent Young Woman in Spain last month, and was planning to do the same in Germany. There, the company will now hold the release while a woman re-records Cox's part, as it is doing in Italy. But as Variety points out, Universal went with a male voice actor because that's what its done in the past. In Italy's Orange Is the New Black — as well as in The Mindy Project and Doubt — for example, Andrea Lavagnino voiced Cox. This practice becomes all the more rude when one considers that there are women, both trans and cis, working as voice actors who would have been better and more obvious choices for any of these roles.
"I think this dubbing choice was a straight-up act of violence," Vittoria Schisano, a trans, Italian voice actor who has dubbed Cox in the past but says she was not asked to even read for the part this time around, told the Guardian. "It's insulting. I'd feel bullied if I were [Cox]."
Cox herself does not appear to have commented on the whole situation, but insulting? Does not even begin to cover it!