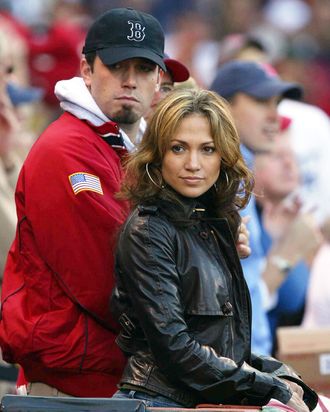 Hmmmmmmmm.
Photo: Ezra Shaw/Getty Images
I don't know if you heard, but, a newly single J.Lo has allegedly been texting her ex these past few weeks. Apparently, she has been having Ben Affleck delivered — in her white Escalade — to her Los Angeles home, sparking rumors that the former fiancés might be helping one another rebound from their recent respective breakups. (J.Lo from A-Rod; Ben from Ana de Armas.) Obviously, neither party has acknowledged these whispers at all, and, sure, maybe they simply stayed friends all these years. But please consider this scintillating moment from Sunday's Vax Live concert. If this is not Boston-style foreplay, I don't know what is!
As noted by "Page Six," which first surfaced news of the Escalade drops-offs last week, J.Lo chose a very interesting song to close out her performance at last night's show: Neil Diamond's "Sweet Caroline." According to J.Lo, her mom — who joined her onstage for the occasion — used to sing the song to her when she was a baby. I have no reason to doubt that, only you know who else holds fond memories of this song? Bostonians, specifically those who feel themselves most alive in the eighth inning of a Red Sox game, when "Sweet Caroline" blasts over Fenway's speakers. And you know who loves the Red Sox? Ben Affleck, i.e. Boston incarnate, i.e. the Dunkin-loving son-of-a-gun who walked onstage directly after J.Lo wrapped her set.
I know what you are thinking. I am thinking it, too: Is J.Lo singing Ben Affleck the song of his people as an invitation to love, or, at the very least, as a flirty little wink? Well, we don't know for sure. "Page Six's" sources insist Bennifer's relationship remains strictly platonic. Also, it feels firmly within the realm of possibility that J.Lo is messing with us. Fair enough, but then, the Gigli actors just acknowledged, on the record, that they both still find one another hot. And now all this lusty Boston innuendo? Seems suspiciously well timed to me!