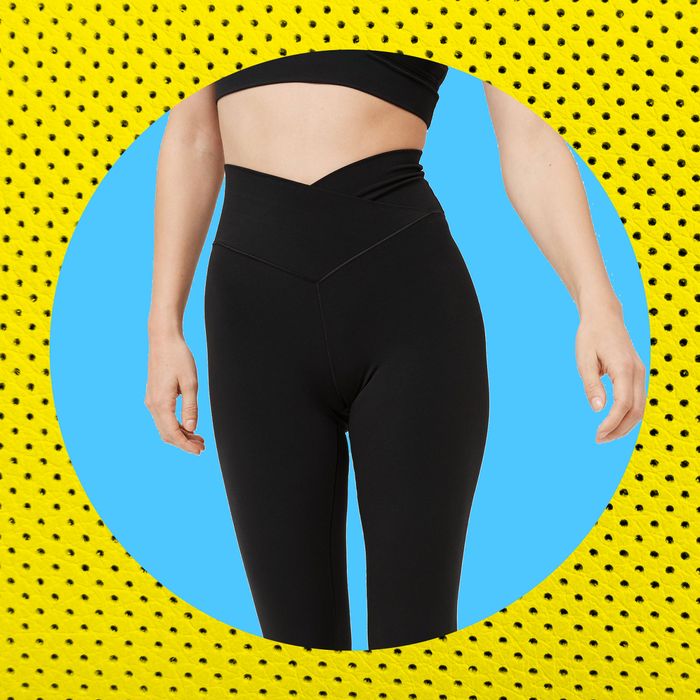 Photo-Illustration: by The Cut; Photos: Retailer, Getty Images
"Hot Bod" is a weekly exploration of fitness culture and its adjacent oddities.
The first time I wore a crossover waistband — on a pair of bike shorts about ten years ago, when bike-shorts options were scarce — I felt absolutely flattered. Like a lot of flattery, I knew there was a little deception, but its deliciousness protected it from too much scrutiny. I wore these shorts into transparency, threw them away, and wistfully remembered their agreeable fit as lost to time — until recently, when I noticed all the V-notch leggings had bloomed again, returning from hibernation in high-waisted, severely angled abundance.
After turning eyes (7 million pairs of them) on TikTok last year, crossover leggings from Aerie became so ferociously popular that they sold out six times, and the waiting list was thousands deep. Leggings designed with a little surplice dip at their top are now front-billed options from fitness-apparel heavies like Carbon38 and Beyond Yoga. Sometimes the cross is more deeply acute, and sometimes it's highlighted with different patterns. The V-notch can be subtle; the V-notch can be exaggerated.
Behavior scientist and design consultant Dr. Susan Weinschenk knew immediately why this waistband snatched so much attention. "There is a part of the visual cortex that finds anything tilted, anything not horizontal," Dr. Weinschenk tells me. "That will grab human attention. It's very fast — it's unconscious. When you look at something and there's the tilt, you'll be drawn to it. It's not something we can control."
The V-notch is a rebuke of the orderly horizontal waistband. "The straight waistband draws your eye to nothing of interest!" says Dr. Weinschenk. "It's just a line cutting you in half. It doesn't enhance anything; it doesn't point out anything." The straight waistband is the cookie-cutter imprint on fitness apparel. Meanwhile, the swoop of the crossover cut seems like one's shape is not just an afterthought or something to ignore. How dare one's waist be forfeited to a hegemony of the straight waistline?
"I think of New York bridges — the Verrazzano-Narrows Bridge," says Andrea Jagaric, chief design officer for Aerie brands including OFFLINE, the line now synonymous with these crossover leggings, which are distinguished by their particularly high-waisted cut and sharp plummet in the center. "I was always intrigued by bridges. There are a lot of angular, triangular, and pointy parts of bridge design," Jagaric answers when I ask what the leggings reminded her of. The bridge: It's something both high up and plunging, and something that looks architecturally assured. Or as Jagaric puts it, "The construction stays put."
The Verrazzano bridge brings us, naturally, to suspension. The crossover cuts aren't just ornamental: Their design gives them a very respectful, sturdy hold on one's bod. I wore my first pair of crossover cuts (a Pearl Izumi pair of chamois shorts, tragically no longer made) so frequently because, especially while leaning on a bike, they didn't cut into my belly. They actually felt like they were pulling my hips forward. They were the very sensation of momentum.
I would say they are the opposite of low-waisted cuts. "This V in the front gives you a perfect hug in the right place," says Jagaric, while giving the body "a beautiful, flattering line that creates a nice hourglass shape."
Now, I'm suspicious of the word flattering because I think it tends to mean tummy minimizing — and "flattering" for whose gaze?! On and on and on and on. I'm also a hypocrite, of course, because I love everything that's flattering on me. I can aspire to be an Adonis — but an Adonis who's critical about whose gaze determines the aspirational look of an Adonis — and I can do all this in deviously well-angled waistbands.
Every product is independently selected by our editors. Things you buy through our links may earn us a commission.