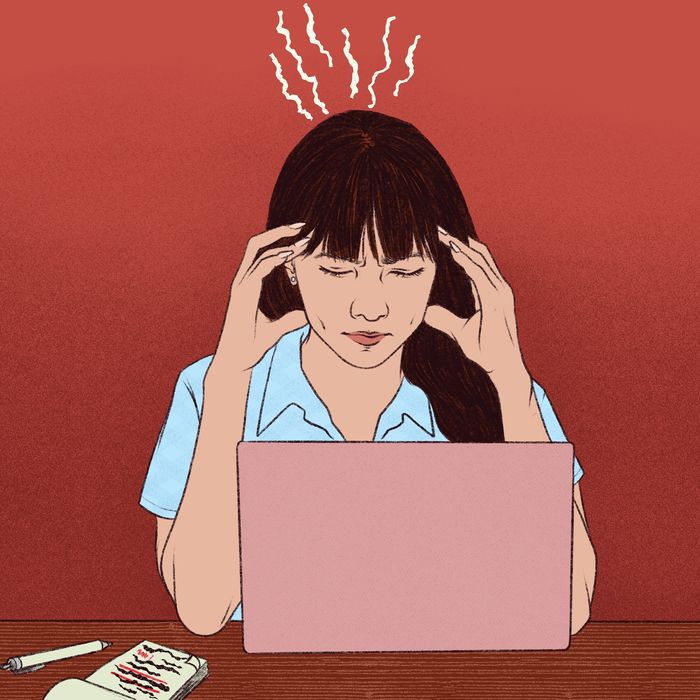 Illustration: Rachelle Baker
It's pretty common for a small business to fall on its face. According to data from the Bureau of Labor Statistics, only about half of small businesses survive longer than five years. And while most entrepreneurs don't jump at the chance to relive their past failures, others attribute their subsequent victories to what they learned from their setbacks. Here, three successful small-business owners talk about their previous ventures that didn't work out, and how they bounced back.
"Customers were saying, 'This is not something I want or need.'"—Tu-Hien Le, founder of BeauGen, a company that makes breast-pump cushions.
Previous failed business: A food-tech company that created at-home yogurt-makers.
I started my business, BeauGen, right after I had my daughter in 2015. I experienced a lot of pain with breastfeeding, and I was talking to various mom communities and wondering what they were doing to deal with it. And there was no specific solution on the market. I was like, "I feel like we can make something to solve this." I had previously been working in finance, but my husband and I decided to go all in. We moved back to Florida, where we're from, to develop what is now BeauGen's flagship product, breast-pump cushions. I talked to hundreds of women about what made breastfeeding painful for them, gathered a ton of information, and created a pretty simple solution.
We launched BeauGen in 2016, and for the following two years, we got lukewarm traction. The revenue we generated wasn't anything to write home about. It was just enough to sustain the business. I started losing some confidence in the product and myself, so I finally put the company on the back burner and just did the bare minimum to keep it going. I'd send maybe two emails a month, and every once in a while we'd make a sale.
In the meantime, I was approached to become a co-founder at a food-tech start-up. The product was a yogurt-maker, and I joined as head of marketing. I learned a lot about the process of raising money and building an audience. But there were problems with leadership. If the product is not the right fit, the leader needs to be able to identify that, and pivot to what the customers actually want and need. And in our case, customers were saying, "This is not something I want or need," but there was no adjustment to what they did want or need. The CEO had invented the product, and that's what they wanted to go with, regardless of what the market was actually saying. It finally became clear to me that things weren't working, and I exited the company, which was tough and emotional. I told them that what they needed was beyond my capability. And a little bit after that, the company closed.
What's funny is that during those years, BeauGen sales started to pick up. Throughout that time, whenever we got customer feedback, I was careful not to replicate what was happening in the food-tech company. I documented it and tried not to take [the criticism] personally. And every three to six months or so, I would look at that document and ask myself, "What's the lowest-hanging fruit, the easiest adjustment we can make to make customers happy?" And we'd integrate whatever that was, whether it was product color or a description in the product listing. I was just spending a couple of hours on it per week, responding to customer questions and making sure they got what they needed.
I think what ultimately made the biggest difference was that we gained traction through word of mouth. Those Facebook mom groups, they talk about all sorts of products that they like and don't like. Once you build trust with this core group of people, and you keep producing a consistent product for several years, then you sort of hit a critical mass. We weren't doing any paid advertising, so all the growth was organic. And it got to the point where I was like, "I actually cannot work a full-time job and run this at the same time." So it became my main focus again. I hired a marketing team and customer service. Last year, we became a seven-figure e-commerce business.
"I did everything totally backwards."—Karen Cahn, founder and CEO of IFundWomen, a platform for women entrepreneurs to get funding, business coaching, and support.
Previous failed business: VProud.tv, a video platform for women.
I had a long career in sales at Google and YouTube, and I left the corporate world with this idea to start a channel of my own. It was called VProud, and it was supposed to be like YouTube for women, without the trolls. We wanted to create a video platform that hosted safe and intimate discussions that women were having about mental health, depression, and sex. But what happened was, I built a product that I wanted, but nobody else did. I didn't do any market research. And I spent too much time and money building the prototype. I did everything totally backwards.
I knew it wasn't going to work after the first year we built the product and put it out there. Watching our Google analytics, there would be only one or two users at a time. It was mortifying. We slogged it out for another year, hoping things would turn around, and they didn't. I was funding the whole business with my own money from Google, and finally that ran out. So as a Hail Mary to make payroll, we put up a crowdfunding campaign. And that was the moment where I was like, Wait, why isn't anyone talking about crowdfunding as the first stop on your funding journey versus the desperate, last stop? Why isn't anyone coaching people on how to do this? There is something here that no one's talking about, especially for women, who traditionally have a lot of trouble raising venture capital but are very good at marketing and storytelling. It was such a great way to generate fast cash for a business.
When we finished the crowdfunding campaign, I looked at my two co-founders, Kate and Sarah, and I said, "We're shutting down VProud, because nobody likes it, and we're building a crowdfunding platform for women instead."
I'm not going to lie, of course there was a mourning period. It was sad and weird to wind down all the work we had done. We had created all of these videos, and we had to go through and de-list them one by one. That was awful. But at the same time, we started building IFundWomen immediately, and that was fun. And we knew we were solving a real problem, which is that women-owned businesses don't get enough funding.
We were also determined not to repeat the rookie mistakes we'd made before. It wasn't like the first start-up, where we put too much time and money into our prototype. We did a beta test at the end of 2016 with 20 entrepreneurs, and the thing worked. And then we had a ton of demand right away.
Right from the start, we also listened to what customers told us. We did surveys on Facebook and asked what people needed. We tested our product, we learned from the feedback, and we iterated. We did our market research. We now offer coaching for entrepreneurs, and grants, and other services — all of that came from what our customers asked for.
Another thing I did differently the second time around was that I had two other co-founders. I had hired Kate and Sarah as employees at VProud, but when we started IFundWomen, I said, "I'm not going to start this business without co-founders from the beginning. Are you all in?" And they said yes, and we've made every decision together. They keep me in check. This is not my show; it's ours.
"It's hard to try to start something and go around telling everyone you know about it and then admit that it's not working out."—Allison Conway, founder of Sealevel Agency, a web-design business.
Previous failed business: A personal-styling service.
When I started my career, I knew I wanted to be an entrepreneur, but beyond that, I knew nothing. I had no money. I had no resources. I didn't know anybody. I got a temp job selling handbags at a convention center, and I showed up early and used the printer to make business cards with my name and email on them, and then I handed them out at the convention saying I was a freelance writer and could do website copy. So I started off doing that — writing email newsletters and blog posts for small businesses. I had a couple of clients, but I wasn't making much income.
My first attempt at entrepreneurship was a personal-styling business. Looking back on it now, I was so naïve, and did so many things wrong — I had no niche, and I was trying to work with too many types of different people. That's one big reason it failed. But my other problem was that I had no connections. It was just me in my bedroom, working out of an apartment that I shared with three other people, trying to stand out. I built myself a website and tried to get clients by offering my services for free at first. I tried to get my foot in the door by donating my services to auctions at schools and country clubs, that sort of thing. But it was very unsuccessful.
At the same time, I was still doing freelance writing for people's businesses. And as part of that, I had learned how to use Squarespace, which was relatively new at the time. Clients and friends were asking me to make their websites, and I started designing landing pages for events and graphics for social media. And it dawned on me that all of my interests were better served in web design. It was the common thread between everything I'd been doing all along. I realized, "Oh, I could charge thousands for a website as opposed to $30 or $50 for an email newsletter."
It was difficult to walk away from the styling mostly because I didn't want to look like a flake. It's hard to try to start something and go around telling everyone you know about it and then admit that it's not working out. Especially since you hear all these stories like, "Oh, so-and-so had a great idea, and then they just stuck with it even though no one believed in them, and now they're in Forbes making $10 million."
There's also this narrative that you have to come up with something totally new in order to be a successful entrepreneur. The truth is, I could start a business and make a lot of money by designing websites and creating an agency and hiring a team — I didn't have to invent the next Instagram.
Now I'm grateful that I was so naïve when I was younger. Not only did those experiences teach me what I was good at and not good at, but they also helped me meet people who eventually became my clients. Talking about my failures, it feels like giving my 24-year-old self a big bear hug like, "You're going to get out of this. It's just going to take a few years."