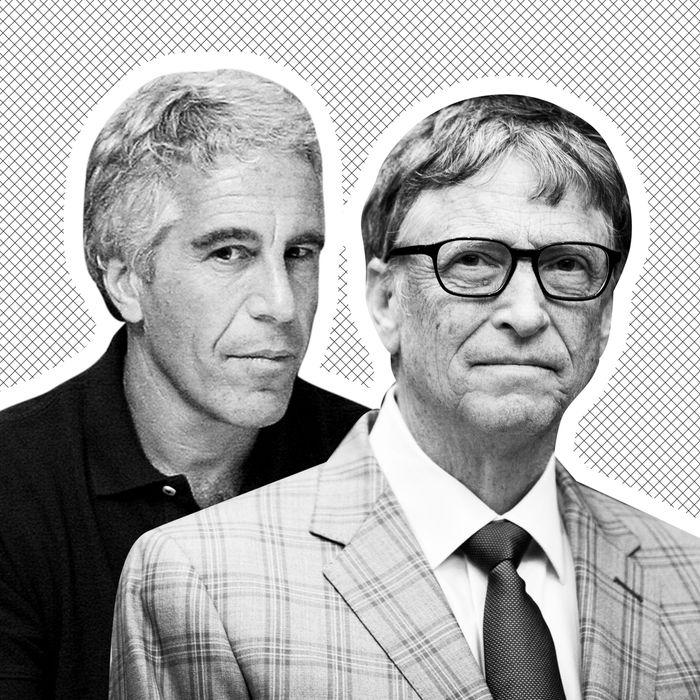 Photo-Illustration: by The Cut; Photos: Getty Images
In the wake of Bill and Melinda French Gates's recently announced divorce, questions about the Microsoft co-founder's friendship with convicted sex-offender Jeffrey Epstein have resurfaced. Multiple reports allege that Melinda had long disapproved of Bill's relationship with Epstein and that it was a source of tension in their marriage. According to the New York Times, French Gates hired divorce lawyers in October 2019, after her then-husband's friendship with Epstein became public.
Amid news of the divorce, Gates's behavior has been the subject of renewed scrutiny, including recent allegations of his questionable conduct with female Microsoft employees. Here's what we know about Bill Gates's history with Epstein.
They first met in 2011, after Epstein pleaded guilty to soliciting sex from a minor.
On January 31, 2011, Gates and Epstein met in person for the first time at Epstein's New York City townhouse, according to the Times. This was less than two years after Epstein was released from jail in 2009, where he served 13 months for prostitution of an underage girl. At that time, Epstein had been accused of assault by 36 women and girls, some as young as 14, but only served time for one count of soliciting sex from a minor and one count of soliciting prostitution.
After their 2011 meeting, Epstein wrote to colleagues and friends saying, "Bill's great," in emails obtained by the Times. Gates also emailed associates about the meeting, commenting on Epstein's "charm and intelligence." Per the Times, Gates wrote, "His lifestyle is very different and kind of intriguing although it would not work for me." He also noted, "A very attractive Swedish woman and her daughter dropped by and I ended up staying there quite late" referring to former Miss Sweden Dr. Eva Andersson-Dubin and her 15-year-old daughter, who were also in attendance.
Sources have alleged Gates met up with Epstein dozens of times after their initial meeting, including at least three visits to Epstein's Manhattan townhouse and 2013 trip to New York in which Epstein and Gates "met for dinner and discussed the Gates Foundation and philanthropy." Earlier that year, Gates reportedly flew on Epstein's private jet, though spokespeople for Gates claim he was unaware the plane belonged to Epstein.
There were alleged conversations about Epstein getting involved with the Gates Foundation.
Former colleagues allege the two were in talks to involve Epstein with Gates's philanthropic foundation, which dedicates some of its efforts to the empowerment and well-being of girls and women. When foundation board members asked about Gates's relationship with Epstein, they were told the relationship was "focused on philanthropy and nothing more," a source recently told the Wall Street Journal.
When Gates's encounters with Epstein surfaced in 2019, he downplayed the relationship. When asked about Epstein in a September 2019 interview with the WSJ, Gates said, "I met him. I didn't have any business relationship or friendship with him."
The same year, a representative for Gates also denied any relationship with Epstein, telling the WSJ, "Although Epstein pursued Bill Gates aggressively, any account of a business partnership or personal relationship between the two is simply not true. And any claim that Epstein directed any programmatic or personal grantmaking for Bill Gates is completely false." Another spokesperson told the Times that Gates "regrets ever meeting with Epstein," noting that it was "an error in judgment to do so," and was "at odds with Gates's personal values and the values of his foundation."
Spokespeople for Gates have continued to minimize any relationship he had with Epstein. In a May 2021 statement to Times, Arnold said, "Your characterization of his meetings with Epstein and others about philanthropy is inaccurate, including who participated."
Some allege Epstein gave Gates relationship advice.
In recent report from the Daily Beast, sources said Epstein gave Gates "advice on ending his marriage" between 2011 and 2014, adding that Gates used Epstein's mansion as an "escape from what he told Epstein was a 'toxic' marriage." One of the people who claims to have been in attendance at several of these meetings added that Epstein and Gates "were very close."
A spokesperson for Gates denied these allegations in a statement to the Daily Beast: "Bill never received or solicited personal advice of any kind from Epstein — on marriage or anything else. Bill never complained about Melinda or his marriage to Epstein." Bridgitt Arnold, one of Gates's spokespeople, gave a similar statement to the Times.
French Gates is said to have disapproved of Bill's relationship with Epstein.
A former employee of the Gates Foundation told WSJ that French Gates told her husband she was uncomfortable with Epstein after the couple met him together in 2013. "She was totally opposed to what she considered shady dealings and some other issues he wanted to pursue in the business area," an unnamed source told People. "She was not afraid to speak up about it either."
Neither Bill Gates nor Melinda French Gates has confirmed whether Epstein played any role in the couple's recent decision to split. However, French Gates was reportedly unaware of certain details surrounding Gates and Epstein's interactions that were mentioned in the 2019 Times article. Sources close to her allege French Gates began consulting divorce lawyers shortly after its publication.