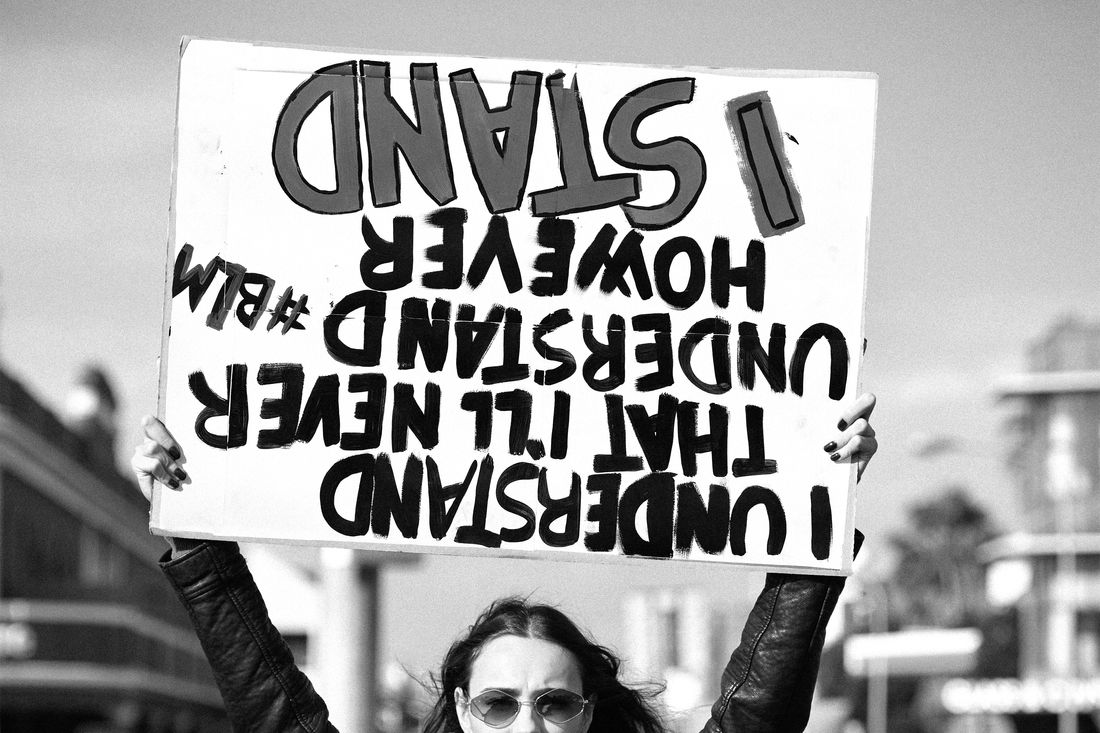 Photo-Illustration: by Intelligencer; Photos Almay (Sign) Getty Images (woman)
The national conversation on police violence and racism that started a year ago this month, following the murder of George Floyd, took many forms: some lofty and systemic, some superficial, and some unintentionally funny. Below, eight Black writers consider interactions the past year sparked in their own lives with colleagues, friends, and strangers.
.

The Just Checking In
By Brittney Cooper
About one week after George Floyd was murdered, the random check-ins from liberal white people I know began. A text from my Realtor read, "Just checking in. Hope you're doing well. I think of you often." A DM from a former co-worker asked, "How are you doing? … I'm here to help in any way I can." This is the opposite of what I want "going down in the DM." As a newly minted pandemic cynic who had, after months of cascading, needless Black COVID deaths, started to lose hope in the good, I wondered aloud on Facebook whether there was some secret LISTSERV telling white people to check on their Black friends. Had the "check on your strong friend" meme that circulates among my set of overachieving, overworked Black-girl magicians been transposed into a new set of anti-racism instructions for white women? I didn't know. But I did know that, on more than one occasion, I had learned to my great surprise that I was some white body's friend. My old co-worker saw my mildly passive-aggressive Facebook status and apologized profusely in my in-box. "She admitted, "There is kind of a LISTSERV. And my son's school even sent an email." We shared a virtual chuckle, which broke the tension.
Imagine needing a reminder sprinkled in with announcements of PTA meetings to check on your Black friends because the world is so cruel to Black people. (Although it is probably true that if we radicalized the PTA, a whole revolution could ensue.) In some way, I appreciated that somebody dared provide instruction in how to be empathetic so that others of us don't have to.
Although I do have to. Often, white people who have read something I've written will write to me to ask their how-to questions. How do I support Black people without being overbearing? How do I apologize for the terrible racist act that is assaulting your consciousness right now without asking you to do my emotional labor? How do we fix it? Those are the questions that come from the white people who actually want to do better, the ones who fear getting it wrong. I rarely reply. What is there to say that won't require me to teach them empathy? As a friend said just the other day, "Black girls' hearts are busy. Leave us alone."
.

The Friends Back Home
By Hunter Harris
It was the summer of socially hyperconscious oversharing: A friend I hadn't talked to since Katy Perry was charting messaged me to ask how she could be a better ally when "everyone was giving different instructions." The too-online posted deeply earnest Twitter threads unpacking their white privilege. On Instagram, the influencer-poet Caroline Calloway told Ziwe she recommended the book White Fragility, but she couldn't remember Robin DiAngelo's last name, so it sounded like she said it was written by the Swedish pop star Robyn. What a time to be white!
Many of my friends from Oklahoma, where I grew up, couldn't be bothered to post in support of anything but Tory Burch espadrilles. One friend went to a protest and shared a photo of a neon sign that read I UNDERSTAND THAT I'LL NEVER UNDERSTAND, BUT I'LL STAND. Soon, I started seeing the signs everywhere. At first, it was a red flag, then it became its own joke in my mind: "I understand that I'll never understand. But I'll stand" is what I say when I don't like my friend's boyfriend, I thought, but he did just put his card down for all our drinks.
And then, after weeks of posting apartment tours and flowers in bloom, another friend offered an enthusiastic endorsement to protect the most vulnerable: BLACK TRANS LIVES MATTER! she tweeted. But in her haste, she forgot that first r: BLACK TANS LIVES MATTER! Sunning on my rooftop matters. The tan that I buy from Rihanna (Fenty Sun Stalk'r in the shade "Private Island") matters. My friends' ferry-to-the-Rockaways tans matter. She never caught the error.
.

The Co-workers
By Rembert Browne
Tend not to think about white people when I think about my mother. As a professor at a historically Black college born and raised in segregated Atlanta, her social and professional circles were overwhelmingly Black, her motives have always been pro-Black, and to be frank, the only intimate introduction of white people into our lives came through me as a young teen, by way of school friends and their parents.
Growing up, when white folks would get under my skin, institutionally and directly, I'd take it elsewhere. While I was instructed to contact my mother immediately if I were ever called the N-word by a white boy, when I heard things described as "ghetto," I would save those conversations for my friends. I didn't want my gripes to confirm her belief that white people were all racist, a belief I feared would be proven true if I came home crying. Because of this, perhaps unfortunately, she wasn't my go-to "Let's complain about white people" person.
A decade ago, my mom left her academic job to join a predominantly white think tank. But it wasn't until this past year that her reality finally slapped me in the face: My mom works with white people now. "Girl, I know" frequently fell out of my mouth over the past year, as did "Yep, same, yep" when my mom would call to tell me about a community conversation or staff call that was centered around "race and America." It was funny because what she was outlining — during a period that included uprisings and insurrections — mirrored my high school, college, and professional years, when I often had to monitor white people's shock at this country's history and balance their expectation that I would show them the way without piling on guilt. These conversations flipped our normal script — usually the wise, experienced parent, she became the wet-behind-the-ears adult.
I was furious she was so upset, but there was also something beautiful happening. Sometimes she'd write her feelings down, send a note to her whole staff, forward me the email, and then call to talk. A line like "Contrary to what many have declared, this is the America that I know" stung, but seeing it written out made me realize, Wow, I am her son. I get it from my mama.
We had something to commiserate over again. And even though we felt alone at times — both working for white people, in white institutions, feeling perennially frustrated — our phone calls reminded us that we were justified in every way we were feeling. After years of simply checking in, we were venting, we were laughing, we were trading war stories.
.

The Lady in the Park
By Allison P. Davis
The day Biden declared victory, the sun thought it was August, and the streets around Fort Greene Park were full of young gentrifiers, old gentrifiers, neighborhood old hats — even Spike Lee — out boogying, drinking, reveling. Because of that warm, boozy, Trump-free vibe, I wanted to give this woman a pass, but I couldn't.
So I was standing on the corner people-watching, drinking a joyful White Claw, when I observed a cute Black family, parents with their two young children, cross the street to grab ice cream from the Mister Softee truck. A white woman, dressed in low-key Burner gear, spotted them too. She broke free from the people she was dancing with to run over and instigate this interaction: She grabbed one of the children by the shoulders, crouched down, and yelled, "This is all for you. We did this for you!" It happened so fast — the parents didn't even have time to say, "Lady, social distance!" before she had disappeared back into the crowd, glow-stick-braceleted arms waving in the wind. They looked confused but just continued on with their ice-cream mission.
Meanwhile, I had a million questions: What was for that little kid? The DJs? The joy? The people? Did this stranger lead the child to think someone was throwing him the biggest party ever, such that five years later, he'll still tell his classmates about the day there was a street celebration all for him? Or were people really voting Not Donald Trump all for this little Black kid? What the hell was she talking about? And what the hell did she want in return? A thank-you? My secondhand embarrassment for all involved parties made my body convulse with cringes.
I turned to my friend, who is white, and he turned to me. I made a face that reflected how I felt watching it, and he made a face reflecting how he felt watching it. Our feelings, unspoken, were very different. And still, I can't decide which exchange was more awkward — ours or theirs.
.

The European Contacts
By Shayla Lawson
I reminisced last summer with a friend over the ways we were called the N-word in our youth. We joked about the differences in regional pronunciation: how the i morphed into a long ee in Maryland, where she grew up; the equally short i and ur sounds in that painful noun in my home state of Kentucky. In Frederick Douglass's "Twenty-One Months in Great Britain," he talks of how wonderful it was to temporarily relocate to a country where the N-word wasn't used in place of his name. Moving to Europe in my 20s, I felt much the same. And yet during Black Summer (as I call it), I learned the only thing that irked me more than being called the N-word was being told by Europeans they were sorry for how bad it is to be Black.
"I'm sorry I did not realize how bad it is to be you in your country," began the first of what would be a series of messages from my European contacts. I also received: "I saw what happened, and I feel very bad" and "We need to cancel that mentality!" I responded with the racially bigoted situations I had experienced in the sender's home country, often in their presence, that they had neither noticed nor stopped. I had an Irish woman I'd known "request" that I "take down" a quote suggesting that anti-Blackness was a global, western phenomenon. "We over here in Ireland are fighting right with you!" she claimed. I was tired. I fired right back at her that she had been racist to me the last time I'd had dinner with her in Brooklyn (she had). And, of course, she resorted to the same aristocracy of white tears as her American counterparts.
White tears hit different in a European accent. I find them infinitely more aggravating. Because even though Europeans don't typically build a white picket fence around their properties with the N-word as its teeth, they built the boats that brought it here. And yet they remain willfully — if not disdainfully — ignorant of what it means to be Black in any way that doesn't entertain them.
Most of the apologies were accompanied by the request for a booklist. I left those messages unanswered but still received updates as they learned for the first time of James Baldwin ("Have you read him? He's very good"), the documentary I Am Not Your Negro ("Have you seen it? James Baldwin is very good"), and Essence magazine. "I just found this amazing magazine of [Negro] culture online," messaged a former colleague from Spain. "Have you ever seen it before?" I had to answer that one: "Asking me if I've heard of Essence is like asking me if I've heard of Vogue," I told her. "Hmm," she said — sending along a thinking emoji and a black heart — "I never thought of that."
.

The Instagram-Anxious Friend
By Tembe Denton-Hurst
"Do you think I should post something on feed?" a friend asked. It was four days after George Floyd's death. "I feel like I should," she texted a few minutes later. I understood her anxiety, her desire to express publicly that despite her general Instagram persona — which had previously been light on social justice and heavy on aesthetics — she was having the conversation. It was the first time I'd witnessed this pressure to share in the pain that I knew as intimately as the joy of existing in my skin.
I understood especially her compulsion to post it on her feed instead of in Stories, to enshrine her statement of support in a space that didn't turn into a blank slate after a day. And because we were real friends and not fake, fractional friends, I felt compelled to guide her. She didn't ask for it (newly aware of the emotional labor required of Black women), but still, I wanted to help her navigate the wild world of post–George Floyd Instagram — where posting, or not posting enough, or not posting the right thing was a statement of its own. There was so much to choose from. Instagram had become flooded with "resources." There were Pantone-colored reading lists in Canva fonts; quotes about liberation in thick sans serifs; infographics on things I thought people just generally knew. I didn't want her to fall into the same traps as my white industry friends, whose posts were a mix of platitudes and fumbling statements about how they were listening and learning and somehow circling the conversation back to themselves. There were a few that have stuck like Post-its in my mind: A former colleague posted photos of Floyd on Stories, then proceeded to post about how much she supported a family friend, a police officer, on her feed, pleading for people to see the police as human too. There was an old boss who wrote a long, winding paragraph about how she is struggling to figure out how to raise a young white man to be a good person. I wanted to unfollow both of them. I settled for one.
An hour after the text with my friend, an infographic appeared — brightly colored, thoughtfully designed, aesthetically pleasing, and right at home alongside sun-drenched photos of park picnics and mirror selfies. The caption was lengthy, sharing places to donate and causes she was personally supporting, and discussing the importance of the situation. I responded with a series of hearts, my explicit approval of the post. The post didn't change the reality of the situation, dismantle systemic racism, or pay my bills, but I realized then that posting it on her feed, where it would remain preserved, at least theoretically, felt different, more permanent. Even in this superficial performance of allyship, there were matters of degree. It took weeks for the feeds to go back to "normal," and for people to feel that not posting daily about how you were deepening your activism or interrogating racism or watching episodes of Living Single wasn't indicative of which side you fell on. But there was something glorious about that week when everyone woke up — when I could feel the anxiety in every share, knowing that this revolution was televised, and everyone was required to perform.
.

The Bourbon Publicist
By Mychal Denzel Smith
When, before the pandemic, I started getting into bourbon, I wanted to learn everything about it — what it was made of, how it was created, how to find the best bottles. I watched whiskey-review channels on YouTube and read bourbon blogs and history books, which is to say I spent a lot of time listening to and reading about white people.
It's not that Black people have had no hand in shaping the bourbon industry — nothing has happened in this country without Black people's contributions, be it through forced labor and exploitation or appropriation. Some historians, like Kansas State University's Dr. Erin Wiggins Gilliam, have found evidence that enslaved Africans even worked as distillers, rented out by slave owners to Kentucky distilleries. But Black people make up only 9 percent of bourbon drinkers, which likely has something to do with the way bourbon has been marketed. At the turn of the 20th century, some distilleries used minstrel imagery in their advertisements, and since then, bourbon has retained its associations with a particular brand of white southern masculinity.
I like bourbon because of the flavors — caramel, brown sugar, and vanilla — and it excites me to tease out differences between styles that have more fruit-forward tastes or notes of baking spices. But I dislike the culture surrounding it, and not solely because it is so white — rather, because there is so little acknowledgment of its whiteness. I have spent hours watching YouTube bourbon personalities sound off on mash bills and barrels without ever wondering aloud why the communities they have created look so much like themselves. I've only seen one video from one white creator attempt to address this; it is one of his least popular.
So when, last summer, the issuance of an anti-racist statement became a perfunctory obligation of major U.S. companies, I wasn't expecting any response from the bourbon industry. I figured its consumers so heavily skewed toward the type of people who brandish BLUE LIVES MATTER flags that bourbon-makers would view it as unnecessary or even unwise to comment on the nation's racial unrest.
I was wrong. Nearly every major distillery, and even some smaller distilleries, made statements condemning racism and claiming solidarity with Black communities. Wild Turkey's parent company pledged $300,000 to the Equal Justice Initiative, while Jim Beam said it would donate $150,000 to "support Black-owned restaurants and bars." I'm not surprised by much when it comes to American racism, but this managed a "Huh, interesting" out of me.
I say nearly every major distillery because there was one holdout: Buffalo Trace. It is home to some of the most-sought-after bourbons on the market, including the famed Pappy Van Winkle, but the reason the company's silence stood out — not even a solid black square on Instagram or hashtag Black Lives Matter on an innocuous landscape image — is because it is the only bourbon brand with a Black person serving as a public face. Freddie Johnson is a third-generation employee at Buffalo Trace and a distillery tour guide of some renown. His name and face are on Buffalo Trace's soda brand. But the company wouldn't even say publicly that it thinks racism is bad.
I got curious. I emailed its public-relations manager to ask why Buffalo Trace hadn't commented on the protests. "Thank you for your email and your inquiry about The Sazerac Company's stance on Black Lives Matter," she replied. "At Sazerac [Buffalo Trace's parent company], we have a long-standing policy of embracing differences and promoting an inclusive organization that values the diversity of team members, customers, suppliers and community partners because it is the right thing to do." She included a link to the company's code of conduct, which features the typical corporate language about diversity and equal opportunity, none of which was an answer to my question. I told her as much, and also that all of its competitors had made such statements. Her response:
"Thank you for your follow up. As a privately held company, we are not given to making public statements. We believe our position was, and is, adequately stated on our website." I told her that didn't seem to hold up, given Heaven Hill, another major distillery, is also a privately held company, and it saw fit to release a statement. She didn't write back. I should have asked her what Freddie thought.
I was disappointed, first because Buffalo Trace makes some of my favorite bourbons, and second because I cared at all. I shrugged at publications deciding to capitalize the b in Black, at the rebranding of Aunt Jemima, and at real-estate agents no longer using the term master bedroom. Each of these things felt like long-overdue cosmetic changes that would have zero impact on structural racism. And I felt the same way about all these performative corporate anti-racist statements that can provide cover for entrenched inequity.
Yet here I was asking Buffalo Trace why it hadn't been a part of the performance, hoping that my asking about it might shame the company into joining in. Some part of me cared about being seen in a place where I'd found comfort. I buy more Wild Turkey and Jim Beam products now, as if my singular consumer action will make Buffalo Trace change its mind. I am foolishly asking a profit-driven business to exhibit moral courage, tiny as it may be.
.

The Twitter Inquisitors
By Craig Jenkins
Did a lot of yelling about injustice on the internet over the summer — and throughout the rest of the year, starved of the usual outlets for prickly political discourse, like bars and friends' houses, the smallest of the million problems a pandemic creates but, I think, a notable one. It felt cathartic, but it quickly turned into "Ask a Black Dude," the Chappelle's Show skit where the late comedy legend Paul Mooney responded to oddball curiosities from white people finally getting a chance to have an uncomfortable question resolved.
I listened to smarmy conservatives complain about marches breaking social-distancing protocol and sent back statistics proving that wearing masks made a difference. I heard moderates' gripes about looting and property damage and identified the moments in American history when a well-placed bit of ultraviolence tipped scales. I entertained criticism from liberals regarding the value of "defund the police" as a slogan and the marketability of leftist values and asked for a more compelling catchphrase. No one succeeded.
I don't know what it's like to wake up and realize that my worldview is a few degrees askew from reality, so I tried to be graceful, chalking these conversations up to the innocent narcissism of the person who walks into a lobby full of people waiting for the elevator and thinks, Perhaps no one has pressed the button hard enough. They were coping out loud. So was I. But I'd made myself into a sounding board, a complaint desk for well-meaning white reservations. It didn't feel good.
I'd like to think I didn't get much out of this, and to that end, one of the few goals I had for myself in 2021, aside from attempting to resuscitate an edifying bar life, was to do less debating with strangers about the causes of Black outrage and unrest. But I think I get my politics better than I did before. I think all that time spent dismantling tepid takes pushed me further to the left. It was irritating, and I don't know that I'd do it again — but maybe I needed it.