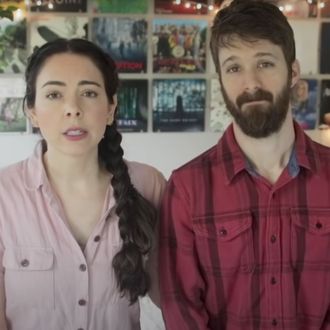 Nikki and Dan Phillippi.
Photo: NikkiPhillippi/YouTube
There's only one thing that could get the internet this riled up: dogs. YouTubers Nikki and Dan Phillippi revealed they had euthanized their nine-year-old bull terrier, Bowser, in a YouTube video on Monday, after an incident in which he bit their 1-year-old son, Logan. The dog reacted to Logan taking food from him, the couple said, but the injury "wasn't bad" and their son has a "little mark." "In the moment, I'm thinking I grew up with the movie Old Yeller and I wanted to pick Bowser up by the back of the neck and take him to the backyard and put him down right there," Dan Phillippi says in the video, adding that Bowser had injured other dogs in the past. They claim the Humane Society told them rehoming would be impossible, so they used a euthanasia service to him put him down at home. In addition to the YouTube video, Nikki Phillippi posted an Instagram slideshow of a photo shoot with Bowser before his death, which included photos of the dog with their child. Her Instagram account has since gone private.
The post and video have received mounting backlash over the past week. For many, the controversy is a flashback to last year, when YouTubers Myka and James Stauffer were denounced for "rehoming" their adopted son. Several influencers, including Jaclyn Hill, Jeffree Star, and Tana Mongeau, have commented on the situation. YouTuber LaurDIY, who also owns a bull terrier, posted an entire reaction video, in which she says, "They failed to set boundaries for their child and their dog, who has obvious past, unaddressed trauma that was their responsibility to correct and rehab." The outrage continues below.