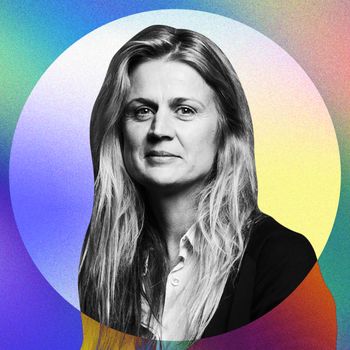 Diane Kendal
Photo-Illustration: by The Cut; Photo: Gregory Harris
To beauty editors, it doesn't quite feel like Fashion Week until the moment when you push through the chaos backstage to temporarily take refuge in the cocoon of calm around Diane Kendal. The British makeup artist is an industry icon who's always happy to break down the striking looks she's created for the runway, not just by product name, but by texture, color, concept, and technique.
Thankfully, fashion retailer Zara and its beauty director, Eva Lopez-Lopez, tapped Kendal to bring the brand's first makeup collection to life, meaning now the masses can take advantage of her expertise year-round. After 18 months of collaboration (the majority conducted on Zoom for pandemic reasons), this month Zara unveiled the collection of vegan, cruelty-free, affordable, and refillable products in over 130 colors for the face, eyes, lips, and nails, with six makeup brushes to boot.
"We wanted to create a line that was very inclusive and could appeal to everybody, no matter what skin color, age, gender, or personal style," Kendal says. Fittingly, the collection is also accompanied by an equally extensive campaign full of eye candy for every vibe, showcasing what the artist does best. The campaign is really nine campaigns: a whole portfolio of inspirational makeup looks created by Kendal, captured by nine different photographers, each giving their own concept of beauty.
"It was really fun to work on those campaigns," Kendal says before reciting the brand's ethos: "No one beauty, only beauties." The Cut caught up with her to talk vampire facials, makeup-kit staples, and clocking eight hours of sleep.
Do you think of beauty as self-care?
I definitely think of beauty as self-care. It's a way of presenting yourself, it's a way of making yourself feel good, it's a way of changing yourself up. It's great to be able to give yourself a look, or give yourself a glow, or a gorgeous sculpting feel to your face.
Has the way you think about beauty changed during the pandemic?
I think it's created a time for people to play more with makeup. I definitely think color is going to be a big part of coming out of the pandemic; I think people want to celebrate life, to be joyful. We've been wearing masks, but people are getting to that stage where they want to wear lipstick again.
What do you wish more people understood about what you do?
Well, I think our job is collaborating. As a makeup artist, I collaborate with a person I'm doing makeup on, and for me, I like to enhance somebody's beauty. I like to celebrate a person's features, to enhance their strong points. People already have such beautiful shapes; it's about finding that particular color that really emphasizes it, or knowing the certain color really brings out the depth of that beautiful brown eye.
What was the biggest "no" you heard in your career, and what did you learn from it?
Sometimes, I think people have an idea of what they're looking for, but in reality, when you give them what they've asked for, they're like, Maybe that's too much. That happens more on fashion shows, but say if I'm working on a celebrity, now I always say to them, "How would you like your makeup? How do you normally wear it? What don't you like in makeup?" Because at the end of the day, they always have to look good, and they have to feel good. So I always like to ask them to look within my interpretation of the look.
Where would you like to see the beauty industry go from here?
Making beauty clean, and sustainable, and environmentally friendly. Fortunately, with Zara, they're very conscious of this. That was one of their philosophies and ethos in creating this line, they wanted to make it clean, vegan, sustainable, and I think we've done, and Eva's done, an amazing job.
Fill in the blank: Unfortunately, _______ is worth it.
I have to say sleep. Sleep, sleep, sleep, and a really good moisturizer. I think it's more about sleep, what you eat, drinking lots of water; taking care of yourself in that way. Getting high-quality ingredient formulas in creams is important, but at the end of the day, if you're not taking care of yourself, just putting a cream on is not going to help. I have to get eight hours of sleep. If I get any less than that, I'm cranky. I hate it. I find it really hard traveling, with jet lag, because it really throws my clock out.
What, in your opinion, is the best affordable beauty product or products?
For me, it's rose water. I always carry rose water with me. It's great, it freshens the skin, it's one of my all-time favorites, and I've had it in my kit for probably 40 years now.
What's the wildest luxury beauty experience you've ever had?
This was all thanks to Jamal [Scott]. Jamal insisted that I go and get this facial where they take blood out of my arm and mix in a cream. What was it called? Blood cream? So that was certainly an experience. It was my first and last time [laughs].