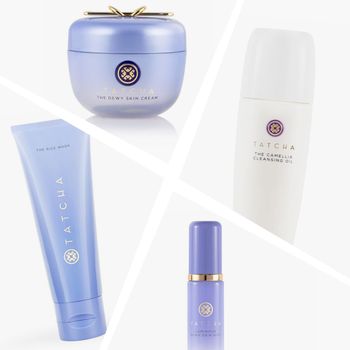 Photo: Courtesy of the retailer
Starting today, June 9 and running through June 14, everything Tatcha is on sale. The skin-care brand — which is loved by everyone from royalty to makeup artists to Sephora reviewers to our Why Is Your Skin So Good subjects — is holding a Summer Celebration event offering 20 percent off everything with the code SUMMER21. (The sale is on Tatcha's site only, and sets are excluded). If you aren't sure where to start, here are a few of our favorite Tatcha products.
Editors, obsessive testers, over a thousand Sephora customers, and teeny-tiny Animal Crossing characters alike are fans of this delightfully frothy cleanser. The pH-balanced formula contains the brand's signature Japanese rice powder, deep-cleaning with a gentle touch that leaves your skin super-soft and ready for the rest of your routine.
Photo: Courtesy of the Vendor
A lot of facial mists seem superfluous, like all you're doing is spraying water on your face. But this one feels more like spraying the aforementioned Dewy Skin Cream, just in super-fine form. Use a couple of spritzes to send in reinforcements for your skin-care routine when you're nowhere near your sink; you'll feel more refreshed and look glowier than you would with fancy canned water alone. This particular dewmaker is a favorite of Dewy Dumpling makeup artist Nam Vo.
If you want to look moist in the good way with minimal effort, this is the way to do it. This extremely moisturizing moisturizer is packed with Tatcha's magical blend of hyaluronic acid, Okinawa algae, botanical extracts, and antioxidant-rich Japanese Purple Rice. Dry, meh-feeling skin will drink it up and quickly look and feels rejuvenat, even without makeup.
This one is new, but it's no less beloved by Tatcha fans. If you want a super-moisturizing serum that will plump up your skin, sate its thirst, and gently exfoliate, you'll get it in this multitasker. It locks in moisture thanks to squalane, plumps with hyaluronic, and lightly brightens skin with a touch of lactic acid.
This cleansing oil was one of Tatcha's earliest products, and its effectiveness instantly made it a favorite. To this day, it remains a best-seller. The oil emulsifies with water to become a gentle but extremely effective makeup remover and skin cleanser. A whole face of YouTube makeup can wash off easily with just a few pumps, all without stripping or drying out the skin.
If you appreciate things that are soft but deceptively strong, such as cashmere or Meghan Markle, you'll enjoy her favorite exfoliating cleanser. When you've wrecked your skin barrier due to too much overzealous exfoliating, this is the perfect cleanser to try. It uses very tiny grains of rice and enzymes to gently — not abrasively — remove dead cells and resurface the skin.
Primers can seem like they're full of empty promises. They say they'll be there for you, providing support for you and your makeup. Instead, at the very first sign of hot weather, they ghost or don't follow through on plans. Try to trust this one. Unlike other primers, which can clog pores or feel excessively silicone-y, this one feels silky on the skin and like you're wearing nothing at all. Reviewers also say it smoothes their skin, making pores look itty bitty, and making makeup (even full foundation) last for hours.