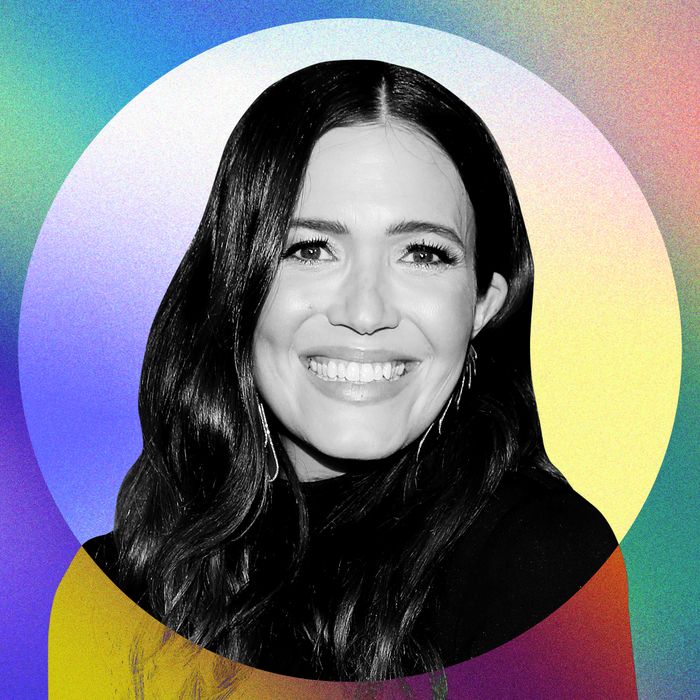 Photo-Illustration: The Cut. Photo: Todd Williamson/E!
As a singer and actress, Mandy Moore has spent most of her life in the spotlight, but she keeps it simple when it comes to beauty. "I'm pretty boring," she admits. "I like what I like, and I'm not super fluffy about stuff." Still, she's not averse to the occasional experiment: An ambassador for Garnier since 2017, Moore recently dyed her hair blonde with the brand's Nutrisse No. 70 Almond Creme shade.
Whether you know Moore from her favorite job or her illustrious singing career, you probably love her. The Cut talked to her about being a teen star, her decision to go blonde again, and how her perspective on beauty has changed since becoming a mom.
You recently went blonde, and I know you've said previously that you love changing your hair color because it helps your outsides reflect your insides. What does your current hair color say about you?
I haven't been blonde since, good gracious, probably 2005. I don't think I've ever been this shade of blonde before. I feel like I'm ready for the next chapter. That's what changing my hair color means. With work being over, being on summer hiatus, and the world opening back up again, it just feels inherently hopeful. And with this monumental change that I've had, becoming a mom, I was like, "All right, I'm ready to do something big."
You've been famous for most of your life. How has that impacted your relationship with beauty? 
It's never felt like a burden to me. I never felt like I was forced into situations where I felt uncomfortable or I had to dress a certain way, or act in a certain way, or present myself to the world in a fashion I didn't feel comfortable with.  I can attribute a lot to great parents who always instilled a healthy sense of self and [taught me] how to have boundaries.
But also working with people who never forced me to do anything. Knock on wood, I don't have any of those scary stories that you often hear about with younger people in the industry where they felt taken advantage of, or [having] a manager to push them to do a cover of a magazine in their underwear. I never had those situations. Maybe because I was the fourth in line, in terms of the "pop star" — you had the Britneys and the Christinas, and the Jessica Simpsons and then me. People were like, "Eh. She can do whatever she wants. She's the youngest and most boring of all." I think that allowed me to carve out my own little niche of just being myself.
Has your beauty routine changed since becoming a mom?
I would say my approach to beauty has sort of shifted with the inevitable lack of time. It's like what's most important has risen to the top, but it also coincided with COVID and being quarantined. I feel like in my heart, I'm a wannabe beauty editor. I love all the lotions and potions and gadgets and fun things. I love learning about them and sometimes acquiring them and maybe using them once or twice, but not necessarily having them become a part of my regular routine.
Before COVID, I would break my neck to get eyelash extensions and get my nails done and my eyebrows done. In the last year, everything has been pared down. I've realized that maybe I liked to keep myself busier than needed. I'm actually much more comfortable stripping all of that away, and just going back to the basics. I kept that philosophy throughout pregnancy and postpartum, and I'm gonna carry that with me for the foreseeable future.
What are some of your go-to products?
I have definitely compromised the integrity of my hair because I love coloring it and it's actually a little damaged right now because that's what happens when you bleach it. I love the new Garnier sulfate-free shampoos, their Whole Blends line. It nourishes and protects very damaged hair (so that would be me these days). I also just love the way it smells. Beyond that, its [packaging] is made with 100 percent recycled plastic. All of Garnier's products are cruelty-free now. They're leaps and bounds ahead of other big beauty brands, so I'm really excited to be partnered with them.
Beyond that, I'm very cognizant of the products I put on my skin. Everything is pretty natural these days. I love Furtuna for skin care. They have three or four products that I just really love. They make my skin feel super-moisturized and alive and awake. For makeup, I really like Kosas and Westman Atelier.
Do you have any beauty tips?
I'm terrible at that stuff. This is the kind of thing that I love to read from other people, and then I steal those tips. I love those fun things to spritz on — something to put on your face before you leave the house, so your face doesn't look too done. Like, an essential oil or a scented water. I usually do a rose water.
Where would you like to see the beauty industry go from here?
I mean, when you talk about Garnier — this huge conglomerate — now having all of their products be cruelty-free under the Leaping Bunny program, that's a huge step for the industry as a whole. They're really setting the trend and hopefully other companies are going to follow suit. I think it's important from a social- and global-awareness perspective of being cognizant of what's happening around you, the products that you buy, and, in my case, the brands that I'm lucky enough to get to partner with and how all of that sort of impacts our planet. I love that Garnier's history is rooted in sustainability and naturally derived products. All of that matters more to me now, as a 37-year-old mom. I want to be aware of my purchasing power, and the power that I sort of wield as a consumer. All of that has to factor into the choices that I'm making in my life.
What's your favorite affordable beauty product? 
I love a good coconut oil. I feel like it's multifunction and multipurpose. You can use it to remove makeup. I have some sitting on my counter, right by my hand soap, and when I get out of the shower I put it on. My cats are obsessed with it. I don't think they're supposed to eat it, but they will follow me into the shower because they know when the shower is done, the coconut oil comes.
Fill in the blank: Unfortunately, ______ is worth it.
Chocolate chip cookies. Always. In any form. I'm never going to pass up a chocolate chip cookie. Fresh-baked. Store-bought. It's always gonna tick that box for me. You can never really go wrong. It's also lunchtime, so I think my brain is just on food.
This interview has been edited and condensed for clarity.