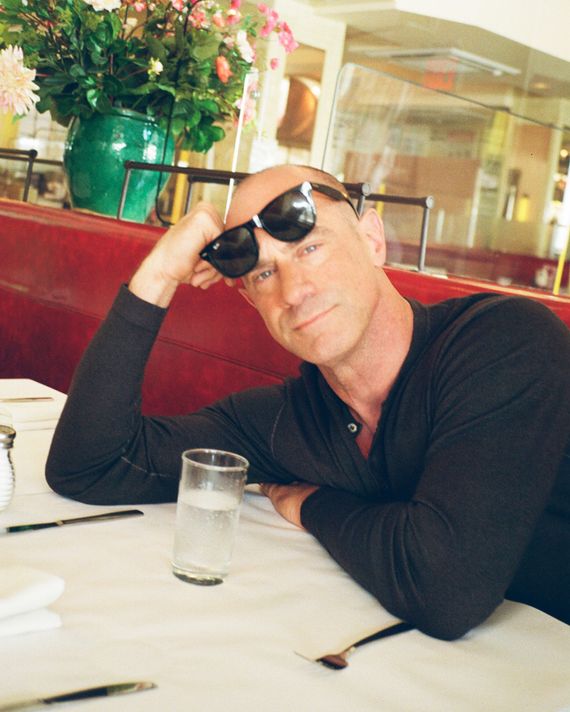 The moment I first meet Christopher Meloni, he towers over me, and I have to look up at him to meet his eyes to tell him that I'm willing to look past his butt and see the person within — a sentiment he shows appreciation for with a warm embrace and a "Thank you, Andrew." It was one of the first 80-degree days in New York City, and I made the journey from Brooklyn to the Upper West Side to have lunch with the star of the new spinoff Law & Order: Organized Crime who'd just finished wrapping the first season the day before. Since he left SVU in 2010 for "new adventures," his fans have begged for his return.
That morning, I spent more time changing my outfit than I ever have for any date. My trusty short pleated skirt and chunky-sole combat boots were nonnegotiables, and I finally settled on a white button-down top. The Upper West Siders shot me side-eye, but I did not expect Meloni to acknowledge my outfit choice. "Is that a signifier of whether you're dominant or submissive?" he asks me with sincerity. Suddenly, the cool and calm demeanor I've worked to develop disappears, and I almost fully regress to my meek adolescence, when I first saw Meloni graciously wearing teeny-tiny shorts in the campy 2008 Nickelodeon comedy Gym Teacher. I make a joke about why I have to be just one or the other, and he appreciates the clapback with a hearty laugh.
Although he's best known for his dramatic roles, Meloni recalls comics — Jerry Lewis, the Three Stooges, and Charlie Chaplin — as acting influences, which he said was always a "pipe dream" growing up in a strict Catholic family. He's flexed his comedy muscles every so often: playing a Vietnam War veteran with PTSD in Wet Hot American Summer, a hallucinating alcoholic in Happy! on Syfy, and the unhinged Freakshow in Harold & Kumar Go to White Castle. "There's such a release in comedy," he says. "There's such a controlled, specific anarchy involved, and the physical comedy of it all makes me feel so good."
A waitress comes to take our order with a thirsty look in her eye, and Meloni's face lights up now that there's someone new to fawn over him. He tells us that he can't eat anything fried since he's "on a bodybuilding regimen." With a coy smirk, the waitress claims she can get him anything he wants. Am I intruding on their flirtation? I wonder, while he tells her that he knows she can. What the giant hunk of beef sitting in front of me wants is, as it happens, a giant hunk of raw beef (steak tartare, to be exact). Today, he declares, is now going to be "cheat day," so he orders fries with it. With meat in mind, I think it apropos to discuss sex. Smaller parts in shows like Pose and True Blood often situate Meloni in the bedroom, but his biggest roles have contained a wary sex appeal.
Meloni's breakout was his portrayal of Chris Keller, a bisexual psychopathic killer on HBO's prison-drama series Oz, which he jokes is the reason that he's a gay icon now. "It was overtly sexual in a way that I understood," he says. "But it was almost like what Brokeback Mountain did for gay men, which was showing gayness as hypermasculine. It was a relief to have a sort of 'fuck you, I am what I am, and I'll be what I want to be' gay character."
Even though he's straight, Meloni didn't have any difficulty getting into the mind of a gay character, relating to the way that Chris Keller "used sex as a weapon and as a way of manipulation." His scenes with fellow prisoners were always aggressive and sometimes steamy — including but not limited to flirty showers and erotic wrestling. He didn't mind so much the "animalistic" sex scenes, but a romantic one with his onscreen partner, played by Lee Tergesen, was particularly difficult at first, though he ended up finding it "eye-opening" and "a great moment."
I didn't need to meet Meloni to know that he's a physical being, but I wanted to know what was underneath the muscle. (I did, after all, tell him that I saw the man behind the behind upon greeting him.) There's a common thread with his two most popular roles (the second being L&O's Detective Elliot Stabler): toxic masculinity. Meloni, though, wouldn't necessarily call it that. "They're all masculine, and maybe to a toxic level. I love all this macho-type stuff," he says as he scoops steak tartare into his mouth. "It's beauty, it's elegant, it's brutality. But I don't subscribe to the —" he growls and grunts — "thing."
Although a muscle bro at heart, Meloni recognizes that these characters struggle with how society has traditionally defined "masculinity." He adds, "Then you have a lot of men running around worrying, Am I man enough?" To him, Stabler and Keller are afraid of deeper aspects of themselves, despite their gentle natures. "They're not accustomed to showing that side of themselves," Meloni explained. In Law & Order: Organized Crime,  "Part of the return of Stabler is his journey of understanding himself, where his life is now that he's lost his wife and most of his children. He's a man alone with everything that he is. What gives him substance? How does he deal with his relationship with his former self? He has a lot of internal work to do."
On the other hand, Meloni's return to the series wasn't hard work at all — although, he says, that the anticipation was initially overwhelming given all of the fans' expectations. But once they started filming, "it was fantastic and seamless." And, not surprisingly, once he and Mariska Hargitay, who plays his former partner Olivia Benson on SVU, got together, "it was like no time had passed."
When Organized Crime premiered on April 1, the Twitterverse exploded with nostalgic horniness. I mentioned to Meloni that many were simply there to watch him stand up from a chair, roll up his sleeves, and get hot and bothered in the interrogation room. Someone even tweeted the suggestion that the show be renamed Law & Order: Daddies. "There was a lot of daddy in there," he smirked. When it comes to being an actual dad, he says, "I strut around the house without a shirt, and my kids are like, 'Put your shirt on!'"
The whole "daddy" thing, for better or worse, is part of the horny millennial Zeitgeist. Thousands, if not millions, of people he doesn't even know lustfully call him that, after all. As he pointed out, "it's the height of objectification." But he accepts it without question. "It went from DILF to daddy to zaddy, and it's just a wave I rode."
It feels like only minutes have passed in our private corner of the restaurant when his glam squad (a groomer, makeup artist, and stylist) arrive to scoop him up. Meloni jokes that he brings them around so they can tell him that he's beautiful. "We're just talking about my successful career," he hollers at the group. Apparently, I wasn't the only one focused on the superficial that day, either. His makeup artist tells us that their waiter wondered, "I don't know how you concentrate with all that sexiness and that butt." I realize the power dynamic that was at play for the entire meal once he replies, "I mean, Andrew can't even get a question out. It's just embarrassing."
Meloni was right. Trying to brush off my actual embarrassment, I tease him about how much he must love all that attention. He says, "This is what I love: I'm 60 years old and I am being afforded another big tour, all because of my prior work and the fans are still interested." With raw meat filling his stomach and gawking eyes from diners sitting outside, off he went to his afternoon workout.