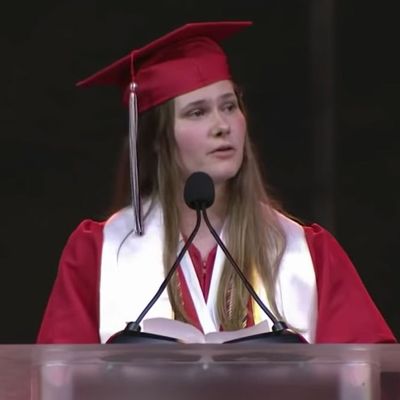 This past weekend, a high-school student in Texas delivered a valedictorian speech actually worth listening to. Paxton Smith, a graduating senior at Lake Highlands High School, initially planned to give a speech about media consumption. However, at the last minute, she scrapped that speech — which had been preapproved by school administrators — and instead delivered an impassioned critique of Texas's recent abortion ban, which is one of the most extreme in the country.
"I refuse to give up this platform to promote complacency and peace, when there is a war on my body and a war on my rights. A war on the rights of your sisters, a war on the rights of your mothers, a war on the rights of your daughters. We cannot stay silent," Smith said.
The law, which was signed by Governor Greg Abbott last month, prohibits abortions as early as six weeks, and does not include an exception for rape or incest. (As such, it violates Roe v. Wade, and experts expect it to be struck down before it can go into effect in the state.)
"We have spent our entire lives working toward our future, and without our input and without our consent, our control over that future has been stripped away from us," Smith added.
While school administrators threatened to withhold her diploma, Smith felt there was nothing more important she could have addressed. "This is a universal topic, and it affects everyone," Smith told the Lake Highlands Advocate.  "I felt it needed to be said."