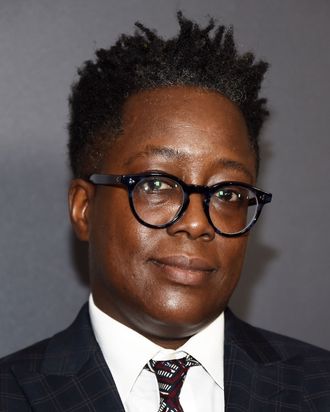 Photo: Amanda Edwards/WireImage
In 2009, when I was in the Air Force and stationed in Germany, I traveled to Berlin on New Year's Eve to celebrate. As my friends and I were getting turnt up in the bar, sipping on Grey Goose and cranberry, I came out as a lesbian. The whole moment was random and unprovoked. I shared the news with all my friends and had a dope night ringing in the 2010s, but when I woke up the next day, panic set in.
I'm a lesbian, so now what? Living in and working in Germany gave me no time to discover what being gay meant for me. My work schedule left very little time to hang out or make connections with other queer folks. The only thing that helped me through this time was film, and two films, in particular, challenged me to explore more of what I was feeling: Dee Rees's Pariah, and Cheryl Dunye's The Watermelon Woman.
The 1996 film follows Cheryl (Dunye), a rental-store clerk and aspiring director, as she researches the life and career of actress Fae Richards for a documentary. Since then, the director has worked on countless films and television series, most recently the HBO show Lovecraft Country.
The Cut sat down with the iconic director to pick her brain about her journey from The Watermelon Woman, and how using her extensive "Blackground" turned her into the woman and experienced artist she is today.
Let's talk about your journey to this point in your career. After The Watermelon Woman, did you think you'd be directing award-nominated sci-fi and fantasy? 
You know, I think about my journey as a thing that keeps expanding. I just turned 55 years old, and I realized you have to be in a mind-set to allow that expansion to happen. In the last few years, I've cleared away the mind-set of thinking about everyone else and what they believe and stopped letting those thoughts that hold me back. I've repeatedly gone through these moments and had that clarity to create The Watermelon Woman and A Stranger Inside. It opened me up to all sorts of opportunities.
There is another barrier to success, and you've talked about this at length. 
The systems that exist within the industry and the gatekeepers who maintain them are primarily white and male. I feel like gatekeeping creates so much noise beyond what we create for ourselves — and it's something I've had to wade through.
And in that, I've had to find balance and remember my creative practices and mission statement. Capitalism, sexism, racism, and all the -isms and phobias get in your way, and it throws you off. The only way to get to your full potential is to fully immerse yourself in these experiences because that has the potential to put you back on the right track.
You've worked on a ton of television shows, including Queen Sugar and The Chi. Is that based on comfort or access? Is the television realm kinder to marginalized people and their experiences than the film industry is? 
The variety shows that began at the birth of television were about putting us on display. We were the great experiment, used to connect with the people watching. Now, we're still fighting for representation in front and behind the camera. It's ridiculous.
To control the narrative and create shows like Queen Sugar or The Chi, you have to create your own army of sorts. But these are exceptions, not the rule. There has been improvement, but sometimes it feels we're right back where we started. I wasn't being invited to the table, so I created my own. However, I had to play the game, learn skills, and be inside first.
What was it like working on Lovecraft Country with showrunner Misha Green?
Misha had me at hello! She knew what she needed to make a show like Lovecraft Country, from the vision, the cast, and the directors. She wielded a tremendous amount of power to negotiate and didn't just take whatever was said from the studio at face value. She had [production companies] Monkeypaw and Bad Robot on her side, and we, as writers, actors, and directors, felt safe working with her.
You directed the episode "Strange Case." Did you choose to work on that episode? Or was it a Kismet thing where it just fell into your lap?
Misha called me out to do the episode. She knew what I had to offer from my work and had a sense of who I was even before we met. She understands that I know how to skirt the lines of race, class, gender, and sexuality from a queer Black woman's point of view.
We need more opportunities and access to tell these types of large-scale stories with the budget, a bomb-ass script, sci-fi and fantasy, and all the current top-of-the-line technology. That's what was magical about the whole process. Misha chose directors and allowed them the opportunity to use their knowledge and allowed them to grow. I use my "Blackground" skill set, as I like to say. My Blackground is rich.
You've explored several genres under the veil of Black queer womanhood. Are you looking to explore any genre that you haven't before? 
Well, I think it's more about the stories that I want to tell. I have the lens for various palettes and forms of expression that I use to approach storytelling. What's important is finding the right story, then bringing in your strongest collaborators, focusing on execution, and the best way to amplify it. To me, these elements are crucial to award-winning material.