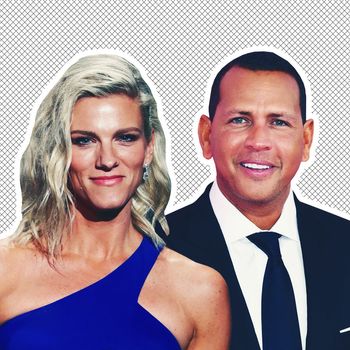 Lindsay Shookus and Alex Rodriguez
Photo-Illustration: The Cut; Photos: Shutterstock
Welcome to another installment of "Hey, A-Rod… What Are You Doing?" Today's edition comes courtesy of "Page Six," which reported that Alex Rodriguez was apparently partying with TV producer Lindsay Shookus over the weekend. Why should you care? Because Shookus is Ben Affleck's ex. Meaning, A-Rod was hanging out with Ben Affleck's former girlfriend while Affleck was rekindling his romance with Jennifer Lopez, Rodriguez's recent ex. I am going to need a map to follow the love polygon they have created.
Per the tabloid, Shookus celebrated her birthday over the weekend and Rodriguez was one of the guests in attendance. The party took place in the Hamptons, where A-Rod is reportedly renting a house that happens to be a mile away from J.Lo's mansion. In an Instagram story posted by Josh Beckerman — a man apparently known as the "foodie magician" — Rodriguez sat next to Shookus during the magic show. Ooh, la la! Technically, this means A-Rod was hanging out with his ex's (former) ex's ex. The man is fully leaning into the Summer of Unabashedly Texting Your Ex.
Don't get too excited about the possibility of a wildly uncomfortable double date with Affleck and J.Lo just yet. "There is absolutely zero there," a rep for Rodriguez told "Page Six," also adding, "They've been friends for 15 years."
Regardless, it begs the question, what are you doing, Mr. Rodriguez? He also recently posted photos with his ex-wife as if to say, "I, too, can spend time with an ex as a treat." (She's currently married, but still.) What's next for you, Alex? A trip to Dunkin' with Ana de Armas? Lunch with Jennifer Garner? The world and Ben Affleck's exes are your messy oyster.