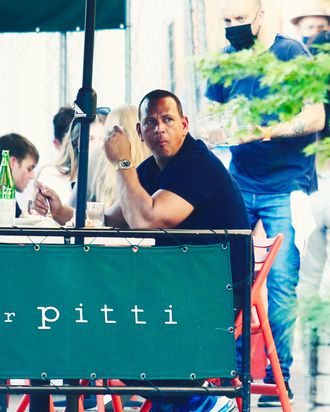 Photo: LRNYC/MEGA/GC Images
How do you get over an ex? Why, by hanging out with a different ex, of course! And Alex Rodriguez appears to be doing just that. Over the weekend, Rodriguez plastered his Instagram story with pictures of himself working out with a group of people including ex-wife Cynthia Scurtis. Hmm, this wouldn't have anything to do with his recent ex Jennifer Lopez reportedly rekindling her romance with Ben Affleck, would it?
Per E! News, one of the photos A-Rod shared to his Instagram story showed Scurtis wrapping his knee, with the caption, "Cynthia is a world class mommy to our girls … wrapping ice though?!?!?! LOL." The two were together for six years — they divorced in 2008 — and share two daughters, Natasha, 16, and Ella, 13. Rodriguez also included a couple pics of Scurtis in a set of photos he posted from the gym session.
Don't sound any alarms just yet, though. Their hangout was less a rekindled romance and more likely just a couple of buds hanging out, as Scurtis is currently married to real estate advisor Angel Nicolas (who was at the workout session, too, according to Rodriguez's Instagram caption). Nevertheless, A-Rod can also meet up with an ex at the gym, and he has the pics to prove it in case anyone (i.e. Jennifer Lopez) is curious.
There are rumors and Coldplay tributes that suggest A-Rod hoped to eventually get back together with Lopez. According to E! News, a source close to the former baseball player "thought they would be able to make it work and reconnect" and "has been reaching out to J.Lo trying to meet with her" to no avail. Alex, babe, we've all been there — texting our text to "check in," forcing a smile solely so you can have something to post on Instagram like, "Haha, apropos of nothing, I am actually having a great time!"
If nothing else, it's affirmation that no one is safe from the instinct to reconnect with an ex post-breakup. There's the aforementioned Bennifer 2.0. Apparently, Angelina Jolie is hanging out with her ex Jonny Lee Miller. Next, will Nick Cannon try to slide into Kim Kardashian's DMs? Stay tuned.