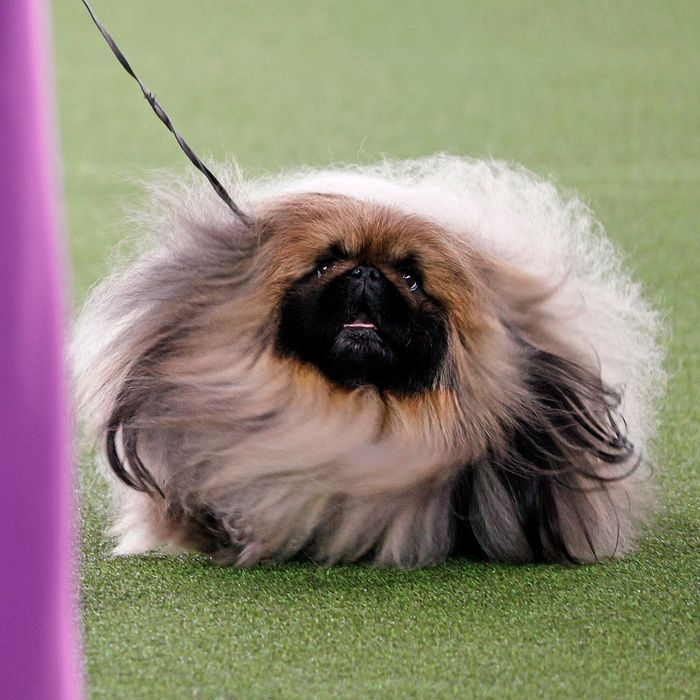 Wasabi, the Pekingese who won Best in Show
Photo: Michael Loccisano/Getty Images
Folks, a new canine champion has been crowned, and we must worship accordingly. On Sunday, Westminster Kennel Club held its annual dog show and awarded Wasabi the Pekingese Best in Show. The winners of the competition's most coveted title are often extremely glamorous, and Wasabi is no exception. He is a three-year-old dog who appears to be more fluff than body and looks like he'd weigh less than jar of peanut butter. He is, in a word, perfect.
One judge described Wasabi as a tiny dog "that feels like he's 10 feet tall," per the New York Times. "He stood there like a lion," the judge added after itty-bitty Wasabi beat out large boys like Striker the Samoyed and Connor the Old English Sheepdog. Despite his unassuming stature, it should be no surprise Wasabi took home the prize for Best Boy. He comes from a long line of champions, including his great-grandfather Malachy who was the 2012 Best in Show winner and his mother — whose name is Sushi (!!!) — who is also an award-winning Pekingese.
Wasabi is a great name for a dog who looks like he would explode if he smelled even a hint of spice. When he runs, Wasabi's legs only barely peek out from beneath his long coat. The way his fur moves in slow motion could easily be mistaken for a human shampoo commercial. As a breed, Pekingese dogs look like throw pillows with legs, or pugs in disguise. At a glance, they bring to mind words like squashed, floofy, and gremlin-adjacent. Wasabi is nothing if not the embodiment of all these traits.
In search of an expert's opinion, I showed a video of Wasabi to my own equally-impressive dog named Ava, whose skills include rolling in dead worms and doing a small toot when I pick her up. She looked at the video, back at me, and then fell asleep.
As for how Wasabi reacted to the win, he was "pretty nonchalant about the whole thing," per the Washington Post. His owner David Fitzpatrick described his prize-winning pup as a "wonderful dog" that is "made correctly." An unsettling way to describe a dog but okay! Per CNN, Fitzpatrick said Wasabi would be celebrating with filet mignon and that he'd be carrying his dog around "as much as he needs." Fitzpatrick added, "He deserves his own chariot."
He does indeed. All hail Wasabi.