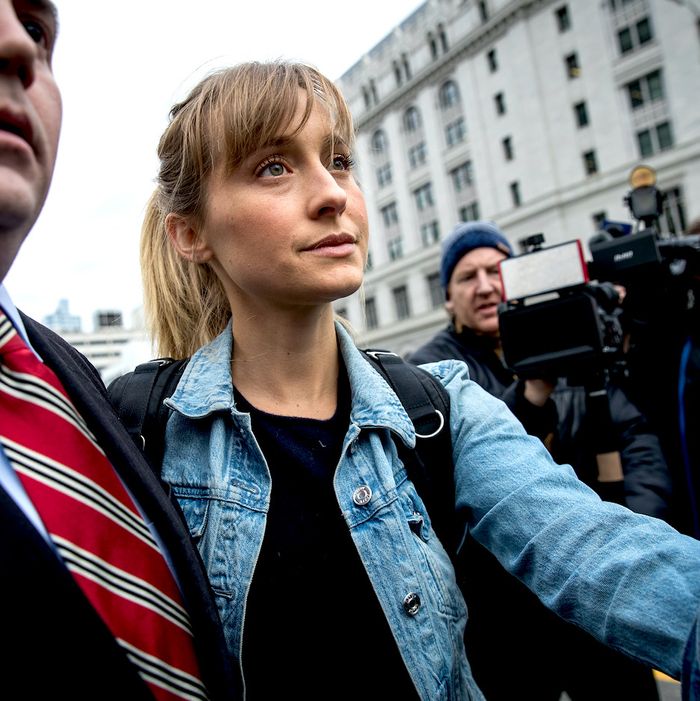 Allison Mack
Photo: Drew Angerer/Getty Images
Actress Allison Mack was sentenced to three years in prison on Wednesday for her role recruiting women into Keith Raniere's NXIVM sex cult.
In April 2019, the Smallville actress pleaded guilty to one count of racketeering conspiracy and one count of racketeering. Prosecutors alleged that she helped enlist women in the Albany-based organization. NXIVM billed itself as a self-help group, but within its ranks, a secret society called DOS "operated with levels of women 'slaves' headed by 'masters,'" prosecutors said. Mack, herself a "master," admitted to conscripting others into DOS, using "collateral" to blackmail them into cooperating with Raniere's agenda. Often, this included humiliation rituals, physical abuse — branding with Raniere's initials, for example — sexual exploitation and abuse, and trafficking. Last October, Raniere received a 120-year prison sentence for the seven criminal charges (spanning racketeering, sex trafficking, forced labor, obstruction of justice, and child pornography) on which a jury found him guilty in June 2019.
Prosecutors argued that Mack operated as Raniere's right hand, and initially charged her with sex trafficking and forced labor, which could've landed her in prison for life. The plea deal reduced the maximum sentence to 40 years, though Mack's legal team had previously asked that she spend no time behind bars, having recognized that she "committed grievous wrongs." Mack apologized to NXIVM's victims during her plea, and in a letter she submitted to the court, apologizing for what she deemed "the biggest mistake" of her life.
She expressed her regret yet again on Wednesday, addressing the judge before her sentencing in Brooklyn. "I stand before you today filled with remorse and guilt," Mack said. "I renounce Keith Raniere and all his teachings."
Handing down his sentencing, Judge Nicholas Garaufis told Mack she was "essentially an accomplice," adding that "Mr. Raniere could not have done that without you." In a victim-impact statement delivered to the court, Jessica Joan called Mack "a predator and an evil human being."
Prosecutors recommended last week that Mack receive a more lenient sentence, given that she had provided them with "substantial assistance" against Raniere. She has not yet commented on her sentencing.