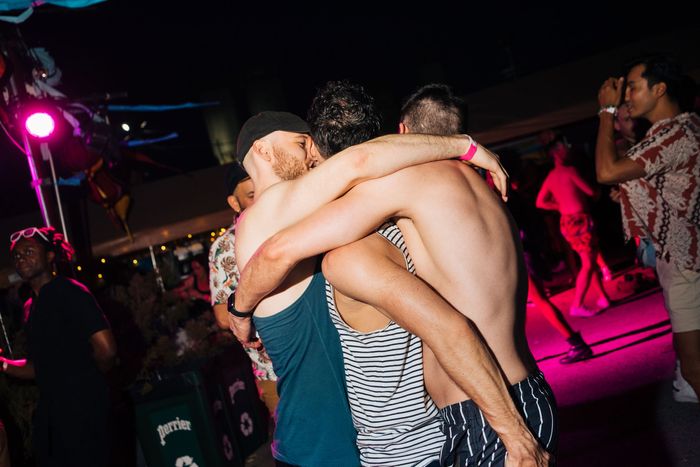 Partiers at 3 Dollar Bill in East Williamsburg.
Photo: Jutharat Pinyodoonyachet
I spent much of my quarantine wondering what it would be like when we could all go out again. In the early days, I imagined a mythical evening when the pandemic would be "over" — when everyone would wander awkwardly back into the night, a grand communal debut, drinking and dancing and screwing like rabbits again. Of course, nearly a year and a half later, there was never that One Big Night. But now, the end stage of the pandemic is here, and nightlife seems to be getting wilder by the weekend.
Because we're sure it's going to be a sticky, sweltering summer, we're introducing are u coming?, a new weekly newsletter all about New York nightlife. My name is Brock Colyar, and I'm a writer here at New York. I'm 23, queer, single, great at making poor decisions, and very excited my editors are letting me party all summer for "work."
Each week, I'll be party-hopping with a different out-and-about New Yorker: someone we admire for knowing how to have a good time. On Wednesdays, I'll send you a diary of our night together. From the scene-y to the seedy, it'll be a mix of gossip, voyeurism, and late-night secrets for a quick midweek thrill. And because we don't want you to feel too much FOMO, we'll also include recommendations for how to have a debaucherous season yourself — what parties to look out for, what bars to go to, and some special, sexy suggestions for our single friends.
At the very least, I'm hoping you'll enjoy the summer vicariously through the cast of characters who are taking me into their corners of the city. Even better, I hope you'll end up joining us.
I'll see you out there, sweeties,
Brock