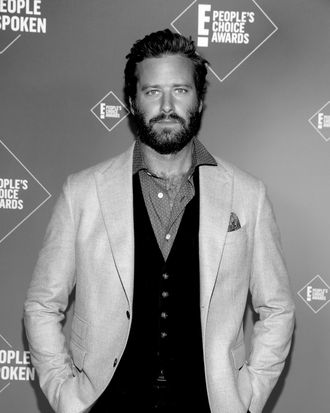 Armie Hammer
Photo: Todd_Williamson/NBCU Photo Bank via Getty Images
Amid allegations of rape and sexual abuse, Armie Hammer has reportedly checked into rehab: According to Vanity Fair, the actor departed the Cayman Islands, where he has been staying for much of the pandemic, on the morning of May 29. The outlet cites three sources who said he checked into "an in-patient facility for drug, alcohol, and sex issues" on May 31.
"Everyone looks at Armie thinking that he's had some sort of privileged life — and that must mean there were no problems in his youth and everything was peachy keen," a close friend of Hammer's told Vanity Fair. "But that's not necessarily the way things go. Just because you come from an upbringing where financial resources are plentiful doesn't mean life isn't without problems."
Although Hammer does have a wild family history, he has recently been in the headlines for the allegations of physical and mental abuse some of his past partners have leveled against him. Early this year, graphic messages attributed to Hammer — detailing fantasies of violent sexual scenarios that included rape and cannibalism — gave way to on-the-record accounts from two of Hammer's exes, Paige Lorenze and Courtney Vucekovich, who accused him of coercive and controlling behavior. Hammer largely waved away the controversy, initially refusing to respond to "vicious and spurious online attacks" and what he called "bullshit claims" about his reported DMs. But at the same time, activity on his (alleged) secret Instagram account, @el_destructo_86, pointed to heavy partying and drug use. He began exiting movies, even before his talent agency and his publicist dropped him in February. And then, in March, a woman identifying herself as Effie held a press conference with attorney Gloria Allred, and accused Hammer of "violently" raping her over the course of four hours on April 24, 2017.
Hammer denied the allegation through his attorney, who claimed in a statement that the relationship was "completely consensual, discussed and agreed upon in advance, and mutually participatory." Hammer's lawyer did not return Vanity Fair's request for comment.
Still, the magazine says that "multiple people" interviewed "over the past four months have alluded to unresolved trauma in Armie Hammer's own past, as well as ongoing substance abuse." As one ex-girlfriend apparently told Vanity Fair: "Everything he's doing he has essentially said out loud in a tweet or an interview. He's not that secretive. He's been about to explode for so long, but everyone laughs it off."
According to the report, Hammer's ex-wife, Elizabeth Chambers, accompanied him to the Grand Cayman airport, along with their kids. One source said Hammer got in touch with Chambers late last month, and told her he was going to get treatment. A friend told Vanity Fair that he "is committed to getting healthy and having custody of his kids."