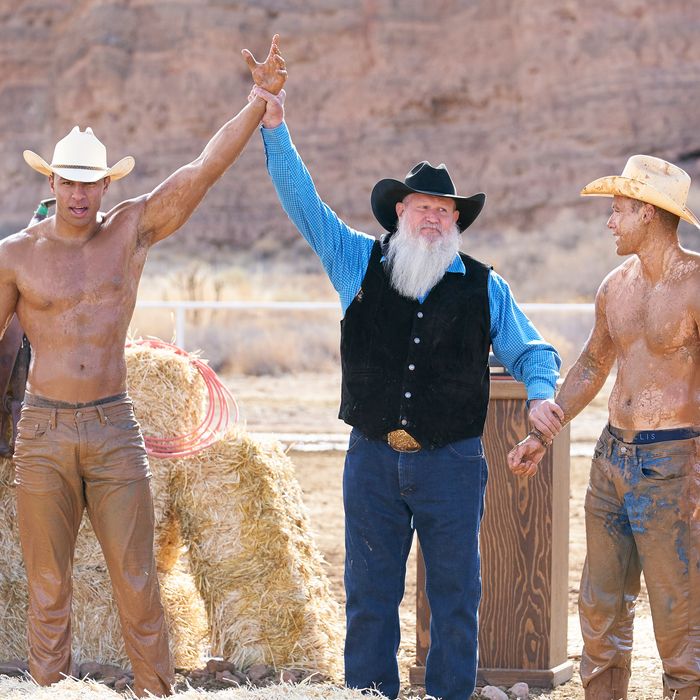 After a premiere filled with blow-up dolls, original ukulele compositions, and one sketchy RV, the new season of The Bachelorette, starring a famously sex-positive marketing manager named Katie, is now in full swing. Last night, Katie's contestants provided us with a frightening display of male-on-male competition, which, unfortunately, is kind of the point of the show. Which strapping, 20-something software salesman scared me the most? It's difficult to narrow it down — to echo Katie discussing her suitors with co-hosts (and former Bachelorettes) Tayshia and Kaitlyn, "I have a lot of options right now."
First, there was Karl, a 34-year-old "motivational speaker" who, of course, loves to yell. "Ask not what your Bachelorette can do for you, but what you can do for your Bachelorette!" he crowed before attending the season's first group date, tossing off other alarming maxims like "It's go time," and "This is the Hunger Games right now," and "I'm fighting to the death." This hypercompetitive attitude didn't seem to endear him to Katie or any of the other guys, but it did make him a focal point of the episode, so I guess that counts as a win.
During that first group date, I expected to be terrified, as each contestant was challenged to show Katie, in a multimedia performance, why they were "the greatest lover of all time." But aside from Karl's presentation, which involved tracing a cardboard cutout of Katie with a banana, the performances were surprisingly tame. Conor B. (formerly known as Conor the Cat) sang another earnest, original song, but I was prepared for that, so it was okay. The real terror came during the following group date, which — why not? — involved a second set of contestants mud wrestling each other to win Katie's "Big Buckle Brawl."
During the brawl, it was revealed that Aaron, a 26-year-old insurance agent, and Cody, a 27-year-old zipper sales manager (?), knew each other from home. (San Diego.) As it turns out, they don't like each other very much, which was evidenced by the bloodthirsty manner in which they went after each other in the mud-wrestling ring. Even Katie, who, God bless her, does not scare easily, seemed alarmed by the display. She asked Aaron about it after the brawl, and he accused Cody of — uh-oh — being on the show for the wrong reasons. "I wouldn't say he's a piece of shit, but there's always that concern there," said Aaron, diplomatically. Shortly thereafter, Katie sent Cody home.
Between Karl's apparent desire to turn The Bachelorette into The Hunger Games and Aaron and Cody's straight-up physical fight, there was plenty on last night's episode that made me want to cover my eyes. But when it comes to the guy who scared me the most, one particular software salesman stands out from the pack.
His name is Hunter, he's 34, and during the cocktail-party portion of the mud-wrestling group date, he pulled a move that shook me to my core. It only got 20 seconds of screen time, but I still shiver to think of it now: He presented Katie with a love letter and then made her read it out loud while he stared at her the whole time.
"Katie, thank you again for making this experience so comfortable," she read, awkwardly, from the handwritten note, which had been burned on the edges to look old. "I cannot wait to spend more time with you, and I'm giddy about our future. Heart, Hunter."
"That is so … great," said Katie after she finished reading, Hunter's eyes boring a hole into her skull. Ahh!
But later, at the cocktail party before the rose ceremony, Katie was once again consumed by the idea that some men might be appearing on her TV show for reasons other than finding true love. (Karl, firmly establishing himself as the show's early-season villain, told her that multiple unnamed guys had bad intentions.) "This is my actual life that we are experiencing," she said, through tears, to the men, which is a pretty terrifying idea to contemplate. This is my actual life that we are experiencing. Man.
And the scariest news of all? We haven't even gotten to the rose ceremony yet. Twenty-two suitors remain!