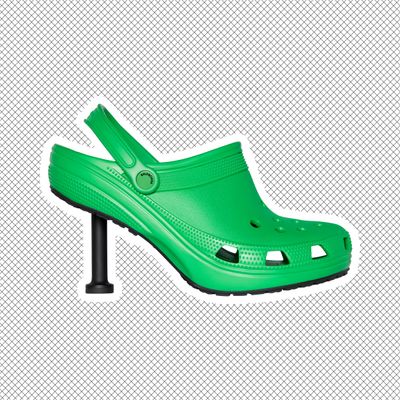 Would you put these on your feet?
Photo: Balenciaga
There is a pair of Crocs for most every occasion: going to the Emmys, insulting Victoria Beckham, causing a website to crash, thirsting for Post Malone. Now, Balenciaga has given us yet another pair of Crocs to consider — one that is either an atrocity to humankind or a very good prank on rich people. Behold, the Crocs stilettos.
They're Crocs! They're stilettos! They're $1,000 a pair, per CNN, though they aren't currently available to buy. The shoes (???) debuted as part of Balenciaga's spring 2022 collection, which also featured equally baffling knee-high Crocs rain boots. Dubbed Balenciaga Crocs 2.0, the Crocs stilettos feature a heel that looks reminiscent of a Nerf dart. They're made of that signature squishy foam material and come in both black and bright green, the perfect range of colors for when you want your shoes to go with everything or absolutely nothing.
As "2.0" suggests, this is not Balenciaga and Crocs' first time collaborating. In fact, it's not even the first time the two have birthed a high-heeled abomination. In 2017, Balenciaga's creative director Demna Gvasalia introduced platform Crocs, which, if nothing else, look exactly how you'd expect them to. Lest you balk at the idea of someone wanting to break their ankles in some big ol' Crocs, the shoes sold out before they were even officially released.
Do I hate the shoes? Yes. Would I wear them if given the chance? Also yes. They are so intentionally ugly that maybe they're … kinda cute?? They are neither attractive nor do they appear to be comfortable, and I can't decide if that combination is brave or insulting. They are the shoe version of "ugly hot," and they're all I've been able to think about since I first laid eyes on them.
Should the Crocs stilettos go on sale — and should you want a pair for, I don't know, reentering society in the most buck-wild way possible — you'll need to act fast. Though, if these Crocs heels end up selling out as quickly as the last pair, I suppose you can always make your own knockoffs.