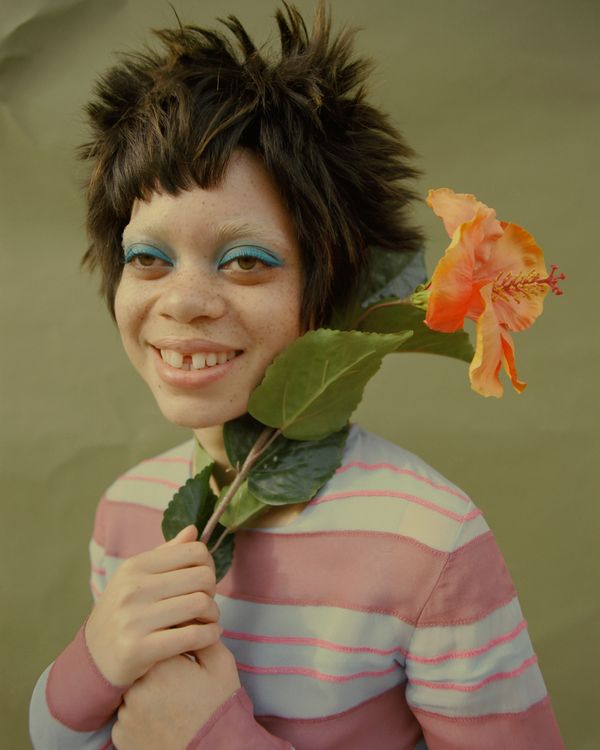 "
Seashell," 2017, from the series "Ugly" for
Vogue
Italia
Photo: © Nadine Ijewere
"Beautiful Disruption," an exhibition that opened last week at C/O Berlin in Germany, is a journey through the career of British photographer Nadine Ijewere. At 28 years old, she has already accomplished a remarkable amount. In March, she photographed Selena Gomez for the cover of American Vogue, making her the first Black woman to shoot a cover for the magazine. Three years before that, she was the first woman of color to shoot a cover for British Vogue. And in addition to working with a wide range of publications and high-fashion brands from Dior to Hermès, she has also undertaken a number of personal projects, many of which explore her Nigerian Jamaican heritage. Last year, Ijewere's work was recognized by New York's International Center of Photography (ICP), which presented her with the Infinity Award.
This is Ijewere's first solo show to date, and as the title implies, her images aim to "counter the staged perfection of models and the pervasive beauty norms they represent." She cast her models herself, choosing friends, acquaintances, and strangers off the street and social media who represent the kind of beauty she wished she'd seen in magazines and on billboards growing up. "For so long, the industry has put one type of beauty on a pedestal and shut everyone and everything else out," Ijewere told the Cut from her home in her native London. "This [show] is about breaking that up." The images on display have a genuine sense of intimacy and warmth, reflecting their subjects' entire character and not just their surface appearance.
Putting together "Beautiful Disruption" remotely during the pandemic wasn't easy, involving a lot of printouts strewn about Ijewere's flat. (The show was postponed earlier this spring because of the lockdowns in Europe.) But it was also a chance for Ijewere to pause and reflect on her career thus far. "I'm like, Wow, I went here, and I did this, and I shot this many people," she said, still in apparent disbelief. "I haven't looked back at my work like this in so long, and in a way, I kind of feel inspired again. Especially at this time, when my inspiration is … [Makes deflated, thumbs-down gesture] It's quite nice to see what you've done and the meaning of your work, and to celebrate it and carry on with that journey."
Eventually, Ijewere hopes her work will be seen as the norm, rather than a disruption. "Why does it have to be that for people of color to be present or represented, we're disturbing something?" she asked, adding that she'd like to see more women of color represented in these spaces, rather than just "one token Black female photographer."
"Instead of kicking down these doors, I hope that doors are just going to be open and exist like this," she said. "That all of us will be welcomed."
Below, see a selection of images from "Beautiful Disruption," which is on view through September 2.