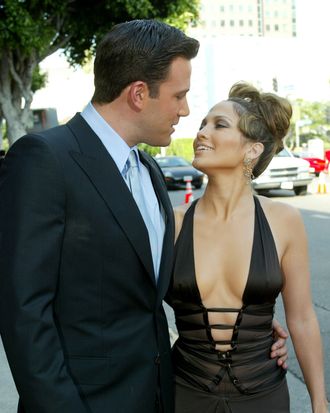 Bennifer in 2003, for PDA reference
Photo: Getty Images
It was only a matter of time, baby. Amid news that Ben Affleck and Jennifer Lopez have been getting pretty serious — e.g., vacationing in Montana, sharing the same flannel shirt, Ben going to a casino with J.Lo's mom, J.Lo moving to L.A. for a "fresh start" with Ben — we all knew that some Bennifer PDA for the cameras was imminent. Well, the day is finally here, folks: Bennifer has done a little kiss. Nature is healing, etc.
Okay, "little kiss" is a bit of an understatement. Photos from "Page Six" show Lopez and Affleck fully making out at a family dinner at Nobu in Malibu over the weekend. Yes, her kids were there whilst the making out occurred. Would you expect anything less from a couple known for their constant PDA?
The new photos show the two whispering in each other's ears — plot ideas for another Gigli perhaps? There's another pic of J.Lo caressing Affleck's cheek as if it's 2003 all over again. There's also a video of the little kiss in action if that matters. (It does.) You can see J.Lo's 13-year-old son at the end of the video, walking up to his mom with a phone in hand, as Affleck hangs on her.
The tabloid also captured an unexplained photo of Affleck wide-eyed and mouth agape during the dinner. What is so shocking, my guy? Did J.Lo shame your beloved Dunkies? Did J.Lo gift you another watch to wear for the next two decades? Did J.Lo share creative direction for a new music video in which you will, once again, touch her butt on a boat?
Just something for all of us to think about while we await more PDA from the couple we all know loves an extremely public display of affection.